Attic Truss Design
Attic Truss Design - Real Rooms in a Real Attic!
"You may not realize you can have rooms up in the wasted space of normal truss roofs. Attic trusses allow you to recapture all that dead space."
Tim Carter | Founder - AsktheBuilder.com
Attic trusses are marvelous trusses that create rooms for a small amount of extra money.
My daughter's new home has a giant space 18 feet wide by 43 feet long created by attic trusses.
Related Links
Attic Trusses 101 - CLICK HERE for the Basics
Roof Framing Tips - SECRET INFO - Please Do NOT Share
Can I CUT Trusses Safely? READ THIS ONE!
How Big Can the Rooms Be?
The rooms in the attic trusses depend on the length of the truss and the pitch, or steepness, of the roof. The longer the truss and the steeper the roof pitch the larger the room.
Do You Need a Crane to Set Attic Trusses?
Yes, you'll need a crane because a typical attic truss weighs well over 100 pounds. It's safer to use a crane for all involved.
Are Attic Trusses More Expensive than a Normal Truss?
Yes, at attic truss costs more than a normal truss. However, the added cost is well worth it as it increases the value of your home by thousands of dollars.
Can a Low-Slope Roof have an Attic Truss?
The answer is maybe. If the truss is long enough you might gain enough height to have a room. Most low-slope roofs can create a smaller rectangle in the truss that's used for storage. The space is not high enough to stand in but you can crawl around on your hands and knees to retrieve your stored items.
Summary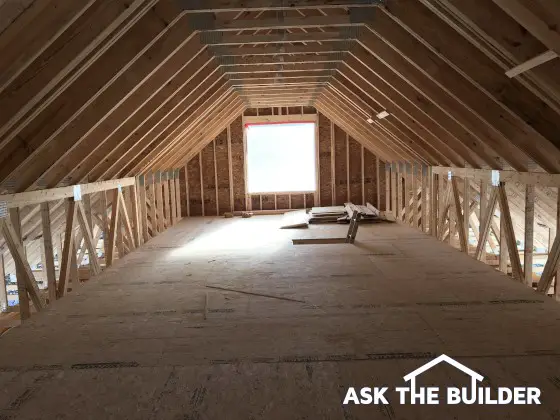 Article Name
Attic Truss Design - Create Rooms in Trusses | AsktheBuilder.com
Description
Attic trusses are modified common trusses that have a large rectangle inside the truss. When the trusses are all set, you end up with a giant room in your home that otherwise would have been wasted space.
Author
Publisher Name
Publisher Logo