Chainsaw Quick Start Guide
DEGREE OF DIFFICULTY:

Chainsaws are dangerous. They're also fantastic tools. It's absolutely astounding how much wood you can cut in a short time with one.
I've used chainsaws for over 40 years and never had an accident. I have had two close calls, but that's because I did something STUPID. 
There are two categories of chain saws: gas-powered and electric.
Both of them work very well, and they're designed for different people. I've used both types of saw and just recently used my electric saw to trim off the bottom of my fresh-cut Christmas tree. It cut the thick trunk like a hot knife through butter.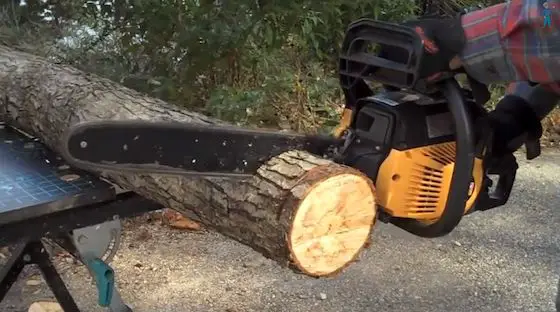 I've rated this guide five hammers out of five because you'll be working with a dangerous tool, even if it's an electric saw.
If you've never used a chainsaw before, I urge you to take a class offered at a specialty store that sells these marvelous tools.
Watch the video below unless you've come here from YouTube having already watched it.
Be sure to look at the RELATED CONTENT links at the bottom of this page. Lots of goodies there for you.
REQUIRED TOOLS & MATERIALS:
TIPS
STOP AND READ all the safety instructions that come with your new chain saw.
Look in the owner's manual for the section that talks about pinched chainsaw bars. If you pinch the bar cutting a giant log, you could be in a world of hurt if you're alone and need help.
A dull chain is dangerous and it overworks the saw. Keep blades sharp, but understand how to sharpen them. It's not easy.
Always wear all the recommended safety gear. Chaps are very important. My father-in-law nearly died one day in the woods because he cut his leg with a chainsaw. Chaps would have prevented that accident.
Gas-powered saws offer the most versatility. You just need gasoline and oil.
Electric saws are perfect for those with a small house, urban setting and just need a saw for occasional work. Electric saws cut as well as a gas saw, they just are a little slower. Rarely will you find a power outlet deep in the forest.
Gas chainsaws come in a multitude of sizes. It can be very confusing buying one. Talk to a specialty store clerk or study online reviews if you don't know exactly what you need.
The chains spinning on the chainsaw bars NEED oil. When you stop to fill the gas tank, always fill the oil reservoir at the same time. If you have an electric saw, stop every five minutes to see if the oil needs to be replenished.
Cutting standing trees is exceptionally dangerous. If you've not done this before, STOP and get advice from a pro. Watch videos produced by pros. Trees have enormous amounts of potential energy stored in them. This energy can and will cripple or kill you or a person nearby if you make a mistake.
Celebrate your Victory!
Please subscribe to my Newsletter and get insider information on the latest home-improvement tips, and products. I guarantee you that my newsletter WILL save you time and money. Frequently, I include your questions with my answers and proposed solutions. Perhaps the best part of the newsletters are my reviews of new products based on my own testing. Click here to read my past newsletters.
It is FREE & EASY.
RELATED HELPFUL CONTENT:
Column QSG014