February 13, 2022 AsktheBuilder Newsletter
AsktheBuilder Newsletter #1169
Is this your first issue? If so, I'm glad you're here. Each issue of my newsletter is created on the fly. I tap into what's happened the previous few days and share that life experience with you.
It just so happens this is a bi-polar issue! I think you'll enjoy it. You get to see what happens when I get stung by a bee so to speak.
You, however, might have signed on with issue #742. Do you recall the column I wrote about painting vinyl siding?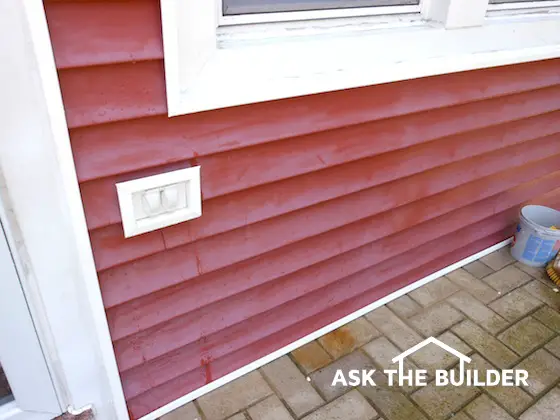 Lots of people ask, "Can you paint vinyl siding?"
I have the answer for you in this column.
---
Become a Sustaining Ask the Builder Member - Should something in this issue save you time or money, you can sustain me with mocha chip ice cream or three cheese coneys and a 5-way.
---
Steve in France
A few days ago, I did an international consult call with Steve. Actually, we did a ZOOM video call so he could walk around his house to show me the plumbing challenge he faced.
I'm happy to talk with you on the phone too.
Steve is adding a full bathroom and he needed my help understanding how to install both the drain, waste lines, and the vent pipes for each fixture.
I rapidly became aware that Steve is doing much more than the plumbing. He's undertaking a massive remodeling project that involves a large portion of the house.
He had already installed some copper water pipes and he used the magical press fittings that require no soldering. Look at Steve's workmanship: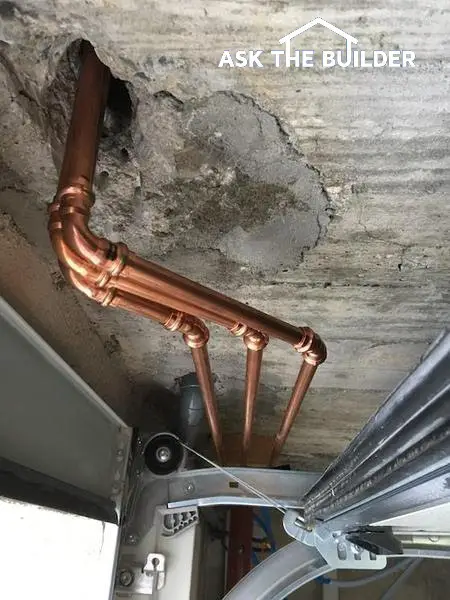 I'm sharing Steve's story because I find it inspirational. He's eating an elephant but doing it one bite at a time.
You can do the same - no matter if you want to build a shed, remodel a kitchen, or build a small room addition.
Steve didn't buy the tool to crimp those fittings onto the copper tubing. He was able to rent it for just 50 Euros a day. You'd be surprised by the tools you can rent so you don't break your budget.
I'm not aware if Steve watched my video about a copper press tool to see how easy it is to install tubing, but I suggest you watch it right now.
Be aware that no matter what project you face, I can be your lifeline. Zoe, a young woman in New Mexico, had me on the phone just a few times last spring. I helped save her over $18,000 when she ended up doing all the plumbing in her new home.
No matter what your project is, I can help you on the phone or in a ZOOM call.
Next week, I'm going to tell you about the other inspirational Steve.


Short-Term Rental Cage Fight
Do you know much about private property rights? If you live here in the USA, they're sacrosanct.
Do you know anything about the Game of Thrones? It's played each and every day in each HOA, every company, each town, city, state, and country.
Right now a strategic Game of Thrones is happening where I live in New Hampshire.
"...There is no middle ground."
Imagine these situations. A different group of eight seniors wants to rent your house each week of the summer so they can play Scrabble out on your deck sitting in the breeze at a large shaded table drinking lemonade. They may occasionally giggle.
Or, imagine a national society that wants to rent your home so a different group of young people who are both deaf and mute can come and sit on your deck each week. All they want to do is meditate and look out at the lake all day.
I could go on and on and on with examples of how you might rent your house to people who would never bother your neighbors.
My HOA Board is trying to muster enough votes from the people that live here to prohibit weekly short-term rentals no matter who I'm renting to.
It's a hateful abuse of private property rights.
I've already done my preliminary research and discovered the courts all across the USA don't look favorably on HOAs that try to change the rules like this after the game has started.
If you're aware of lawsuits where a homeowner BEAT her/his HOA in a similar short-term rental battle, I'd LOVE for you to share it so I can add it to my list. Please email me a link to a page on the Internet about the lawsuit.
There are countless court cases ruling in favor of homeowners who want to rent. The HOAs who want to infringe on your private property rights almost always crawl away from the cage fight bleeding, bruised, and beat.
What's shameful about my HOA's stance is they're not offering to help pay my real estate taxes, upkeep, etc. but they have no issue infringing on my ability to raise the money to do such things.
It's a mindset that far too many have who try to tell you what you can do with your life and your property for goodness sake.
It's one thing to have the rule in place when the development is first put on the market and no one has yet purchased in the HOA. However, it's quite another matter to try to enact something like this after everyone has already purchased their home.
One might say that those newer residents of my HOA that don't like renters maybe shouldn't have bought into this development. They knew at the time they purchased that anyone here can rent their home at will.
But what do I know? I ate lunch for 20+ years sitting on overturned empty drywall mud buckets. I'm trying to convince the Board to stop this before it gets ugly and we just enrich the local lawyers.
Do you stand up for your rights when someone tries to put a boot on your throat? If not, you'll suffocate.
Do you recall what General Stark wrote in a letter in response to an invitation to attend a reunion celebrating his Revolutionary War victory in Bennington, VT?
"They were men that had not learned the art of submission, nor had they been trained to the art of war. But our astonishing success taught the enemies of liberty that undisciplined freemen are superior to veteran slaves."
At the end of his letter, General Stark included the famous line that had been touched upon years before in other historical conflicts of good vs evil. He intended this line to be said in a toast to his men at the reunion so the story goes:
"Live free or die. Death is not the greatest of evils."
My HOA Board heard a shot whistle about 1 foot above their deck Friday morning when they opened an email I sent around 8 AM. We shall see if they have the courage to do the right thing and back down.
If I were a betting man, I'd wager they're going to hold fast even though I shared that the proposed bylaw amendment is most certainly illegal.
In the email I sent to them, I opened the bomb bay doors and showed them I have an atom bomb.
Just before the next meeting, I'm going to drop it if they don't back away from this initiative.
The reference to the atom bomb comes from a fantastic attorney I served with on Amberley Village's Council. His name is Louis.
Louis taught me in negotiations of any kind if you have the strong hand, you do a low-pass fly over and open your bomb bay doors to show your opponent that you do, indeed, possess the atom bomb.
That said, you never drop the atom bomb unless you have to as utter destruction results. There are no negotiations after you drop an atom bomb.
My HOA Board made a grievous tactical mistake in an email reply to me about ten days ago. That error is going to be shared with all the folks in my HOA just before the meeting where the vote will be cast on this short-term rental agreement.
Yes, I made it crystal clear to the Board in my email that was the atom bomb fashioned by this undisciplined freeman.
Here's one thing about me you may not know. I don't like to start conflict. But by gosh if one is forced upon me, I'm all in like in Texas Hold 'em.
That's enough about bombs, bad jujumagumbo, and royal flushes on a Sunday morning.
I'll be back next Sunday. You didn't know I could fly a B-52 just above stall speed did you? You might even wonder if I've flown in an F/A-18 Hornet.
By gosh, you learn something new each Sunday in an AsktheBuilder.com newsletter! Look just below to toss me a treat.
Tim Carter
Founder - www.AsktheBuilder.com
Hilton Hotels Clean With - www.StainSolver.com
K-2666 POTA - www.W3ATB.com
Do It Right, Not Over!
P.S. Can you guess what it might have cost to build the Old Tech building on the University of Cincinnati campus back in 1901? It was a pretty big brick building, two stories with a big basement. Let me know if you were within 25 percent. Here's a photo of it. It's NOT the giant building with the spire in the right photo. It's the building to the right still partly in the shade.

WHO DEY?
Become a Sustaining Ask the Builder Member - You can sustain me with mocha chip ice cream or three cheese coneys and a 5-way should something in this issue save you time or money.