Linear French Drain Video Series DVD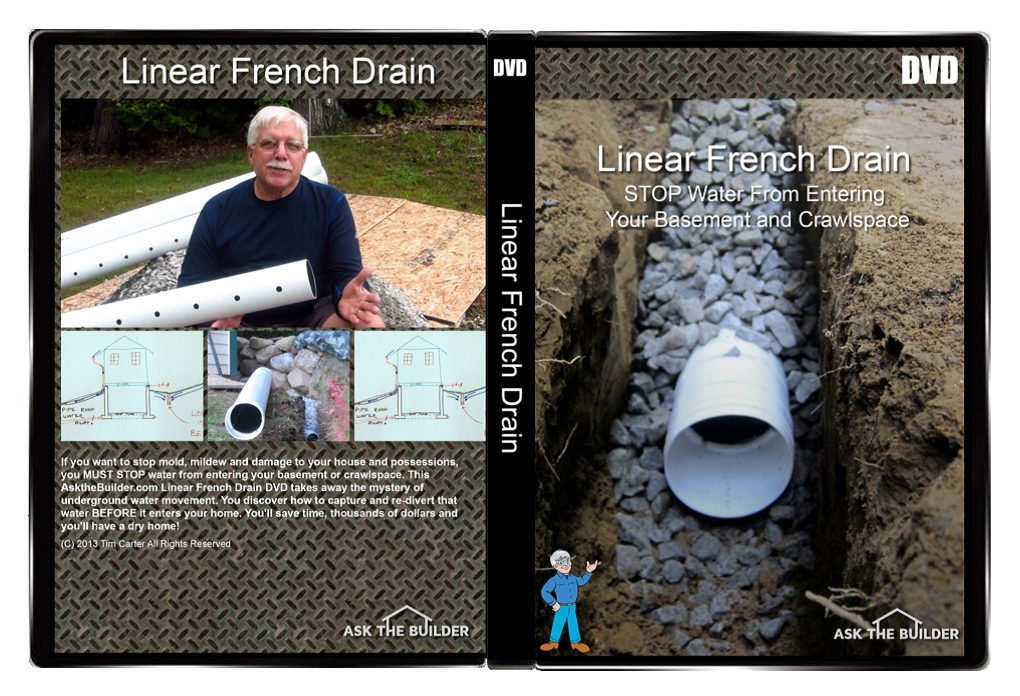 Tim Carter shows the step-by-step procedure of installing a Linear French Drain to keep your basement and crawl spaces dry. Watch the video below for additional details.
Click here to purchase this DVD from the AsktheBuilder Store.
The following is from an email received from the Maria Atwood Inn B&B.
Dear Tim,
I would like to take a moment to thank you for your advice on how to handle the significant water problem I had in the basement of my 1820's house (now serving as a B&B Inn). The chronic water influx that resulted from the new residential construction uphill from my place literally jeopardized both the safety and value of the Inn and its function.
Moisture damage and mold were making it an unhealthy to place to live - not to mention operate as a B&B. Your instructions as to how to install the linear french drain around the periphery, the depth and the appropriate slope requirements turned out to be the "Magic Bullet" which totally solved the problem.
The outflow from that trench drain actually became a small stream through all of the severely wet spring weather we have had this year. Being cautious, I had also installed a sump pump inside as a backup. That pump never even came on!
A really terrific aspect of the trench system is that it operates completely on its own without any energy input. Thanks to gravity and Ask the Builder, I have actually been able to paint the floor and now have additional workspace that was completely uninhabitable before the drain was installed. Your assistance was greatly appreciated.
Best regards,
Fred Hoffmeister
Maria Atwood Inn B&B
Franklin, NH
The videos will be shipped to you on one DVD, so you can view them anytime. No need to be online.
Click here to purchase this DVD from the AsktheBuilder Store.