Paving Bricks
Paving Bricks - They're NOT All the Same
Many brick companies manufacture paving bricks. Durable, long-lasting paving bricks must meet certain testing standards. The particular standard for paving bricks is ASTM C902, Standard Specification for Pedestrian and Light Traffic Paving Brick.
If you decide to purchase paving bricks, make sure that they have passed this test. The product literature or brick supplier will be able to supply you with documentation that will prove this. Don't hesitate to ask for it.
What is the ASTM C902 Test?
The ASTM C902 testing requirements ensure that the brick will withstand pedestrian and light vehicle traffic. If you install a brick that does not pass this test, it is quite possible that the brick will crack and/or disintegrate after a few years.
Will Brick Intended for Use in Walls Work as Paving Brick?
Bricks that are used in walls do not necessarily perform well when installed in the ground.
Paving bricks are subjected to greater quantities of moisture, and abrasive foot and vehicle traffic. Don't make the mistake of using just any brick for your sidewalks or driveway. You may waste a tremendous amount of work.

Get FREE & FAST BIDS from local contractors who can install your brick or stone patio and walkways.
What are the Types of Paving Brick?
There are two types of paving brick. The best one is made from clay and the also-ran one is the more modern concrete paving brick. The traditional paving brick made from clay has its color solid all the way through. When fired at a hotter temperature for a longer time in a kiln, they transition to artificial rock and are extremely durable. 
Clay paving brick are available in various shades, however, reds, oranges, and browns are most common. They can also come in different thicknesses. Some can be as thick as 2 5/8" while many are available in 1 1/2" thickness.
Concrete paving bricks were developed in the late 1970s and early 19080s. They rapidly became the belle of the ball as happens with many new product innovations. But after a few years sometimes you discover that the product is really a pig wearing lipstick. Many homeowners have discovered this to be the case with concrete paving brick.
These bricks are made using concrete with small aggregate. These bricks often come in different interlocking patterns. They are also available in different colors. Because they are concrete, they can be extremely durable.
What is Wrong With Concrete Paving Brick?
The big issue with concrete paving brick is they look good for a year or two or three, but then slowly start to fade and change color. The rich deep color you saw the day they were installed disappears because the colored cement paste wears off the sand and gravel chips used to create the concrete brick.
Powerwashing also rapidly erodes the cement past uncovering the ugly stone chips inside the brick. You can see this in the photo at the top of this article.
Who are the Manufacturers of Clay Paving Bricks?
The following manufacturers make paving bricks that pass the ASTM C902 test. Most of these websites have informative product literature. Many will give you the location of the closest distributor.
Acme Brick Co.

Belden Brick Co.

Boral Bricks

Bowerston Shale Co.

Carolina Ceramics

Cloud Ceramics

Endicott Clay Products

General Shale Brick

Glen-Gery Brick

Pine Hall Brick Co.

Redland Brick Co.

Summit Brick & Tile

Taylor Clay
Who are the Manufacturers of Concrete Interlocking Paving Bricks?
There are hundreds of manufacturers of concrete paving bricks. Many of them are members of the Interlocking Concrete Pavement Institute (www.icpi.org). This website has a search tool to find the names of manufacturers in your area.
---
---
Paving Brick Installation Information
The Brick Industry Association (www.bia.org) has three excellent publications explaining and detailing several different methods of installing both clay and concrete paving bricks. These are available for free download from the BIA web site, and are titled as follows:
Technical Notes 14 - Brick Floors and Pavements, Part 1 - Design and Detailing - Sept. 1992 (Reissued March 2002)

Technical Notes 14A - Brick Floors and Pavements, Part II - Materials and Installation - January 1993

Technical Notes 14B - Brick Floors and Pavements, Part III - [Nov./Dec. 1975] (Reissued August 1998)
What is a Great Book Teaching How to Install Paving Brick?
Also, The Portland Cement Association (PCA) (www.cement.org) has an excellent book that speaks to installation techniques of both clay paving bricks and concrete interlocking paving bricks.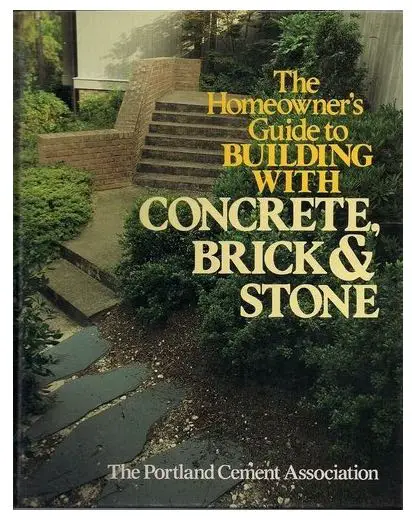 The title of the book is The Homeowner's Guide to Building With CONCRETE, BRICK & STONE.
The PCA publishes many excellent books and pamphlets. I'm quite sure you will be impressed. The publications can help you with many masonry projects. Good luck!
Get FREE & FAST BIDS from local contractors who can install your brick or stone patio and walkways.
Column B035