September 29, 2019 AsktheBuilder Newsletter
You may be a new subscriber this week. I was on vacation and hope you settled in okay. This is NOT a normal newsletter. You'll see why in a moment. Hang in there until next week for a home-improvement injection.
If you're a hardened subscriber who's a road warrior like me, then you know what it's like to travel and try to avoid barker spiders!
Little-Man Self-Discovery Trip
Kathy, my wife, is not a big fan of traveling. I'm the opposite. I could be ready to leave in about 45 minutes if an opportunity arises.
We have a great relationship and she encourages me to travel because then she gets a vacation from me! It's important for you to realize I've worked out of the house for the past twenty-five years.
Need I say more?
About 15 years ago, I started traveling to very neat places here in the USA and Canada. Many trips were wrapped around going to secret Internet mastermind conferences.
I majored in geology in college, so I'm attracted to the Southwest where bedrock and structural geology is delicious eye candy.
I'm sitting here right now creating this newsletter for you at Gate C 31 in the Denver airport on my way back to New Hampshire. I've got about an hour to get this into your inbox.
I spent the past week in northern New Mexico. What a delight!
Here are some photos that tell just a part of story of the trip: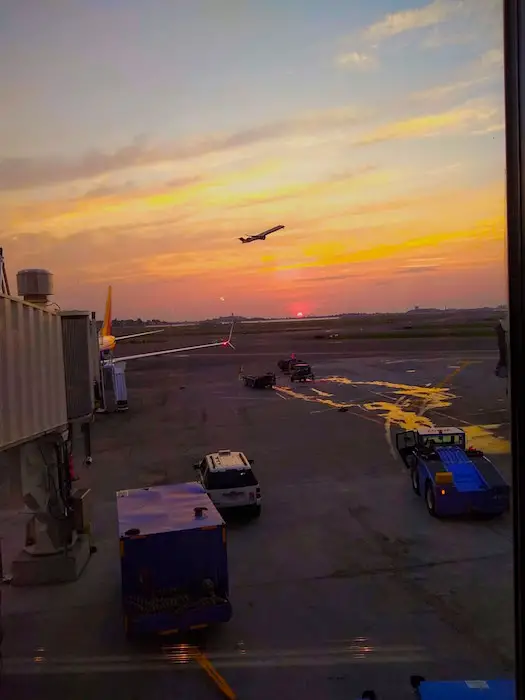 I shot the above photo at Boston Logan airport last Monday morning. I had to wake up at 1:30 AM to catch a 3:15 AM bus to the airport. UGH!
But I was rewarded with this sunrise just before boarding the direct flight to Denver, CO.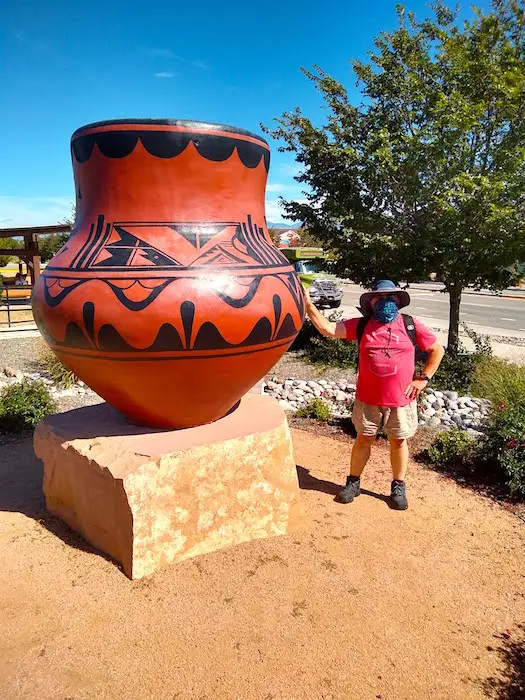 After a grueling 21-hour travel day on Monday, I woke up in Taos, NM. My buddy Dan and I went to Bandelier National Monument.
Here I'm standing in front of a giant pot at the shuttle bus stop. I wear the spandex hoo rag as a sunscreen and it makes me look mysterious as well.
Bandelier has some remarkable cave dwellings that were carved out of volcanic tuff deposits up to 1,000 feet thick. Massive super volcanoes in this part of NM blew their stacks over a period of 1,000,000 years plus creating all the rock.
I highly recommend you going to Bandelier.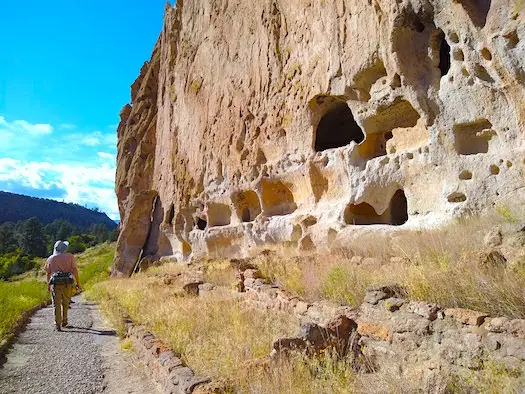 These are just a few of the cave dwellings at Bandelier. The loop trail is easy to do and there are not too many elevation changes. You can do this trail.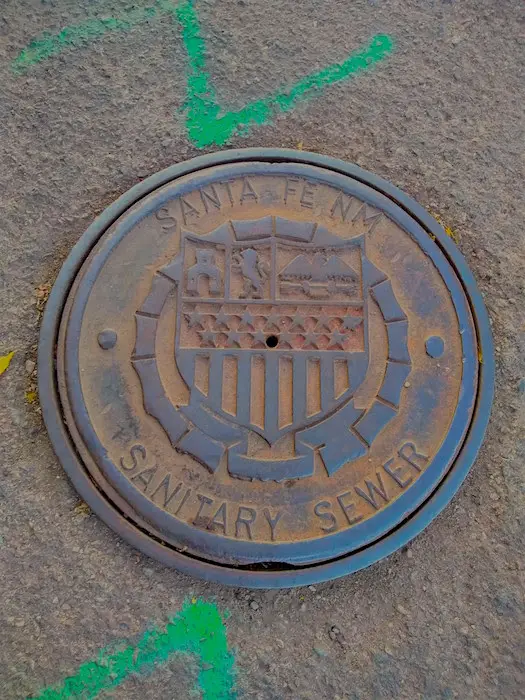 My buddy Dan thinks I take the strangest photos. Here's a great sewer lid in Santa Fe. Personalized sewer lids are the sign of pride and creativity.
Think about it. The foundry just charges a one-time fee to make the mold and BOOM you have super-unique sewer lids that tourists photograph!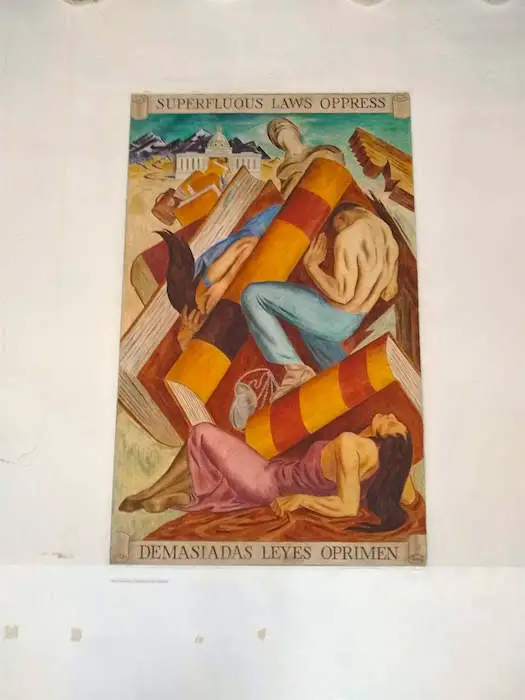 The above fresco was in a very old town meeting building in Taos, NM. The artist back nearly 100 years ago understood how too many laws are not a great thing. Too many regulations and laws crush us and hold back our ability to create things.
Think about it for a moment. When was the last time you saw a news story of any type where your local town or state government repealed laws? I know I can't remember. Each law that's passed takes away some of your, and mine, freedom and liberty. It's really something to ponder in my opinion.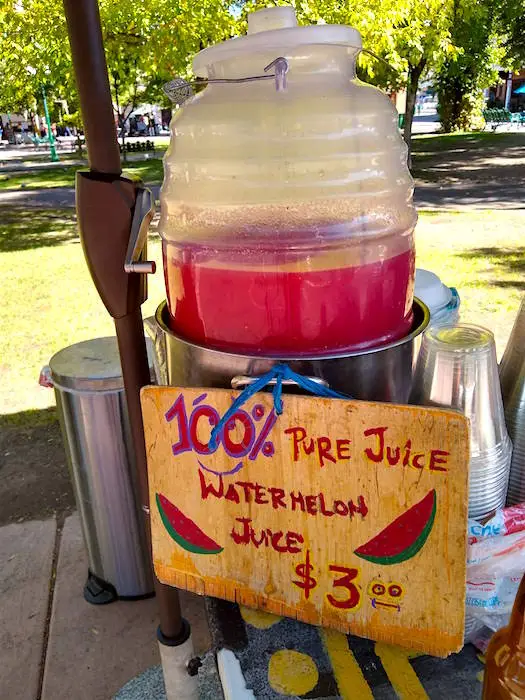 I love love love watermelon. Kathy thinks the aroma of it is disgusting, much less the actual melon. I've often thought, "Why don't they sell watermelon juice at the grocery?"
BOOM! I was walking through the plaza in Santa Fe this past Thursday mid morning and look at what I saw!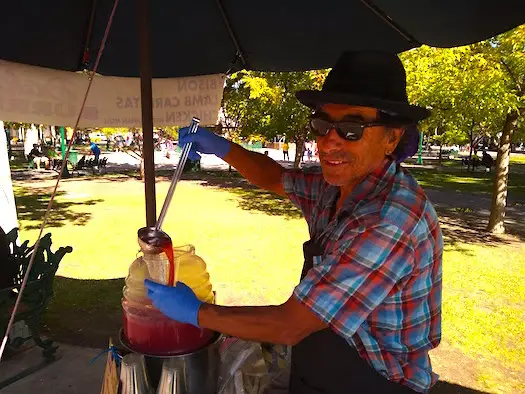 Blamb was the food vendor selling the juice along with his multitude of fresh and wholesome burritos. I ordered a lamb one with tasty fried onions sans wretched green peppers and cilantro.
I'm one of the ten percent that thinks cilantro tastes like soap. I promised Blamb that he'd be featured in my newsletter. The burrito and juice was simply fantastic.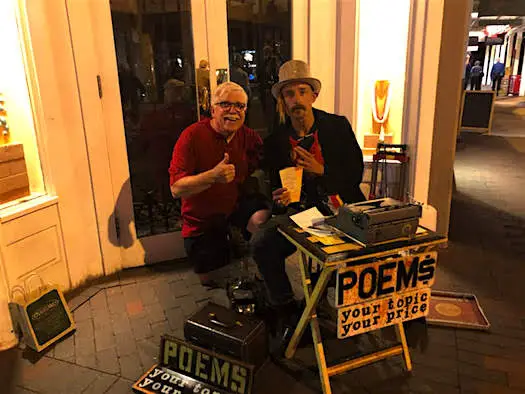 Here's William the poet. He sets up at one corner of the Santa Fe plaza. This was our first night here. I had him compose a special poem for Kathy. He's holding it in his hand. He uses a real typewriter with a black and red ribbon to type your poem on card stock. It's very unique.
He asked me a few questions about what I wanted, I gave him some ideas about what message I wanted to convey and William said, "Come back in 10 minutes and I'll have it ready."
I came back and it was unbelievable. You can hire William long distance to send a special poem to that special person in your life.
What's cool is YOU decide what to pay. Very clever, William!
CLICK or TAP HERE to order your personalized poem from William.
I get NOTHING from William and am just happy to tell you about this very one-of-a-kind service. Let him know you heard about him from me.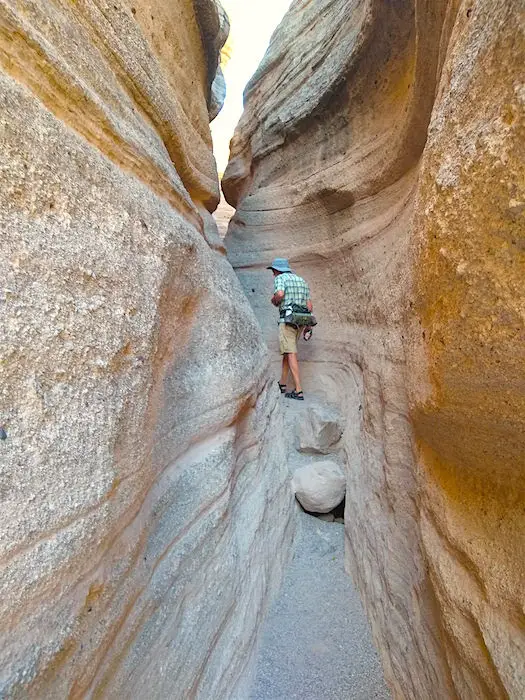 Thursday afternoon found us at a non-planned stop. It turns out this may have been the most scenic of all the places we saw!
Kasha-Katuwe Tent Rocks National Monument
WOW!
That's a slot canyon cut into more volcanic tuff. I can't say enough great things about this amazing national treasure. It's not too far off the beaten path and if you can get here, DO IT!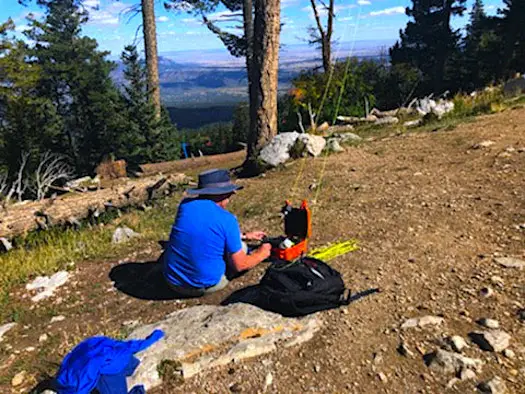 This was me yesterday on top of Sandia Peak above Albuquerque, NM. I was doing a Summits on the Air amateur radio activation. We rode the ginormous Sandia Tram up the mountain. It whisks you up 3,600+ feet of elevation in just 15 minutes.
Moments before this photo was taken, I threw a water bottle up into a pine tree about 55 feet.
Everyone that walked by me while I was contacting other radio operators marveled at just one thing:
"How in the heck did you get that string up so far in the tree?!"
I'm glad you asked. I had Dan record a video showing exactly how I do it when we were at the Randall Davey Audubon Center in Santa Fe on Wednesday.
CLICK or TAP HERE to see exactly how you can get a string 50+ feet up into a tree by just using a water bottle.
I took hundreds of other photos, but didn't want to overload you.
I'll have a regular newsletter for you next week, so hang in there!
Tim Carter
Founder - www.AsktheBuilder.com
Certified Organic CLEAN MAN - www.StainSolver.com
Outdoor Radio Mountain Man - www.W3ATB.com
Do It Right, Not Over!
P.S. Late September is absolutely a magical time to be in northern New Mexico. The daytime average high temp is in the upper 70s F or so. I hope you get to travel here.