Cement Stucco – Synthetic Stucco / EIFS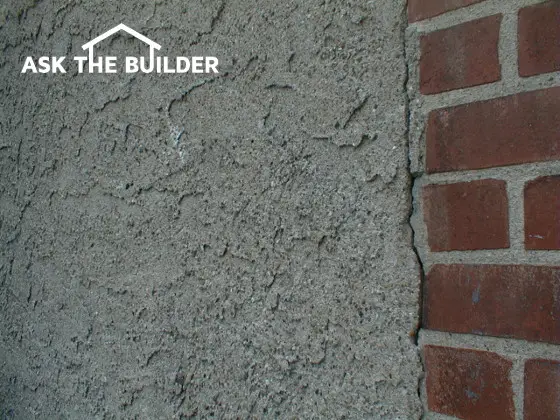 DEAR TIM: I am considering using stucco for an upcoming building project. The time tested cement stucco seems to hold up fine. However, I have recently seen a newer synthetic stucco product used in residential construction. Are there any potential problems with either stucco method? What are the pros and cons to each system? T. R.
DEAR T. R.: The newer synthetic stucco you are referring to is EIFS (Exterior Insulation and Finish). It has been is use in the USA for approximately 25 years. The cement stucco system, on the other hand, is thousands of years old. It is definitely no spring chicken!
The system is durable. The reason lies in the fact that you are basically covering your house with a layer of rock. The cement stucco consists of sand, a small quantity of lime, Portland cement, and water. It is simply a fine grained concrete that is attached to your house using a waterproof barrier paper, galvanized wire mesh, and metal flashings. Flashings are handy devices that channel water to the exterior of a wall.
Cement stucco has numerous advantages. It can achieve compressive strengths in excess of 3,000 pounds per square inch. Ladders, baseballs, and rocks will rarely dent it. If you have a talented plasterer, you have unlimited surface texture possibilities. Furthermore, if you use time tested installation methods, you can create a weather tight barrier to wind driven rain, snow, and ice. Uncoated cement stucco allows water vapor to freely pass through it.
As for its disadvantages, cement stucco is a rigid material. If the wood framing beneath it shrinks or if the house foundation moves, the cement stucco will very likely crack. If you choose to use it on a new home, frame your house using wood sheathing, get it under roof, and let the lumber dry for 45 - 60 days before proceeding with the stucco installation. Quality control of the material is determined at the jobsite. The people who mix the ingredients and install it on the wall control the destiny of your stucco finish.
EIFS is a synthetic material. It is virtually impervious to water and water vapor. One coat and two coat systems are available. The outer surface layer usually contains long lasting acrylic polymers that are solid colored and extremely flexible. A wide variety of colors and textures are available. EIFS systems are almost always applied over an unbroken layer of expanded polystyrene insulation board. Lower fuel bills are a certainty when used in conjunction with standard fiberglass batt wall insulation.
In some ways EIFS is too good. It has been determined that EIFS stucco can actually act as a barrier. Manufacturers and installers of many of the EIFS systems have abandoned the waterproof barrier paper and flashing practices practiced for years by the cement stucco masons. Water gets behind many EIFS systems and can't get out. Numerous houses across the USA are suffering from serious structural wood rot. Certain EIFS systems severly inhibit the evaporation of trapped water.
An EIFS system is available that makes use of a special water management system. This concept acknowledges that water will get behind synthetic stucco. The water management system collects the water and diverts it back to the exterior of the home before it can cause rot damage. The system incorporates a special barrier paper, old fashioned metal flashings, cement board in place of foam board and a combination of a Portland cement basecoat topped with a textured polymer stucco material.
If you choose to use cement stucco and want it colored, use a masonry penetrating stain. Avoid film forming paints that may peel at a later date. If you choose to use EIFS, be sure that a waterproof barrier paper is used between the system and the wood structure. Check to make sure that flashings are used as well. The flashings must be in place at the bottom of the stucco, around windows and doors and any other place where the synthetic stucco abuts something that is not stucco. The flashings will direct water from behind the EIFS back to the exterior of the wall. Remember, EIFS systems can trap moisture. You must install an EIFS stucco finish so that it can easily liberate water that will get behind the attractive finish.
Read about Chris' dilemma in my opens in a new windowNovember 22, 2009 AsktheBuilder Newsletter.
Author's Notes:
February 2002
A recent Virginia Circuit Court judge has just ruled that Dryvit's Outsulation is defective. He concludes "even if the Outsulation were perfectly applied according to Dryvit's specifications, instructions, and details, the patented Outsulation 'system' consisting of the method of application and the component parts, is intrinsically defective and thus, is not merchantable." This information was provided to me by the webmaster of another website called eifsfacts.org.
April 1997
Since I authored this column, there has been a major storm brewing concerning EIFS. One major producer of EIFS materials, USG Corporation, stopped marketing "barrier" EIFS in April of 1996. Instead, they developed a "Water-Managed Exterior Finish System". Other EIFS companies have modified their products and installation techniques to deal with water infiltration problems, drainage, and wood rot.
Maryland Casualty Insurance is not insuring EIFS houses. There is a possibility that other major insurance companies will take notice and either limit coverage or cancel policies on existing EIFS houses.
"Barrier" EIFS systems have been outlawed in North Carolina and Georgia.
Class action lawsuits have been filed in state and Federal courts against EIFS manufacturers. These are currently in litigation. On July 2, 1997 a Tacoma, Washington jury found that a major EIFS manufacturer was not guilty in a case filed by two homeowners. The jury felt the homeowners deserved compensation but not from the EIFS manufacturer. They commented that the manufacturer had provided a good quality product and adequate installation instructions for the EIFS system materials. This case may have an impact on the class action suits.
If you have an EIFS house I suggest that you check for moisture related problems. If you are thinking of purchasing a house coated with an EIFS system, I suggest that you proceed with extreme caution. You may be purchasing a house that has latent defects. Hire a professional home inspector who can prove to you that he/she has experience in dealing with EIFS inspections. Also consider contacting your local building department. Ask these officials if there have been reports of EIFS problems in your county/city/town.
If you are beginning to construct a home that will include EIFS, I suggest you get the full set of installation instructions from the manufacturer. You then must make daily inspections to insure that every aspect of the installation is being performed according to the manufacturer's guidelines.