Fence Posts
"If you're setting fence posts, you may want to consider using concrete at corner posts and on each side of a gate. Those are the only places I'd ever use it."
Fence Post Checklist
Posts must resist wind pressure

Set posts in crushed gravel instead of concrete

Gravel easier to remove than concrete in future

Call 811 before digging - ALWAYS!

This column was featured in Tim's

opens in a new window

September 6, 2018 Newsletter
DEAR TIM: What's the preferred method to set fence posts? My 5-foot-tall solid-picket privacy fence has had some issues over the past ten years. The latest problem is posts set in concrete that have snapped.
I've installed some temporary steel fence posts to stabilize the fence as winter winds have caused it to lean. How would you install wood fence posts? Should I be using treated fence posts? Ron W., Maumee, OH
Related Links
What Size Fence Posts are Best? SECRET TIPS - DO NOT SHARE
Repair a Loose Fencing Post - ONLY SHARE WITH FRIENDS
DEAR RON: Fence posts can be a real hassle. I've fixed my fair share of them over the years. My guess is there are as many opinions as to the right way to set fence posts as there are posts encircling a one-acre field! But about fifteen years ago, I stumbled upon a method of setting wood fence posts that appears to be working really well.
Does Wind Cause Problems With Fences?
Your fence posts have a tremendous amount of force against them each time the wind blows. You may not think a 5-foot-tall fence is high, but in terms of wind load, it is substantial.
To get an idea of what I am talking about, lift a 4x8 sheet of plywood up and take it outdoors on a windy day. If you're not prepared, the wind may either knock you over or rip the plywood from your hands. Imagine the pressure on the entire fence being held back by a single fence post every 8 feet!
Free & Fast Bids
opens in a new windowCLICK HERE to get FREE & FAST BIDS from local fence contractors.
What is the Most Common Fence Post Size?
The average wood fence post seems to be a square timber that is a 4-inch by 4-inch post or possibly a 6-inch by 6-inch post. The surface area of the post in the soil is what determines how quickly a fence will tip in the wind. Smaller fence posts will yield much faster than larger posts assuming both are buried at the same depth.
How Deep Should Fence Posts Be?
Your fence posts need to be deep in the ground to resist tipping forces, whatever they may be. To prevent your fence from tipping over from gravity or the wind, you need to think about leverage.
My first real fence I built was back in the 1980's. It was a gorgeous wood fence that's still in fantastic shape today. The tip of the posts was only 4 feet out of the ground, but they extended 2 feet into the soil.
When the fence was complete the posts were extremely solid. Had they only been in the ground about 1 foot, I know I could have tipped the fence with little effort.
Where Should Concrete Be Used?
If you're setting fence posts, you may want to consider using concrete at corner posts and on each side of a gate. Those are the only places I'd ever use it.
Why? Keep reading.
Is Crushed Gravel a Good Idea?
The trick I discovered is that you can use crushed, angular gravel to trick the wind into thinking a massive fence post is installed. The crushed gravel is affordable and it is easier to deal with than concrete that becomes as solid as a rock.
What is Crushed Gravel?
Crushed gravel consists of small pieces of angular stone that have irregular sharp edges. You want the pieces of gravel to range from the size of a large grape down to the size of coarse granular sugar.
The angular nature of the rock and different random sizes interlock to create a very dense material that's quite like poured concrete.
You're about to discover how hard it is to deal with concrete that is deep in the ground around your fence posts. My guess is that you will be swearing like a sailor by the time you get to removing the concrete around your third fence post.
Is it Hard To Remove Concrete Around a Fence Post?
It is extremely hard to remove concrete that's poured around a fence post. Many people don't think about how hard it will be in the future to take out what they're putting in.
Breaking up a concrete sidewalk is not too bad. Wait until you try to break apart and lift out of a hole, the concrete you placed around a fence post 15 years earlier!
What is a Simple Way to Install a Fence Post?
My method of setting fence posts is quite simple. If I'm installing a 4x4 wood fence post, I dig a hole 10 inches in diameter. The depth of the hole is important.
My tests over the years have shown that the amount of buried post should be half the length that extends above the ground. In your case my guess is your fence posts were taller than the fence, so your wood fence posts should be in the ground at least 3 feet.
opens in a new windowCLICK HERE to get FREE & FAST BIDS from local fence contractors.
Should Posts be Plumb and In Line?
When it is time to install the fence post, be sure it is in line with the other posts and it is plumb. It is also important that the fence post is centered in the hole.
How Do You Install Crushed Gravel Around the Posts?
Start to add the crushed gravel in 5-inch lifts. This means add 5 inches of gravel around the post and use a long heavy 2x4 to tamp and compact the gravel. Add a little bit of water to the gravel as you tamp it. The water helps compact the gravel.
Each time you are finished tamping the gravel, check to make sure the fence post is still in the correct position.
Continue to install the crushed gravel until it is just a few inches from the top of the hole. You can add topsoil to finish off filling the hole in case you want vegetation around the fence post. Some people like the look of gravel, so it can extend to the surface. You can even use decorative, colored gravel if you like to finish off the hole.
Does the Gravel Lock the Post in Place?
The mass of interlocking gravel acts like an anchor when the wind blows against the fence. It also can facilitate drainage of water away from the fence post as the soil moisture drops in late spring and all summer long.
Is Gravel Easier to Remove?
The gravel is also easier to remove than solid concrete in the event you need to work on the fence in the future. A metal spud bar will quickly loosen crushed gravel that has been in the ground for many years.
What Fences Have the Least Wind Load?
Fences that are not solid have less wind load against them. A split-rail fence or a regular picket fence that has spaces between the individual pickets allows much of the wind to pass through the fence thus lowering the tipping force. In these instances, the fence posts do not have to be buried as deeply.
What is the Best Treated Lumber For Fence Posts?
If you decide to use treated fence posts, be sure to use the proper timbers. Not all treated lumber is approved for burial in the ground. The treated fence posts should be labeled that they are approved for direct burial.
When Should I Call 811?
Always be sure to call the national Call-Before-You-Dig Number a few days before you start your fence project. Simply dial 811 or go to their website opens in a new windowwww.call811.com. You may prevent death, serious injury or substantial expense by doing this. You would not be the first person to strike an electric line, phone line or even a buried natural gas line with a posthole digger!
opens in a new windowCLICK HERE to get FREE & FAST BIDS from local fence contractors.
Column 713
Summary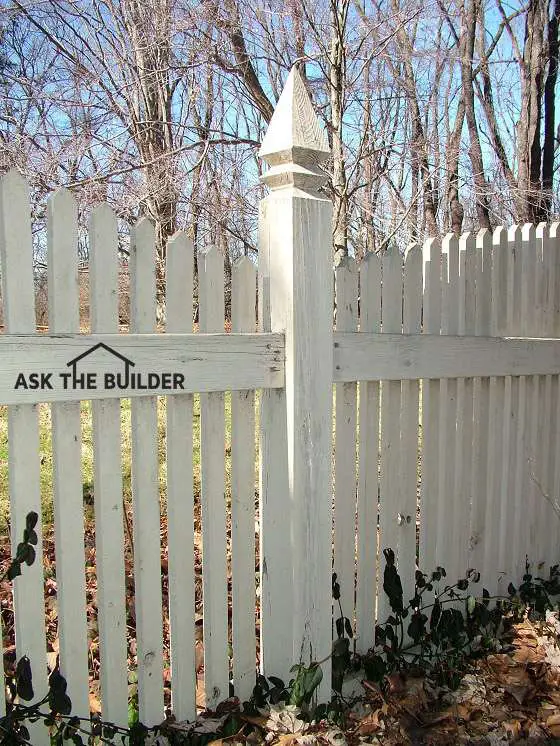 Article Name
Fence Posts are Easy to Install Using These Pro Tips
Description
Fence posts are not hard to install if you have the right tools and some crushed gravel. Only use concrete at special post locations.
Author
Publisher Name
Publisher Logo