Installing Drywall In Wet Locations
"Some people think that several coats of high-quality paint will protect the drywall from moisture, but this is not always the best strategy."
Installing Drywall in Wet Locations Checklist
DEAR TIM: My church group is restoring a house and all of the walls and ceilings in the bathroom and laundry area have been stripped down to the wall studs.
How much water-resistant drywall should we install? Is it best to use it just behind the plumbing fixtures and appliances or should all of the walls and ceiling be covered? John G., Detroit, MI
Related Links
Paperless Drywall - Why Use It?
Secret Pro Drywall Finishing Tips - DO NOT SHARE!
DEAR JOHN: There seems to be a significant amount of confusion about drywall, water-resistant drywall, and wallboard that is 100-percent waterproof.
Since you are in the driver's seat at this time and have a choice of what material to use, you can produce a finished result that should last for many years with little or no damage if an occasional splash or drip occur or even if lots of water floods a wall surface.
Free & Fast Bids
CLICK HERE to get FREE & FAST BIDS from local drywall contractors.
What is Regular Drywall?
Regular drywall that most people are familiar with is made with a gypsum-based core that is very strong when it is dry. Typically the drywall panels have a thick-paper wrapping that protects the gypsum core from impact and abrasion damage.
But the paper readily absorbs water and can transmit it to the gypsum inside the panel. When this happens, the panel loses its rigidity and either falls apart or it becomes very mushy.
What is Best Drywall Wet Locations?
With this in mind, I don't like to use regular drywall in areas where I think water might come into contact with the wall surface on a regular or even somewhat-regular basis. Some people think that several coats of high-quality paint will protect the drywall from moisture, but this is not always the best strategy.
If water gets behind the paint where the paint stops and a sink top or cabinet edge begins, you have an Achilles heel and damage to the drywall may start if water finds this entry point from time to time.
What is Green Board Drywall?
Green board drywall is a special drywall that's water resistant. The gypsum core has been treated with a water-repellent similar to silicone and the outer paper is reported to be somewhat moisture resistant.
Green board has been in use for decades. I was first introduced to it around 1975 if you can believe that! Many people recognize it from the green-colored paper facing. In fact, it is affectionately called green board by builders and drywall hangers.
It's not a bad product, but I discovered a SECRET TIP (see below) years ago to make it nearly invincible when it gets splashed with water.
Can Green Board Fail?
Yes, the green board can fail if it gets lots of water on it. It can fail faster if it's not allowed to dry out in between periods of getting wet.
What is MMR Drywall?
MMR drywall is mold, mildew, and moisture-resistant drywall. It's the modern name for green board drywall. Look at the features sticker and note what's above the red line:
What is the Best Bathroom Drywall?
The best bathroom drywall is green board. I'd install it on all walls and ceilings in a bathroom so long as you follow the manufacturer's installation instructions. On ceilings, be sure to space the fasteners on 9-inch centers.
Use galvanized drywall screws to attach the green board to the wall studs. Coat the green board with water-based urethane before you start to finish the green board.
I've had great success using this green board drywall behind sinks, toilets and on walls with ceramic tile backsplashes. But before I thought about my SECRET METHOD, I had horrific failures when I used it behind ceramic tile in tub and shower areas.
What is the Best Source of Drywall Facts?
opens in a new windowThe Gypsum Construction Handbook published by USG, Inc. is the bible of drywall and plaster information. It contains all you need to know to pick the best drywall and how it should be installed.
Can Water Vapor Ruin Drywall?
Water and water vapor can readily pass through ceramic tile grout and cause the drywall paper facing to disintegrate. Water-resistant drywall is simply not recommended for areas that are subject to constant moisture. Well, that is unless you think about doing what I've been doing for years. Keep reading!
CLICK HERE to get FREE & FAST BIDS from local drywall contractors.
Can Green Board Sag on Ceilings?
The water-resistant green board drywall is sensitive to stud spacing. If you decide to use the green board drywall for a ceiling, the joists must be spaced 12 inches on center for 1/2 inch thick drywall. If you have 16-inch on-center spacing, then you need to increase the thickness of the drywall to 5/8 inch for ceilings.
Do You Need a Vapor Barrier With Green Board?
Yes, you need to use a vapor barrier with green board. In bathrooms or other wet locations, water vapor will try to penetrate into wall cavities. This will cause wood rot in cold climates.
Some drywall manufacturers also state that a vapor retarder should not be used under the water-resistant drywall if the visible face of the drywall is covered by a product such as ceramic tile or other water-vapor impervious finish. I believe they are very afraid that water might get trapped within the drywall and cause damage. I don't know that I'd follow this advice on exterior walls in a cold climate. You MUST STOP water vapor from getting into wall cavities.
Can You Make Drywall Waterproof?
Yes, you can make drywall pretty much waterproof if you coat it on all sides and edges with water-based urethane before you install it. After it's installed and finished, then coat it two more times.
The secret tip to making the drywall waterproof is to coat the paper surfaces of the drywall, including the edges, with opens in a new windowclear water-based urethane BEFORE you finish the drywall.
This coating soaks into the paper on the drywall so water can't get to the gypsum core and cause deterioration or the delamination of the paper from the core. That's what happens over time is the paper rots away causing the failure you see.
How Soon After Applying the Urethane Can You Mud?
To get the best bond between the urethane-coated drywall paper and the joint compound used to finish the drywall, apply the joint compound within thirty minutes of rolling or spraying on the urethane.
You'll get both a chemical and mechanical bond between the urethane and the glue that's in the joint compound. The bond will be nearly as strong as epoxy if you can do the applications back to back!
Is Urethane a Great Waterproof Coating?
Urethane is a great waterproofing coating. This is why it's used on bar tops and hardwood floors that can get wet.
Any part of the moisture-resistant drywall that's coated with urethane and then painted will do super well. Urethane is extremely sticky. If at all possible, apply the urethane over the drywall that's to be painted and paint/prime within an hour for a chemical and mechanical bond.
What Drywall Fasteners Prevent Rust?
Hot-dipped galvanized fasteners or even stainless steel nails and screws prevent rust. Use these to fasten the drywall panels to the wall studs and ceiling joists. If you use raw steel fasteners, they will rust in time and the wall panels can fall off the walls or ceilings.
At the very least, you will find yourself dealing with unsightly rust stains that appear through the painted surfaces should you cut corners and use the wrong fasteners.
The gypsum core of the water-resistant panels is often treated with a silicone chemical or wax-like substance. You can readily see water bead up if you wet the exposed gypsum core. The problem for years was the failure of the green-colored paper, not the actual gypsum inner core.
Is Mold a Concern With Drywall?
Mold is a concern with any wall covering including drywall. Mold can grow on just about any surface except for solid copper or copper-coated
Because mold is in the forefront of the news, wall and ceiling panel manufacturers are constantly rolling out products that are both water-resistant and even inhibit the growth of mold on the surface of the panel. But as with any new product, always be sure to read the technical literature produced by the manufacturer.
Make sure you use the product as it was designed to be used. Always pay attention to the use of the words: water-resistant and waterproof. Waterproof means liquid water or water vapor will not harm the product. Water-resistant means limited amounts of water will not cause harm.
Can You Create a Waterproof Wall?
You can create a waterproof wall by using a wall covering that is waterproof. Cement board is one option and there are other coverings like fiberglass.
In areas of these rooms that will get heavy concentrations of water, you need to use a waterproof wall material. Remember, the green board drywall is water-resistant, not waterproof.
You can purchase interior panels that match the thickness of regular and water-resistant drywall that are made with cement and sand or a combination of cement, sand and other ingredients.
Furthermore, there are other innovative gypsum core products that are 100-percent waterproof. Use the waterproof wall panels behind the tile and in any location where you expect water to be regularly splashed onto a wall surface.
This column was SO GOOD that I shared with the 31,000 subscribers who read my opens in a new windowJanuary 8, 2017 AsktheBuilder Newsletter.
Column 560
Summary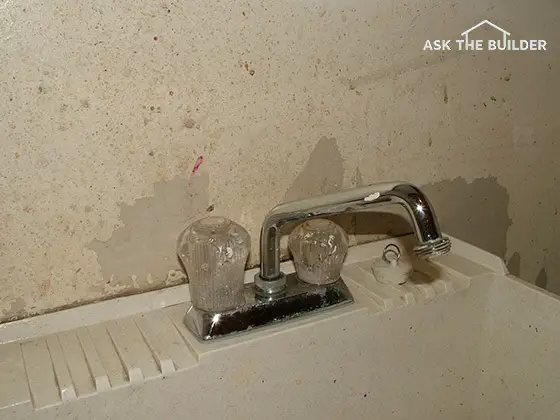 Article Name
Drywall Wet Locations - Use the Right Stuff and Magic Liquid
Description
When you drywall wet locations, you need to use the right product. It also helps to apply a special clear coating on the drywall before and after it's finished.
Author
Publisher Name
Publisher Logo