A DIY Room Addition in 7+ Weeks?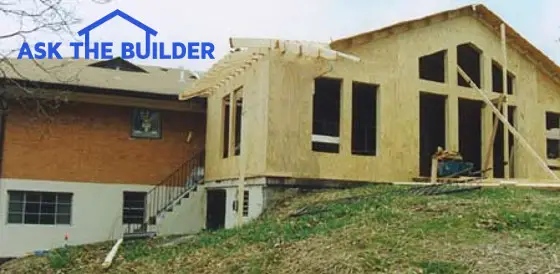 DIY Room Addition TIPS
Room additions equal hundreds of hours of labor

Helpers you hire will not have valuable experience

Lots of special tools required

Watch special videos below
DEAR TIM: I want to build a modest 25 x 20 foot single story room addition. It will contain a new family room with a half bath. After watching countless home improvement TV shows and reading many books, I am convinced I can tackle this project.
I have accumulated 7 weeks of vacation time. My wife thinks I am insane. Is it possible for me to get a good head start on this job and then finish it up over several weekends?
Is there something I missed while watching the shows and reading the books? Greg W., Hagerstown, MD
DEAR GREG: If you aren't already insane, you very likely will be at the end of your seven-week vacation period.
Cable TV Shows Are Fantasy
Based upon the TV home improvement shows I've watched, I feel many of the problems, difficulties, nightmares, and hard work of projects end up on the floor in the editing room. I can't tell you how many times at lunch my subcontractors and I would howl with laughter as we discussed what we saw on different shows.
CLICK HERE to get FREE & FAST BIDS from local room-addition contractors.
Books can also be deceiving. Just because you read the best medical text books, do you think you can operate successfully on yourself?
Many Small Tasks Add Up
The average room addition project can be broken down to no less than forty major tasks beginning with the initial foundation stakeout and ending with lawn restoration and landscaping. Some of these tasks can be completed in a day or two while others can last for several days or a week.
Pros Have The Tools
Residential contractors and sub contractors have a distinct advantage that you possibly do not possess. If I were to show up to help you, on any given day my truck would be stocked with nearly $15,000 worth of transits, levels, saws, masonry tools, drills, ladders, scaffolding, etc.
Many of these tools - such as my pneumatic nail guns and the compressor that powers them - are huge labor-saving devices. Renting tools like this can be expensive. Trips to and from the tool rental shop will eat into your valuable time.
Room Addition Framing Tips Videos
Watch a few of these videos. You need lots of this knowledge to have success.

More Than Two Hands
Extra helpers and laborers are a must. How many concrete foundation block do you think you will lay in a day if you have to constantly stop and mix mortar and restock the block?
Who will help you hold the addition walls plumb while you brace them? Setting roof trusses can be done by one person but three people make the job go five times faster.
Experienced Helpers
I used to tackle projects like yours with two experienced laborers. At the conclusion of the first week, we'd be right on schedule if the foundation was complete and backfilled.
Weather conditions must be perfect, concrete trucks and building inspectors must show up on time, and productivity must be high to achieve this goal. Depending upon the degree of difficulty in connecting the roof of the addition to the roof of the house, the three of us would complete the rough framing and roofing by the end of week two.
Marching Along Week After Week
Weeks three and four find multiple contractors and inspectors on site. Plumbers, HVAC mechanics, electricians, insulators are all working like well-oiled machines if the scheduling is perfect. If you do this work yourself and fail your inspections, you'll spend extra time and money redoing work already in place.
CLICK HERE to get FREE & FAST BIDS from local room-addition contractors.
Drywall Is Tough
Week five is generally reserved by the drywall contractor. Even a job as small as yours will consume five days to hang, tape, finish, and sand the drywall. You can possibly shave two days off this if you use rapid-setting-type joint compounds. Beware! - setting type joint compounds are not rookie friendly.
Weeks six and seven on my job would find myself and my crew, the tile setter, flooring people, and the painter all trying to work in unison to bring the job to a close. Invariably work would stretch into the eighth week.
Add Up The Days
Do the math. You'll quickly see that a typical room addition project can consume well over 1,000 hours of work when you add up all the workers' time cards. Even if you work at peak productivity for 60 hours a week, you'll fall short by nearly 800 hours! Go give your wife a hug and get that wild look out of your eyes!
Work Alone?
Okay, okay. I know, some of you still want to try to do the room addition yourself. Here is a great book that may help you! Working Alone is a unique book packed with more than 50 innovative tips and techniques.
In this book, you'll learn how to handle nearly every aspect of home construction alone, from foundation layout to raising walls to building decks. You won't have to wait for a helper or pass up a job that seems too difficult to do alone. ORDER this book NOW, it is a must have!
CLICK HERE to get FREE & FAST BIDS from local room-addition contractors.
Related Articles:  Room Additions, Room Addition Task Timing, Room Addition
This was the Mystery Link in the November 24, 2015 AsktheBuilder Newsletter.
Column 220