Andersen, Pella and Marvin Window Comparisons
"If you want the best windows out there, then you want ones that carry the American Architectural Manufacturing Association's (AAMA) Gold Label."
Andersen, Pella and Marvin Window Reviews Checklist
Look for AAMA Gold Label

Higher prices usually equate to high quality

READ installation instructions yourself - don't HOPE they get installed right

Watch my Marvin Window Installation VIDEO Below!
DEAR TIM: I was looking at your web page for some information on windows, specifically for Pella window reviews and Marvin window reviews.
I thought I had a handle on the basics of double pane, gas-sealed, low-e, high-efficiency thermo-pane windows, but from what I've seen of Pella windows, they're not sealed at all.
To me, this blows the whole "sealed = high efficiency" thing out of the water. How can Pella boast high/higher efficiency, when all they seem to do is provide two unsealed panes of glass? Am I missing something?
I know some folks swear by Pella, but to me, Andersen or Marvin seem to be a better product because their windows actually provide a sealed-space, which I thought insulated better.
I like Pella's casement product from a standpoint of no chance of seal failures and fogging, plus the in-between mini-blinds, but I'm not convinced that they actually deliver the same level of efficiency. Vic Johansen, Cincinnati, OH
Related Links
Wood Window Installation Secrets
Window Installation Nightmares - Avoid Them!
Free & Fast BIDS
CLICK HERE to get FREE & FAST BIDS from local replacement window contractors in your city or town. Ask about AAMA Gold Label windows.
DEAR VIC: A good friend of mine who happens to be a CPA and a former mentor of mine taught me several years ago that numbers don't lie. When you couple this fact with independent certification numbers assigned by testing laboratories to the different windows, you have a clear-cut method of scientifically choosing top-quality windows.
What are the Best Windows?
The best windows are ones that have the gold AAMA label.
If you want the best windows out there, then you want ones that carry the American Architectural Manufacturing Association's (AAMA) Gold Label. CLICK HERE to discover all about this very important certification.
Windows that sport the gold AAMA label are simply the best ones made. Period.
What was Pella's Old Window Design?
Pella's window design for years has used a removable pane of glass that had a built-in gasket. This gasket, believe it or not, produced a seal that could rival those of the insulated glass you see in other windows.
Pella window reviews all show that Pella windows now have insulated glass. Years ago they offered a model that married the insulated glass with a third removable gasketed glazed panel.
What Windows Have you Installed, Tim?
I've installed all three windows, Andersen, Pella and Marvin in my jobs in the past. The last home I build for myself and my family had Marvin windows in it. They were gorgeous up-down sash windows with authentic divided lites that matched the Queen Anne architecture style of the home.
Marvin Windows Reviews - I Loved Mine
My wife and I loved our Marvin up-down sash windows. I installed them myself and the quality was superb. The fit and finish was exactly what you'd expect from a top manufacturer.
I currently live in New Hampshire. I didn't build the house I'm in, but it has Andersen windows and doors throughout it. They were installed around the year 2001 and at the time this column was revised in 2017, they all were doing well. I've not had one seal failure or any other type of problem.
The jobs where I installed Pella windows all went smoothly. Not one of my customers ever complained about their Pella windows.
CLICK HERE to get FREE & FAST BIDS from local window installers in your city or town.
Is Correct Installation Important?
Correct installation is very important. You can ruin a great window with a bad installation job.
You can't hope your expensive windows will be installed correctly. I beg you to take a little time, once you've made your decision, and read the simple installation instructions.
Be familiar with the steps the contractor must take so you don't have any water or air leaks.
Here's a video I taped years ago covering the most basic steps in the window installation process:

Should I Use Expandable Foam Insulation?
Yes, be sure to use expandable foam insulation around your windows. You want the brand that's made for windows and doors. Look at the image just below for a great one.
Read your installation instructions and see if you're allowed to use expandable foam. It provides the best seal.
But you can't use just any foam. Use the wrong one and it will expand too much causing the windows to not work, or seal, right.
You can buy a special foam that is meant to use for windows and doors. Here's one I've used with great success:
Is Window Flashing Tape Necessary?
Window flashing tape is necessary to prevent leaks. There are many different tapes and some confusion about how they're to be installed.
Most new windows come with a nailing, or installation flange. This flange is integral in the frame and provides a waterproof seal.
It's imperative this flange be taped with a rubberized adhesive tape that is applied over the flange and to the sidewall of the house.
The tape needs to be installed so it sheds water that might get behind the exterior covering of the house. The window installation instructions cover how these tapes should be installed.
Here's a great flashing tape to consider:
CLICK HERE to get FREE & FAST BIDS from local window installers in your city or town.
Column QA
Summary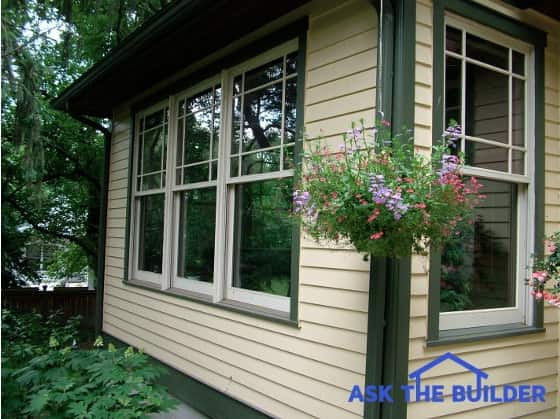 Article Name
Marvin Pella and Andersen Windows Reviews - True Stories
Description
Marvin windows reviews and Pella windows reviews are everywhere. Pay attention to those that talk about the AAMA gold label.
Author
Publisher Name
Publisher Logo