April 11, 2021 AsktheBuilder Newsletter
This first paragraph of my newsletter is where I welcome new subscribers. It's how you'd greet any stranger you've just met, right? Thanks for allowing me to send you tips each week starting with today's newsletter.
You, though, might have been here since dragons flapped their wings and melted snow for their masters here in the great Northeast Kingdom that's now called New Hampshire.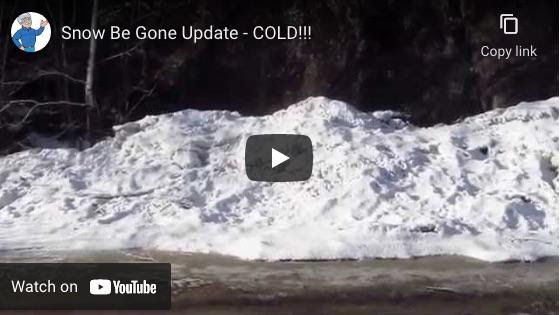 Yes, the snow is almost all gone, but not because of dragon breath. Do you remember this video I created out of enormous frustration?
Saving Sweet Moola
$$$

on Heating Fuel

Less than 24 hours ago, I discovered that in the past twelve months I gave my current propane supplier about $3,000.00 more than I should have. YEOUCH!

Check out my first fuel bill of this past winter's heating season: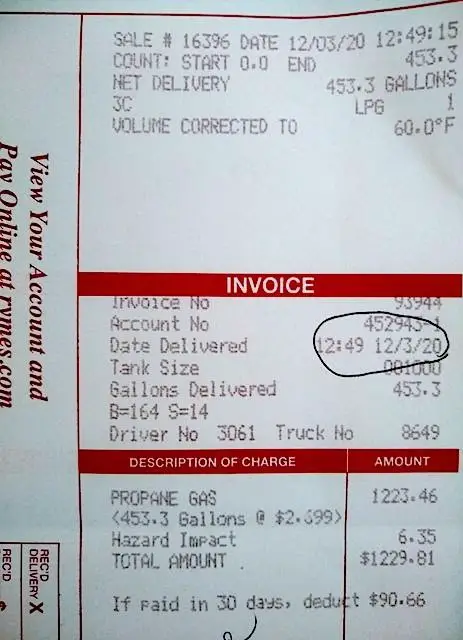 I had 453.3 gallons pumped into my 1,000-gallon underground tank. The cost per gallon was $2.699.
Just a month ago, I got my last of SEVERAL deliveries. Realize that sometimes they pump 750 gallons into my tank. By the end of the season, the cost had jumped to $3.34 per gallon.
To put this in perspective, I had paid about $2.20 per gallon in the 2019-2020 season.
Fast forward to several days ago.
A gentleman I had lunch with said I should have been part of a heating-fuel buying group. I would have received a guaranteed price for propane. He's part of the group and only paid $1.78 per gallon this past season and he only live ten miles from me! Holy tomato!
He recommended I join the buying group. I did hours later. I spoke on the phone the next morning to Donna who shared this:
"Tim, had you been with us last season, you would have paid just $1.65 per gallon because of the quantity you need. You would have saved thousands of dollars."
Do you live in New Hampshire, Vermont, Maine, Massachusetts, or Rhode Island? If so REPLY to this email and I'll share with you what you need to do to SAVE SWEET MOOLA like I'm about to!
If you live somewhere else, I highly recommend that you start asking around to see if there are buying groups for heating fuel where you live.
Don't bother asking your propane or fuel-oil supplier. In reality, paying a higher price is to their advantage, Just use some stealth searching skills and I'll wager you'll find a group similar to what I found! Good luck.
Long-Lasting Concrete
Check out this photo: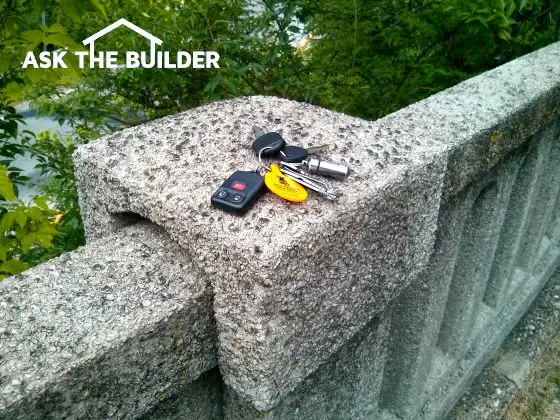 How old do you think that concrete is? CLICK or TAP HERE and be prepared. You'll think I bopped my head as my mother-in-law Jane used to say.
I want you to take a second look at that photo. Can you see what's unique about how the pieces of concrete interlock? I tell you all about it in the column. You'll discover some interesting facts when you read it.
Joist Hangers, Beams & Columns
Remember last Sunday when I shared that my Basic Structural Concepts eBook was on sale? When I told you it was over 50% OFF?
The sale ends at MIDNIGHT Eastern Time TONIGHT.
CLICK or TAP HERE NOW to order your copy.
Why should you get a copy? Because it deals with things like you see in this photo: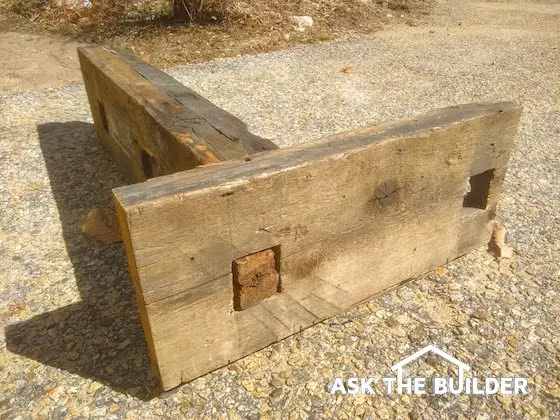 That's a joist hanger! CLICK or TAP HERE to see another photo explaining what you're looking at.
CLICK or TAP HERE now to discover lots you don't know about when it comes to joist hangers, beams, and columns. I share in the column where those old pieces of joist came from and how OLD they are. WOWZA!
Suing a Contractor - How Good Are You at Blackjack?
Have you ever thought of taking your contractor to court? If my email inbox is any indication, I'd say many of you would answer, "Yes", or "You bet I have".
You may have been one of the attorneys that was kind enough to respond to my request for the help I needed to write an authoritative column about what's involved when you decide you're going to teach that contractor a lesson in the courtroom!
I'm grateful for your input. It aligned with my 20-plus years of expert witness experience.
I know it's easy to convince yourself you'll prevail in a legal matter. After all, you know all the bad things the contractor did.
Guess what? Your sob story has been told countless times and there's much more in play than your bad luck.
Trust me, going through the legal process is not all unicorns and rainbows.
CLICK or TAP HERE to get a full understanding of what's really in play when you decide to hire an attorney to file suit against a contractor.
I have the top three questions you should ASK the attorney when you first sit down in her/his office. I think you'll only get a bill for 30 minutes of time as you'll get up and walk out once you hear the answers.
I also think you'll be STUNNED to discover who's roof I was crawling around on a few years ago.
Whole House Fan Time
Last weekend, it was unseasonably HOT in the southwestern USA. Summer's coming!
Overnight, my good friend Ed, who happens to play an attorney in real life, reached out to me as he's thinking of installing a whole-house fan.
I suggested he read these three columns before we talk. You might want to do the same:
Whole-House Fans vs Attic Fans - What's the Difference?
That's quite enough for a Sunday.
Let me know if you need advice on those warm-weather projects you're ready to tackle.
Tim Carter
Founder - www.AsktheBuilder.com
Super Clean - www.StainSolver.com
Sky Pond! - www.W3ATB.com
Do It Right, Not Over!
P.S. Friends sometimes pose riddles to each other. That said, riddle me this. You need to repair a crack about 1/4-inch wide in your concrete. How would you think I'd do it? CLICK or TAP HERE and see if you were right.