April 22, 2022 Deck Stain Test Q&A
What's that old saying?
You can't see the forest for the trees.
Based on the questions I received from yesterday's announcement about my Deck Stain Test Results being available, I think it might apply to ME!
Things that are so obvious to me because I'm so deep into the minutia of the project, might be obscured to you.
Here are just a few of the questions I received in the past 24 hours in no particular order:
Tim, what's in it for ME? Why should I invest money purchasing your results when I can get FREE reviews online?
My results will save you hundreds of dollars in stain costs over time.
My results will save you frustration and prevent an argument or two or three between you and your spouse who wonders why you're so stubborn.
My results are based on decades of experience using sealers KNOWING which ones to AVOID.
My results are not tainted as some might be from some inexperienced hobby blogger who might be on the take from a deck stain manufacturer.
The FREE results you might use probably don't talk much about film-formers. I went to great lengths to ELIMINATE these from my choices. Film formers PEEL.
If you use a film former, this is what your deck is going to look like soon. This photo shows a film-former sealant used by the company that built my dock. I'm talking about the panel above the green line. I didn't put on the original sealer on my dock, they did: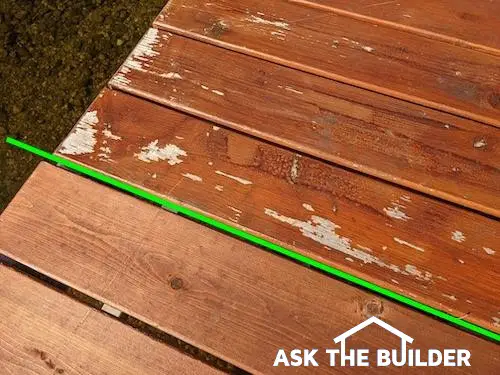 Note how the film-former sealant PEELED.
The panel in the lower-left corner of the photo below the green line was NEW cedar wood I stained with the better product. I had to re-build four of my dock panels in 2020 and I was able to stain the wood with the RIGHT product.
Finally, deck stains cost about $50 per gallon and the price is INCREASING WEEKLY because of raging inflation.
Is it worth several cups of expensive coffee to discover a penetrating sealer that might last four years if you apply it correctly?
You tell me.
After all, it's only money. If you have plenty of money and time to waste, then you should probably STOP READING right now.
Tim, I don't like that Mahogany Flame color. I want to use a clear or natural sealer. Will I get the same results?
The answer is maybe. I discovered decades ago the pigments in the stains act to protect the wood fibers from being destroyed by active photons that are in about 5% of the sun's ultraviolet light. If you go with a clear or natural stain, you could see color change in your wood.
Tim, you used cedar wood on your dock. I have treated lumber on my deck. Will I get the same results?
You should get the same results. It's all a matter of absorbency. I cover this in detail in my Deck Stain Test Results.
Tim, are there mistakes I can make applying the sealer that will impact how long it lasts?
You bet. There are LOTS of mistakes you can make causing you to WASTE YOUR MONEY.
I cover many of these mistakes in my Deck Stain Test Results.
Tim, do your test results come with a Money-Back Guarantee?
Yes. Once you read the short document, if you feel it wasn't worth it to get the information just email me and Kathy will issue a refund.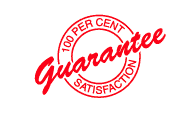 Tim, how long do you think your magic sealer will last?
I know I'll not be re-sealing my dock this year, so that means I'll get THREE years out of it. It's possible I might get FOUR years out of it depending on how much color fade I see next spring.
If you decide to not invest in my Deck Stain Test Results and hope you find the right sealer, I truly wish you the best of luck.
Please let me know if yours lasts three, or more, years. I'd love to see your before/after photos. Be SURE you create a control sample!!!
I explain how I created my control sample in my Deck Stain Test Results 2022.
I'll be back on Sunday. It's an interesting newsletter.
Wait until you see the part about Yolanda!
And, I've got a NEW feature I'm starting:
Tim's Digital Sack
Tim Carter
Founder - www.AsktheBuider.com
Do It Right, Not Over!