April 26, 2019 AsktheBuilder Newsletter
Are you a new subscriber? Howdy! Strap yourself in.
Are you a subscriber of record in good standing? You should be quite happy with this issue.
What's in This Issue:
Free Color Scheme eBook
Flushable Wipes DANGER
High-Strength DIY Concrete
and Much More
New House Update
I'm up in my office here in New Hampshire as I compose this newsletter today. I got back on Monday night after spending about 34 straight days up in Bar Harbor, Maine.
I've been helping my daughter and son-in-law build their new home. My contributions center around general advice and installing all the plumbing, radiant heat, and electrical. NOTE: I'm not the builder - that's some other guy.
I worked 28.5 days out of the first 30 averaging about 9 hours a day. I did take off Easter weekend but found myself doing planning paperwork for the next phase of work.
My son-in-law and I got a tremendous amount of work done during those twenty-eight+ days enduring bitter cold and 8 inches of new snow about two weeks ago. The day-in day-out work beat us to death physically and mentally. I needed a mental-health respite as did he. That explains why I came back home. I'll be going back up on Sunday afternoon.
This past Monday morning I had a great meeting with Paul Tibbits at the new house. He's the New England factory rep for Noritz. I'm installing a fantastic Noritz modulating combi boiler in the house. Paul and I went over all the details to ensure the combi boiler performs with maximum efficiency.
opens in a new window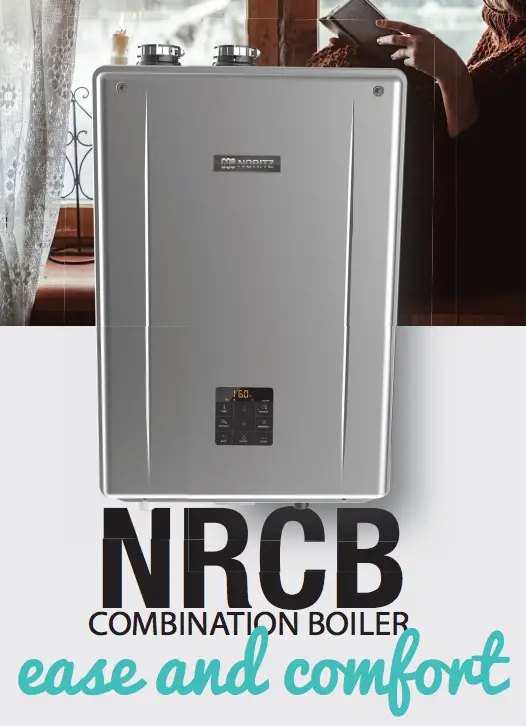 opens PDF file
A modulating boiler is one that has a burner that operates much like a burner on your stove. You can adjust the burner to simmer foods or you can turn the knob to get a full flame to boil water fast. Modulating combi boilers do the same. The burner puts out just enough flame to satisfy the demand. This technology saves energy and fuel.
A combi boiler is one that heats the entire house AND it also acts as the domestic water heater. In other words, it's an on-demand tankless water heater as well as a boiler.
My daughter, son-in-law, and new granddaughter will have endless hot water so long as they have propane in the outdoor tank.
I installed a combi boiler here at my own home back in the early winter. opens in a new windowCLICK or TAP HERE to watch a quick video showing you what they look like.
opens in a new windowCLICK or TAP HEREopens PDF file to get more information about this sensational boiler/hot water heater.
You may have been a subscriber here for ages and know that in past columns at my website I've cautioned against buying tankless water heaters. opens in a new windowCLICK or TAP HERE to read why switching out your existing storage tank water heater might not be such a great idea if you're looking to SAVE MONEY right away.
But if you're building a NEW HOME, a tankless water heater may be a brilliant idea. It's all about recapturing your investment when you switch out an existing water heater.
Free Color Scheme eBook
Have you struggled with exterior colors on your brick or stone home? Suffer no more!
opens in a new windowCLICK or TAP HEREopens PDF file to download a FREE Ebook from Davinci Roofscapes.
Flushable Wipes Sewer Clog DANGER
One of my subscribers - he's been getting this newsletter for almost twenty years! - emailed me about a problem at his house. He had asked me for some advice on wax gaskets for toilets. About a week after I had given his some help, I emailed him asking what happened. Here's his response:
"After doing a great job on the wax rings, the toilet was still clogged. No surprise since I'd never done anything to fix it. When I tried to plunge it water backed up into the nearby bath tub, so I assumed the clog was deeper than I could get with a short toilet snake. I had too much work to do so I called a plumber. He was able to snake the line through the tub. It took awhile because the clog was 25 FEET AWAY, which I estimate may be where the line makes it to the slab.
The culprit was "Flushable" wipes. They're apparently all the rage, even Howard Stern raves about them. Well, the plumber pulled out a large pile of them.
They are flushable only in the sense that they make it past your toilet, but the plumber says they do not decompose and tend to float so he's seen them make it partway through a house's system and then float back up toward the kitchen to cause a problem there!"
This is a great story because I feel the manufacturers of these products are only telling a half-truth.
Yes, you can flush the wipes. You can also flush small plastic army men, plastic dinosaurs, golf balls, sand, gravel, underwear, cell phones, etc. down a toilet.
Is it a GOOD IDEA to flush all those things? NO!!!!!!!
Have you ever noticed what happens if you take a piece of toilet paper, get it wet and try to rub a counter or anything else with it? It rapidly disintegrates. It's designed that way for a reason.
Do the same with a high-quality paper towel. The paper towel holds together. Flushable wipes are stronger than great paper towels.
Only flush toilet paper and body waste down toilets. PERIOD.
Great DIY High-Strength Concrete
opens in a new windowCLICK or TAP HERE if you're about to do some concrete repair work at your home. I've got a ton of tips for you in many past columns. Scroll down PAST the ads you'll first see to get to all the wonderful money and time-saving tips.
When you get ready to mix up some new concrete, check out Quikrete's new/newer Q-Max Concrete in a bag.
opens in a new window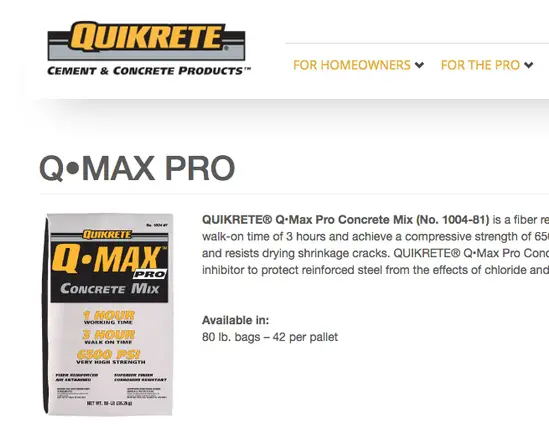 Q-MAX Concrete has:
one-hour working time
three-hour walk-on time
fiber-reinforced
6,500 PSI strength
That LAST bullet point should get your attention. 6,500 PSI is very high strength and that amount of Portland cement in the mix allows the concrete to resist damage from ice, snow and deicing salts.
BE SURE to READ a few of my columns about the best way to finish the concrete so you maintain that high strength. opens in a new windowCLICK or TAP HERE.
Massive Stain Solver Newsletter
This Sunday as I'm driving back up to Bar Harbor, you'll be receiving the next issue of this newsletter.
It's going to be devoted entirely to opens in a new windowStain Solver - a magic Certified Organic multi-purpose cleaner.
Kathy and I own Stain Solver. We've owned it for twenty-four years. We started the company.
You may be one of our tens of thousands of satisfied REPEAT customers.
If you've not yet tried Stain Solver, we're having our huge spring sale starting Sunday. You'll be stunned by all the things Stain Solver can clean.
Kathy and I also NEED YOUR HELP.
You'll discover why on Sunday.
I need to go get a haircut. More good stuff on Sunday.
Tim Carter
Founder - www.AsktheBuilder.com
Certified Organic CLEAN MAN - www.StainSolver.com
Happiness Comes in Waves - www.W3ATB.com
Do It Right, Not Over!