April 8, 2014 AsktheBuilder Newsletter & Tips
Two days ago, I did a hike to the top of Mt. Morgan here in NH. As soon as I send this newsletter, I'm going to write up the story. Suffice it to say, it about killed me. I'll send you the link to the story on Sunday. Wait until you see the photos in the story.
How fortuitous was it that April Fool's Day - last Tuesday - was the day I normally send out the newsletter.
I hope you didn't fall for the prank and think I was retiring. My friends Dan and Eric at ToolsinAction.com came up with the idea.
We both received many positive comments and I hope you got to watch both videos. CLICK HERE to watch the video they did and the one I did for their subscribers.
Speaking of great prank videos, here's one that could bring a tear to your eye. It's well done. This video was making the rounds last week on the Interweb, so you have have seen it.
WATCH this video. How would you like to be this young woman? WOW!
Name-Your-Prize Survey
In a couple of weeks, you're going to see fun little games here in the newsletter all about new products.
I want / need you to play the games.
The best way to do that, in my opinion, is for the prizes to be what YOU want. That would help motivate you, right? I don't have ESP.
Please take this quick survey and magic might happen.
One person who takes the survey is going to win a 9.2-pound container of Stain Solver. That's worth over $73.
Video Tip of the Week - Deck Cleaning - The RIGHT Way!
No, no, no. Stop right there. Are you thinking of using that machine to clean your deck?
Watch this video to see how I clean wood decks so they don't end up looking like a 50-year-old fishing pier.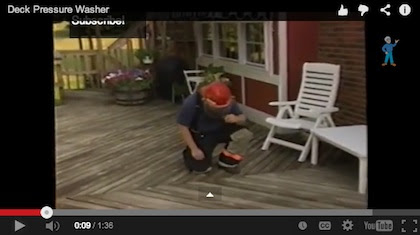 AsktheBuilder.com #3 Home Improvement Blog!
Last week, I received a fantastic email from Jason Horton who runs TotallyHomeImprovement.com.
He published his list of the top 101 home improvement blogs and guess who came in #3? Yep, me. It's a huge honor.
That's cool, but you should be asking, "Tim, WHO beat you? Who came in #1 and #2?"
I asked Jason how he comes up with his rankings and he replied:
"The way I chose the list was primarily based on 2 factors:
How valuable the information is that they (the blog) offer based upon my personal evaluation - in other words - it's my personal opinion;

How popular each blog is with my audience both on my website and my social media channels."
I made a suggestion to Jason that he consider creating two lists in the future:
Blogs created by real professionals (like me) that can demonstrate at LEAST 15 years of real hands-on field experience working for paying customers
Blogs created by enthusiasts who have no or limited hands-on experience working for real customers in the field - MOST home improvement sites out there are in this category
I feel YOU, the consumer, need to know the experience level of the person that's creating the content you're consuming.
You wouldn't want to be riding in a jet airliner that's being piloted by a person that's only checked out in a Cessna 172, right?
So why would you TRUST information from a website where the person writing or on video is NOT a real professional?
That's why I revised my own About Page in the last few days! Go read what I put there, especially if you work for a company that might need me.
Thanks Jason for the honor. I'm truly humbled.
Dallas / Ft. Worth, TX Meet Up TONIGHT!
I'll be at Angelo's BBQ in Ft. Worth, TX with subscribers on Tuesday, April 8, 2014 around 8 pm.
If you want to show up, you know what to do.
3-Way Electric Switch Video
Have you ever wanted to pull your hair out trying to get 3-way switches to work?
These are the special switches you can use to control one or more lights from two separate switches. Hallways, stairways, etc. are common locations for 3-way switches.
Watch this video and wow your friends, better half and co-workers as I transform you into a master electrician!
Cleaning Up a Fuel Oil Spill - Driveway or Deck
David Cox, a Stain Solver customer, took the time to create a spectacular video for you if you need to clean fuel oil, motor oil, cooking oil, etc. from a deck or driveway.
David, you better get signed up by a Hollywood agent!
Thanks for taking the time to tape this video!
AsktheBuilder Recipe Exchange
You may have been one who responded back you wanted me to start a recipe exchange.
It's done. I've got a new category at the website now. But you need to HELP seed it with your recipes.
Okay, here are the first three recipes, but read this important warning:
WARNING:
The AsktheBuilder.com Surgeon Supreme Commander cautions that the following edibles can be highly addictive. Certain people have gone into severe food comas only to awaken days later in a frosted haze with dim memories of bloating and extreme heavenly satisfaction.
Here's my recently perfected guacamole recipe. Even if you don't like guac, you MUST READ my Instructions.
Here are two recipes from professional chef - Jason Hill. Wait until you watch his videos. I need to step up my game!
At the BOTTOM of each recipe is a link that you click to submit your recipe. If you have MULTIPLE recipes, you need to start with a fresh version of the form each time.
I'll publish a link to some of the recipes each week. For that to happen, you need to participate. Please load up your recipes. Don't procrastinate.
Shed Videos Blowout Sale
It's spring. It's time to build that great shed you've wanted and it's time to STOP the water from entering your basement or crawlspace.
I have a super deal.
You can watch all of my shed building videos for just $59. That's a 60% discount of the regular price.
Read that again - a 60% markdown.
But it gets better, if you order the shed video access by Sunday night, April 13, 2014 midnight ET, I will give you my Linear French Drain DVD for FREE. That's a $29.95 value.
Does that make sense?  A professionally produced DVD in a real case PLUS online access to over 180 videos. All of this for just $59.
If you just want the DVD of the Linear French Drain, you can buy that for the next five days for just $19.95.
These are INSANE low prices.
This sale ENDS IN JUST FIVE DAYS.
That's enough for now. More tips and videos next week.