April 8, 2019 AsktheBuilder Newsletter
Are you a new subscriber? Hello from snowy Bar Harbor, Maine where I'm working on my daughter's home. Subscriber of record in good standing? There's 4 inches of FRESH SNOW on the ground and more falling! The winter with no end!
READ THE NOTICE JUST BELOW PHOTO OF MY BOOT
A Day Off
Today I'm taking the day off. My son-in-law and I worked the past eleven days straight here on his new home and that of my daughter. Each day was ten hours and yesterday we finally decided to work a half day so we could enjoy the gorgeous sunny day with a 52 F temperature.
I drove just 20 minutes to get to Acadia National Park's ocean walk. I then parked my truck, walked about a mile, and took a nap on the granite ledge above the sea. Here was the view when I woke up. I fell asleep for at least 30 minutes and was happy no sea gulls were pecking at my face.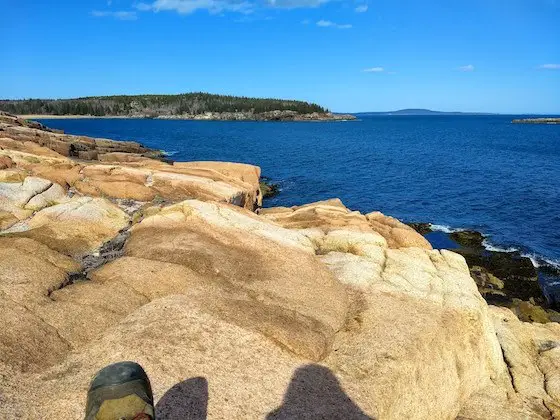 You're About to Receive Weird Messages From Me - Don't FREAK OUT
In a few moments, I'm going to add about four or five new messages to my Welcome-to-my-Family email series. These messages are designed to help NEW SUBSCRIBERS become more acquainted with all the content and services at AsktheBuilder.com.
Even though you're an existing subscriber, you WILL RECEIVE these new messages.
I can't stop these messages coming to you. You may actually discover something new, so don't freak out. If you're currently stressed out, just ignore them.
You'll know the messages are somewhat different because in the subject line you may see something like (2 of 5) or (3 of 5) or (4 of 5) etc.
There's NO NEED TO RESPOND to me about these weird messages.
Consider opening up the messages - they're short - and maybe you'll save some money.
New Columns and Videos
I uploaded several new videos today and a new column.
It's important to realize, you can always find the FRESHEST AsktheBuilder.com content by going to the Q&A navigation link at any page of the website. The topics you see at the top of the stack are the latest ones added to the website.
opens in a new windowCLICK or TAP HERE and scroll down a bit to see a headline that's of interest to you. The headline about the Install Radiant Heat Under a Wood Floor is an amazing video you should watch!
I'll have a full-blown newsletter to you soon after I re-charge my mental and physical batteries.
Tomorrow we start to install all the electrical wiring in Meghan and Brent's home. Yes, it's all 12 gauge. I deplore 14-gauge wire. The 12-gauge wire, when I bought it a few months ago, was only ten cents more per foot. What a bargain to have a 20-amp circuit!
Tim Carter
Founder - AsktheBuilder.com
Do It Right, Not Over!