August 29, 2020 AsktheBuilder Newsletter
"Bad form!" Nice try! You almost slithered past me while I was distracted. Next time, try using some PAM on a piece of plastic - you'll make far less noise. I know, you're a little shy and you're one of my newest subscribers, right? I always love to greet new subscribers and this is where I do it each week. Thanks for signing up!
Remember when Captain Hook (Dustin Hoffman) said that line in the movie Hook - the remake of Peter Pan? What a great accent he used! CLICK or TAP HERE to hear Hoffman say "Bad form!", and then watch a few very short clips of this magical movie. It's going to warm your heart, I GUARANTEE it.
You might be one of my loyal subscribers. If you could greet one of our newest family members, I'll bet you might show them this epic video where I share the absolute BEST plumbing vent pipe roof flashing. For the love of God, don't install one of the piece-of-c* * * ones made from aluminum and rubber! It's guaranteed to fall apart in just a few years. CLICK or TAP HERE to see the flashing that's on my roof.
Are You a Plumbing Inspector?
Are you a plumbing inspector or do you work closely with one? If so, can you please reach out to me ASAP? Just reply to this newsletter.
Insurance Review -
ALERT
There's lots of unrest happening in the USA right now. Your business or home could be near where this is happening. My STAIN SOLVER factory and fulfillment center are at risk.
I called my insurance agent the other day and asked if I was covered for looting and any fires that might be set by the peaceful protesters during the disturbances.
The answer was, "Tim, it clearly states on your EXCLUSIONS page, that you would NOT BE COVERED. Losses generated by riots are NOT COVERED."
Yikes! I urge you to get out your homeowner's or business policy and read your EXCLUSIONS page. If you're not covered, create a contingency plan to protect yourself and your possessions. If you have questions, call your insurance agent soon.
Construction Damage and Dirt
A few days ago, Debbie shared a story about how the contractors building her new home almost ruined a very expensive cast-iron bathtub. Look at it: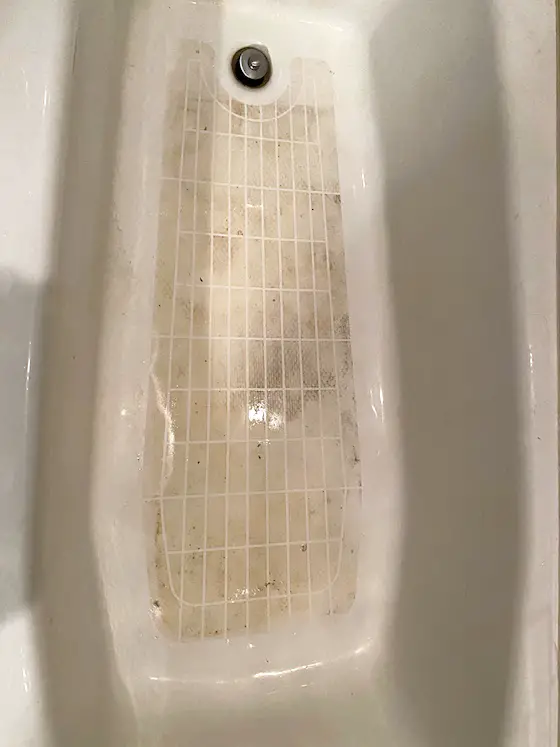 Homeowners like Debbie send me photos quite frequently showing how some contractors imitate P I G S when working on their new homes or remodeling jobs. That said, my father-in-law grew up on a farm and he often told me that pigs make the best pets. It's possible a few pigs have given all the others a bad rap.
Back when I was building, I dedicated a few old painting tarps to the task of protecting bathtubs. You can't be too careful with cast iron tubs, acrylic tubs, showers, and any other plumbing fixture that needs to be installed before lots of other finishes.
It drove me CRAZY when I'd see my drywall finisher standing in a tub with his aluminum stilts on!
CLICK or TAP HERE to see what Debbie, (not the contractors!), used to make the tub look like new.
My Prediction Comes True
Each year as hurricane season ramps up, I issue urgent warnings about you becoming more self-sufficient. Natural disasters pound public utility and safety resources thinner than a piece of gold leaf.
Here's a headline I saw at an online news source this morning:


Can you survive without power for two weeks or more? If the answer is "No", then what is your contingency plan?
Identifying Energy Vampires
How would you like to have an easy-to-use tool that fits into your hand and allows you to discover where vast amounts of sweet moola are leaking out of your home into the ether?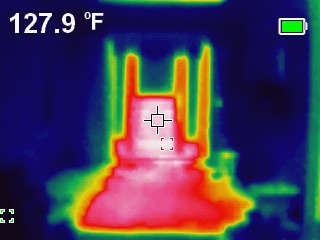 CLICK or TAP HERE and be prepared to be absolutely amazed. There are some eye-opening infrared photos on that page.
I NEED Your Help, Again
Are you thinking of doing work around your home or do you have an interest in getting a home warranty?
I'm trying to gauge your experience when local professionals give you a FREE quotation on a job. I need the input from homeowners like you because I would have a jaded view, for sure, being a contractor. I'd love to hear your story and you might be helping someone else by sharing it!
That said, if you need FREE quotes for bathroom remodeling, gutter guards, or a home warranty, please go to the following pages, fill out the form, and then GET BACK TO ME once you've gone through the entire process. I want to hear the GOOD, the BAD, and the NOT-SO-PRETTY.
Bathroom Remodeling FREE Quotes
Gutter Guards FREE Quotes (DEMAND micromesh!!!!)
Home Warranty Information and FREE Quotes
Small Splitting Maul - Will it Work?
I was able to test a small splitting maul that resembles a hatchet last week. Like so many other things, I've been waiting for this small tool my entire life! Do you have any idea how hard it is to split small kindling wood with a giant maul? And a traditional hatchet just doesn't work well for this task.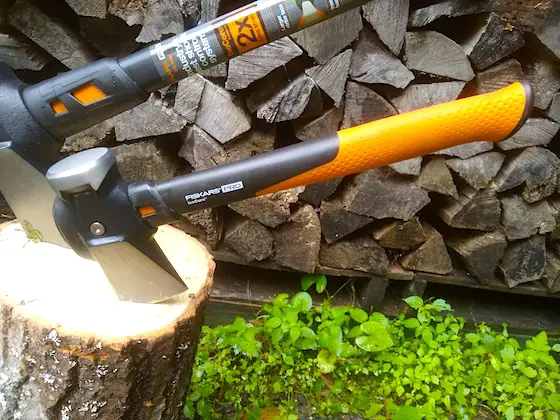 CLICK or TAP HERE to see my positive and negative comments about this dandy little maul and its bigger 6-pound brother.
Don's Dilemma
Don lives in Toledo, Ohio. That's about three hours up the road from where I lived in Cincinnati. It's just west of the most spectacular continental glacial grooves on the planet. I was near Don's house just ten months ago and shot this photo while I was alone at the State Park pondering how just 13,000 years before I'd have been buried under 3000 feet of ice!
Did you know there were four periods of massive continental glaciation in the past 2,000,000 years? Four times the enormous thick ice sheets were created and then melted with just a few campfires burning.
I was mystified by this as a young geology student. As the years clicked by and I accumulated more critical-thinking skills, I became even more impressed by Mother Nature's power to do all this on her own with no assistance. As you're about to see, there appears to be a shortage of critical-thinking skills out in the general public.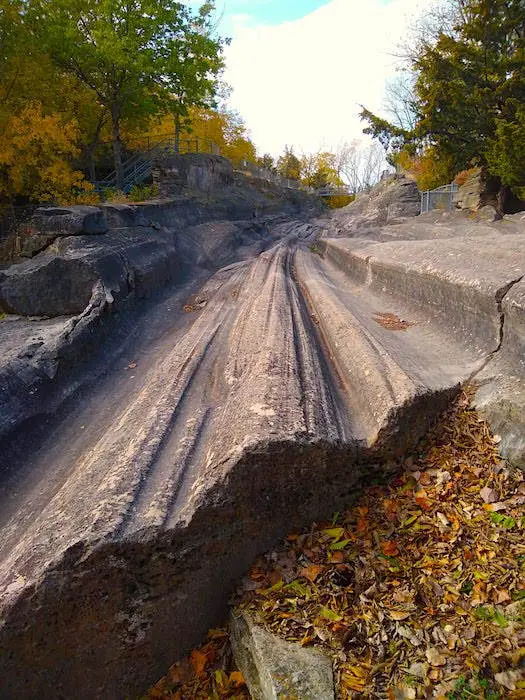 Anyway, Don's sent me this pithy email:
"I boiled in linseed oil with my red Behr deck stain. Now the deck stain is peeling off with green spots that did not stick to the wood. I sanded off the spots but I'm not sure what to do next to stop the peeling."
Do you grasp what Don did? He apparently, if I understand his email to me, put on a white lab jacket, perhaps donned (pun intended) some safety glasses, MAYBE got out a fire extinguisher and proceeded to put some BEHR deck stain on his stove, heated it up to BOILING, and then added linseed oil.
ARE YOU KIDDING ME?
What's happened to good old common sense and critical-thinking skills?
For the love of Pete, you should NEVER EVER try to do what Don did. NEVER play amateur chemist in or outside your home!
NEVER mix anything with anything else unless you KNOW FOR A FACT what the result will be.
For example, NEVER mix chlorine bleach with vinegar. It creates TOXIC chlorine gas.
NEVER mix chlorine bleach and ammonia - once again, you create TOXIC chlorine gas
NEVER mix chlorine bleach with rubbing alcohol. You create chloroform which is also TOXIC.
NEVER mix hydrogen peroxide with vinegar. You create peracetic/peroxyacetic ACID which is highly corrosive.
I could go on and on and on about what shouldn't be mixed with one another. Before you mix ANYTHING, contact the manufacturer of the things you want to mix and get their okay.
Here's what my advice to Don is:
Go buy a lottery ticket or two to see if some of your lucky magic is leftover.
Get out a belt sander and remove the peeling mess.
NEVER AGAIN DO SOMETHING LIKE THIS HOPING that what you're doing is going to work.
That's quite enough for a Sunday. Whew, that was one long newsletter! Did you like it? Let me know!
Remember, get back to me after you've filled out the bath, gutter guard, and home-warranty forms and heard back from the contractors. I want to know if you're treated with respect and if you have a great feeling about the experience.
Tim Carter
Founder - www.AsktheBuilder.com
BEST CLEANER in the World - www.StainSolver.com
Morse is Auditory - www.W3ATB.com
Do It Right, Not Over!
P.S. A few years back I was the home improvement expert for the ABC-TV affiliate in Cincinnati, OH. I used to have some fun with the garden expert in collaborative videos. I actually got hurt doing this video and did a good job of masking the pain! CLICK or TAP HERE to see if you can guess what happened.