Build Deck Bench Seating
"Benches are just very wide chairs in my opinion. I don't like hoping something is going to work so I always look at existing benches and take measurements."
Build Deck Bench Seating Checklist
A bench is just a series of small walls

Copy dimensions from favorite chairs in your home

WATCH cheeky building video below

Use straight treated lumber and coated screws
DEAR TIM: This past weekend I was at a party and sat on a bench that was built into the deck. It was such a clever idea and it had handy armrests that were perfect to set food plates or drinks on.
I want to build bench seating on my deck. What are the most important things to consider?
Although I'm not a great do-it-yourselfer, I can follow directions. I want it to be strong and durable. Aimee P., Carbondale, IL
Related Links
Top Ten Deck Building Secrets - DO NOT SHARE!
Deck Screws or Nails? Which is Better?
DEAR AIMEE: I'm a big fan of deck bench seating.
What is Comfortable Deck Bench Seating?
A few years ago my wife purchased a free-standing teak bench that was seven feet long and about 24 inches wide. It came with a cushion. I loved laying down on that bench in the warm sun like a lizard would on a rock.
Last year I completely remodeled two decks on my home and I constructed a new deck that attached to the posts that support my upper deck. I knew when I was planning this new deck that I wanted to put in a new built-in bench as the teak bench had seen better days.
Free & Fast Bids
CLICK HERE to get FREE & FAST BIDS from local deck builders that can build a bench for you.
What's the Best Plan for Deck Benches?
The best plan for deck benches is to go sit on a few existing benches until you discover one that's comfortable. Take photos and measurements so you can copy the design.
I used the teak bench dimensions as a basis for my plan, but I ended up altering it to a degree to fit bench cushions we could find online that were a standard size. You don't have to have cushions to sit on, but I recommend it.
Find the cushions you like at an affordable price and then size the bench seat to fit the cushions. If you order custom-sized cushions made to fit a bench you make, the price might take your breath away.
What Are Deck Benches?
Benches are just very wide chairs in my opinion. I don't like hoping something is going to work so I always look at existing benches and take measurements.
I'm sure you have a favorite chair in your home that's extremely comfortable. Measure how high off the floor the top of the seat is and how deep the seat is from front to back.
What are Common Chair Dimensions?
My guess is you'll discover the seat is usually about 19 inches up off the floor. The front to back measurement will be about 22 inches. If you build a bench too high your legs dangle. If it's too low, you end up squatting uncomfortably. The front to back dimension is also critical so you don't end up leaning back too far.
I built my bench with a 90-degree orientation to the seat and the back. The reason is the back of my bench does double duty as it's a wall that supports a long shelf my wife wanted me to make for potted plants.
Build A Bench Video
This Australian has got the right idea about a few things. I think his video should help you.
What is an Adirondack Deck Bench?
An Adirondack deck bench is one that has a sloped seat and sloped back at the same angles as those on an Adirondack chair.
If you've ever sat in an Adirondack chair you may want to mimic this design for your bench. It's more work to create the angled back and seat, but the long-term comfort of sitting on the bench may be worth it. The only disadvantage to this design is you can't lay horizontally on the bench without getting jammed into the corner where the seat meets the back of the bench.
The other issue with the Adirondack style is the armrests on the typical chair help you get up out of the low chair. People sitting on a bench would not have these and it could be problematic for older folks to get up. Just keep that in mind as you plan.
CLICK HERE to get FREE & FAST BIDS from local deck builders that can build a bench for you.
How Long Does It Take To Build a Bench Frame?
I built the framework for my deck bench in less than an hour. If you looked at the different components after they were built, I just had four small rectangles that were various lengths and widths.
One of the rectangles formed the seat and I screwed the long edge into the tall vertical wall that formed the back of the bench. You might end up screwing your seat to your deck railing posts or to the wall of your home.
I built a tiny long wall that was the same length as the seat. This wall was inset from the front of the bench about 5 inches. This wall provided plenty of support so the seat would never collapse. The inset is easier on your legs as some people tend to tuck their legs back a bit when sitting in a chair or on a bench.
What Supports the Ends of the Deck Bench?
At each end of the bench, I had small walls that were the same height off the deck as the arms on several chairs I measured around my house. Once again, don't guess. Find chairs that have arms on them and decide which height is the most comfortable and make your end walls that high.
I capped my end walls with 1 x 6 material so it would serve as a great place to put smaller dessert plates and glasses or mugs. So far it's been perfect.
I'd avoid using any nails when assembling all the components for this bench. You can purchase wonderful coated timber screws that take the place of regular 16d nails. All the framing lumber should be treated to resist rot. CLICK HERE to see an assortment of the timber screws.
Be sure to purchase treated lumber that's nice and straight. Store it inside in the shade if you can't use it right away. You need all the pieces to be nice and straight as you go to assemble all the parts.
CLICK HERE to get FREE & FAST BIDS from local deck builders that can build a bench for you.
Column 1210
Summary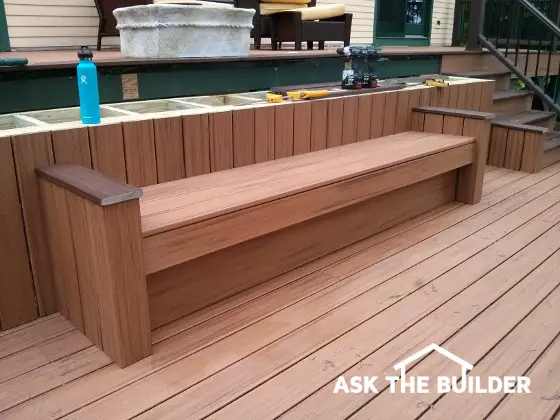 Article Name
Deck Bench Seating is Easy to Build | AsktheBuilder.com
Description
Deck bench seating adds flair and utility to a deck. Be sure you have the dimensions right so it's comfortable.
Author
Publisher Name
Publisher Logo