Cabinet Painting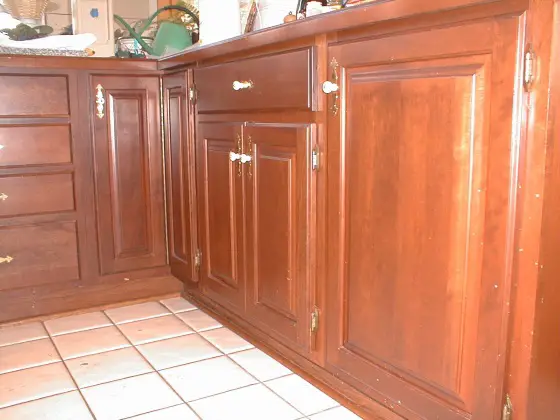 DEAR TIM: My 16-year-old plastic laminate cabinets are a neutral color with colonial blue doors. The are horribly dated. I can't afford new cabinets but must do something. Can I successfully apply crackle paint to them to improve their look? Would this present problems? Do I have other options? Maria D. Cape Coral, FL
DEAR MARIA: Good news! You absolutely can paint those cabinets. If you have a miter saw you can do a little extra finish carpentry before you break out the brush to really enhance the look of your kitchen. Once you are finished, your friends and neighbors will be astonished at what you have accomplished.
The finish on kitchen cabinets needs to be hard and easy to clean. I am concerned about how easy it might be to clean the depressed areas in a crackle finish. Even with multiple coats of clear urethane over the crackle finish, you may have a problem. If the people you live with are fairly neat and clean, then I would move ahead with the crackle concept.
For your information, one of the hardest finish paints you can buy is an epoxy modified alkyd paint. Typically these are available as spray paints. Working with spray products demands a high level of skill. If you decide to use this type of paint for any reason, I suggest you practice first on some other similar surface to see what kind of results you get.
If you do decide to crackle, try to find a crackle kit that uses oil based paints. Often these paints dry with exceptional hardness within 48 hours. This characteristic allows you to reinstall cabinet doors and drawers with minimal fear of the paint finish on these moving parts sticking to the freshly painted fixed cabinet frames.
---
Author's Note: I have a wonderful step-by-step eBook that shows you how to get professional results when painting cabinets. It is easy to follow and affordable. Plus, you get the eBook instantly!
---
It is vitally important that you prepare the cabinets properly before starting to paint. You need to clean the cabinets well and slightly roughen up the surface so the paint sticks well. I prefer to use oil based primers as they seem to have superior adhesive qualities. Keep in mind that it is very important to apply the finish paint as soon as the oil primer has cured. The label on the primer often tells you when it is advisable to re-coat. The finish paint will grab and hold better if you apply it as soon as you are allowed to do so.
To achieve professional results you must take the cabinet doors off the frames and remove all hardware including hinges. The drawers need to be removed as well. This allows you to paint the parts of the cabinets independently. For large flat surfaces you can use a small paint roller to apply the paint. Use a high quality brush to apply finish paint strokes after you have spread the paint with the roller.
To really give the paint job added protection, consider applying a non-yellowing clear polyurethane to the painted surfaces once they have dried. I would apply no less than two coats to give you years of trouble free service.
If you desire you can add different small wood moldings to the cabinet doors and drawers and sometimes decorative crown molding to the top of the cabinets. These moldings can dramatically change the look of the cabinets. Visit an old fashioned lumber yard or other retailer that offers a selection of 30 or more molding styles. A raised molding on your flat laminate doors will provide needed relief. A simple miter box with a hand saw is often sufficient to make precision cuts.
Column 391