Cleaning Shingles – Algae / Mildew / Oxygen Bleach
Cleaning Algae / Mildew Stains From Roofs
Many people suffer from stains on roofs. Some people have moss and lichen growth as well. I suffer from all of the above on my own roof. My house is tucked under some magnificent oak trees and I get plenty of shade that promotes the growth of moss and lichens. The algae will grow in both direct sun and shade.
A Good Garden Hose
I have found that a garden hose with above average pressure will do a swell job of removing moss and lichens. The trick is to aim the hose stream down the roof and keep the nozzle about 3 feet away from the shingles. Scrubbing asphalt shingles with a scrub brush is fine if you do it somewhat gently. Some granules may come off but not the ones that are deeply embedded in the hot asphalt. You must get this heavy moss and lichen build-up off the roof before you start to deep clean it with oxygen bleach.
Sources of Oxygen Bleach
Quite by accident, I discovered a non-toxic product that will not hurt you, the roof or plants below should you want to deep clean your shingles and get them looking like new. It is Oxygen bleach. This is a powder that is mixed with water and does a great job of removing black roof algae stains. The trick is to work in the cool part of the day. The sun heats up shingles quickly and you must keep the roof surface wet with the oxygen bleach solution for up to 45 minutes to achieve superb results. If you try to do this in direct sunlight, the solution will evaporate too fast.
I happen to sell oxygen bleach. I call it Stain Solver. You can also find oxygen bleach on cable TV and in some super stores like Wal-Mart. But my Stain Solver is better than ALL of my competition. Why? Because my Stain Solver contains more oxygen bleach than any other brand. Also, the more you buy from me the cheaper it gets. You absolutely do not get a discount when you buy more at the national chain stores or when you order from the TV infomercials.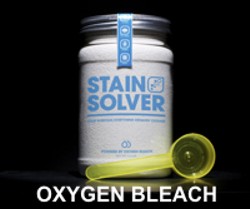 Oxygen bleach is often sold in two pound sizes and multiples of two pounds (4 lbs, 6 lbs, etc., up to 50 lbs!) Because my product has the highest concentration of oxygen bleach, you need less of it per gallon of water to deep clean. Two pounds of my Stain Solver will make four gallons of solution. We find that four gallons of solution will typically clean 250 to 300 square feet of roof area. Badly stained roofs may need multiple applications.
To buy Stain Solver go to: www.stainsolver.com
Or call us at 513-407-8727.
If you want to buy another oxygen bleach product, simply turn on your TV or go to Wal-Mart. But be sure to buy plenty, as the product you get will contain a considerable amount of filler!
Message from Tim:
Years ago while researching a column about cleaning decks, I discovered the wonders of Oxygen Bleach. It is perhaps the 'greenest' cleaner I know of as it uses oxygen ions to break apart stains, dirt and odor molecules. There are no harsh chemicals, and it works on just about anything that is water washable.
I decided to create my own special blend using ingredients made in the USA. In fact, the raw materials in the active ingredient are food-grade quality registered with the FDA. I call my product Stain Solver. I urge you to use it to help with your roof shingle cleaning. You will be amazed at the results!
Column B374