Coast Rapid Response 3.00 Pocket Knife Review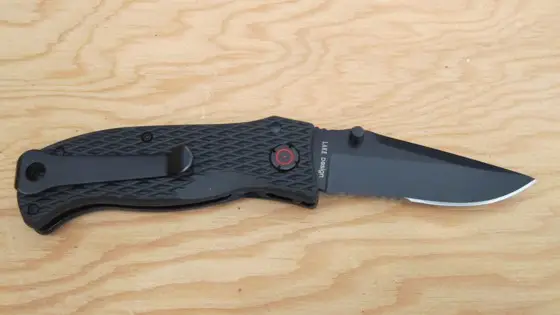 The pocket knife industry has always been strong and new models come out all the time. I'm convinced this is because a knife is such a personal item. Each person is drawn to certain things about a knife.
My first impression of the Coast Rapid Response 3.00 pocket knife, while it was still in the impenetrable stiff plastic packaging, was that it looked good. I had to use my trusty SOG Flash 2 pocket knife to free the trapped Coast knife from its clear bondage.
Here are the tech specs on the knife:
Blade length: 3.00 in.
Overall length open: 7.00 in.
Weight: 3.70 oz.
Blade material: High-carbon stainless steel
Partial Serrated Blade edge
Handle material: Fiberglass-filled textured nylon
Ambidextrous Thumb stud on each face of the blade
Full Stainless Steel frame
Ambidextrous pocket clip
Roller-Cam technology spring opens knife
These knives are built so that you can open them with one hand. Such was not the case with this bad boy. Try as I might to open the knife with the thumb studs, I couldn't. It simply hurt my thumb too much.
The other issue with the knife is the spring lock that holds the knife in the open position. This needs to be moved sideways so you can close the blade. Once again, it was very difficult to push down on this lever to produce enough friction to move it sideways.
The knife comes with a safety switch that allows you to lock it so the blade doesn't open. I feel it's superfluous as the blade takes a lot of persuasion to go from the closed to the open position.
Although it's a very handsome knife, I give it 2 hammers out of 5.
This new Coast knife is going to be a decoration on my desk as my SOG Flash 2 will be in my pocket until such time as Coast issues an upgrade model fixing all the problems. My guess is it will be called the Rapid Response 3.10.