December 2, 2020 AsktheBuilder Revised Columns
I hope your Thanksgiving was splendid. Mine was magical. The face time with family and the food were good for the soul. While it was cool and rainy on Mt. Desert Island Thanksgiving Day, the dry tongue of the weather system dragged its way across the island the following morning before we headed back to New Hampshire. I went for a quick hike along Ocean Path in Acadia National Park and this is some of the eye candy I got to enjoy.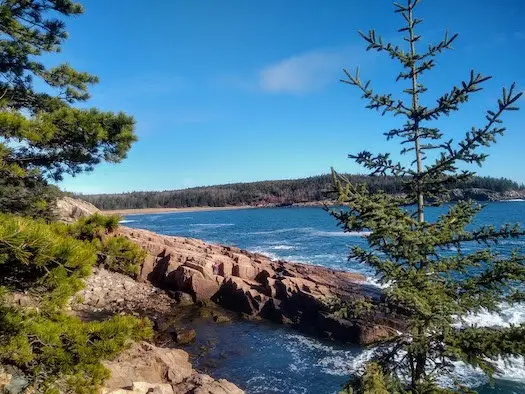 You're looking across the water to the epic Sand Beach. There's a reason mariners call it the Deep Blue Sea. When ocean water is clear and free of silt, it mirrors the sky.
CLICK or TAP HERE to see a few of my favorite photos of the short hike. On warmer days, it's surreal to lay on the bare rock and feel the waves crash onto the shore.
Yes, it can be so powerful, it does shake the stone. They don't call Thunder Hole because it squeaks like a mouse. Check out the action below. The best wave is at 0:42.

Revised Columns
There are some amazing videos in several of these revised columns. Believe me when I say you're making a mistake by not watching them.
SECRET to Lower New Home Costs - WOW - GREAT VIDEOS
What About Building Lot Sizes? Is Bigger Better?
Solid Brick Homes - CHECK THIS OUT! But Why?
Tim Carter
Founder - www.AsktheBuilder.com
Do It Right, Not Over
P.S. Sunday's newsletter is going to be a doozy. I've assembled LOTS of great information in it, including a scary factoid I'm sure you've never thought about. There's a KILLING DANGER surrounding you inside your home that you don't give a second thought to.
P.P.S. Are you shopping for Christmas gifts at Amazon? If so, you can HELP SUPPORT this newsletter by using my affiliate link when you start to shop. It costs you not a penny more to shop using my link. CLICK or TAP HERE to get started. Thank you for helping the newsletter thrive.