Deck Construction Correction Tip
"Hi Tim,
Every year, I have about 1000 sq. ft. of deck to clean and maintain. Pine needles are my largest problem. The only tool I have found to work is a variable set square that has a handle part and a blade that can folded back into the handle or locked at any angle. I just use it set straight as a scrapper that I can run down the decking gaps.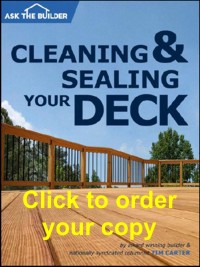 On the issue of gaps that are two narrow, mostly because the deck was set down badly, what would you think of my running a power saw down the gap? Of course I'd have to ensure the blade depth did not cut into any of the cross beams.
The deck is in good condition considering it is about 25 years old now. The surface is 2x6 pressure treated. I've been contemplating widening the narrow gaps for a few years now, but am wondering if that would damage the pressure treating. Am I right in thinking that the chemicals from pressure treatment are long gone?
Thank you,"
Alan Peck
Alan,
You can absolutely widen the gap with a circular saw. Set the depth just 1/16th inch more than the thickness of the deck boards.
Your challenge will be to cut in the center of the groove. If you take your time, you should do fine.
Cutting the boards will not affect the chemical composition at all. I'd venture to say the boards still have quite a bit of chemical treatment in them.
Tim Carter