Deck LED Lighting Video
Hi, I'm Tim Carter and I am here at the Remodelers' Show in Chicago. I want to show you something I just discovered at one of the exhibits. It is a really great LED lighting that you can build into your deck.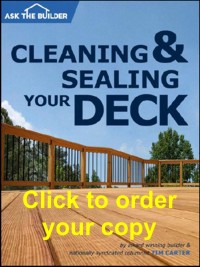 Here are the little lights shown in this sample piece of decking. Down on the floor, you can see the LED lights in place. In this video, the lights are on and you can see that they would make a great accent around your deck. And it even gets better.
Lets say you want some down-lighting on your 4x4 posts, check this out. On the side of the post, you have this light fixture you can install all around your deck. And even at the post caps, you can install small LED lights on all corners of the post cap.
These make great touches you can add to your deck to dress it up.