Deck Pressure Washer Video
Deck Pressure Washer Video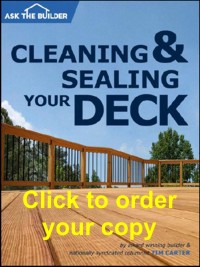 Is it too late for your deck? Has a pressure washer attacked it? A power washer can ruin your deck. Wood consists of two sections, spring wood and summer wood. Spring wood is the light colored wood in between the darker rings of grain. The spring wood is really soft and a pressure washer can tear this wood out of the lumber. This results in really grainy wood that needs a lot of sanding to get it back to a smooth surface.
What's the best way to clean a wood deck? One great alternative is oxygen bleach. Oxygen bleach is nontoxic and mixes with water. Once mixed, pour it on the deck and let it sit for 10 - 15 minutes. Then, lightly scrub it with a scrub brush on a pole. Finally, rinse it with a garden hose and the wood will look like new.
Using oxygen bleach, there is no erosion to the wood. Very safe. It is the only way to go. Stay away from those power washers.
Message from Tim:
Years ago while researching a column about cleaning decks, I discovered the wonders of Oxygen Bleach. It is perhaps the 'greenest' cleaner I know of as it uses oxygen ions to break apart stains, dirt and odor molecules. There are no harsh chemicals, and it works on just about anything that is water washable.
I decided to create my own special blend using ingredients made in the USA. In fact, the raw materials in the active ingredient are food-grade quality registered with the FDA. I call my product Stain Solver. I urge you to use it to help with cleaning your wood deck. You will be amazed at the results!
Read about the dangers of pressure washing, as mentioned in the March 23, 2010 AsktheBuilder Newsletter and the June 21, 2011 Newsletter.