Deck Sealer – Clear Epoxy
DEAR TIM: I am so discouraged with wood deck sealing products. I love the look of my wood deck just after it is cleaned. But I have tried many clear sealers and my deck turns gray in six or nine months. The wood then starts to turn green and black. Store clerks tell me to use products that have pigments to stop the graying process, but I want clear. Is there a product you know of that really works? What is the best way to clean and prepare the deck before I seal it? Connie T., Mobile, AL
DEAR CONNIE: For years I have also told people to use deck sealers that had color pigments in them to retard the graying process. The microscopic pigment particles in the sealers and water repellent products are very effective at absorbing the ultraviolet light that causes wood fibers to turn gray. But my advice is now different because of a brand new truly clear epoxy fortified deck sealer that contains two revolutionary crystal-clear chemicals. One of the colorless chemicals deflects ultraviolet (UV) light and the other one absorbs it.
Many deck sealer companies for years have said their products were clear, but they actually contained small amounts of amber pigment that were mixed in to slow the graying process. But as you and tens of thousands of other people can attest, they performed poorly. I have fantastic news. The brand new crystal clear deck sealer doesn't turn gray even after 18 months.
The primary ingredients of this new deck water repellent are synthetic resins instead of the commonly used natural oils found in many heavily advertised national brands and others you might find at home centers. These natural oils are the ingredients that cause your deck to turn green and black. The oils are scrumptious food that algae and mildew eat several months after water soluble mildewcides and fungicides contained within the sealers are washed away by rain and snowmelt. Algae and mildew do not feast upon synthetic resins.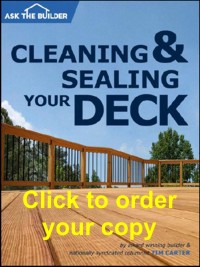 I have in my office an actual test fence sample used to rate the performance of the new clear sealer and compare it with other top-rated clear deck sealers. The strip on the piece of wood coated with the new sealer looks like a gorgeous piece of furniture. There is no visible UV damage that results in gray coloration. The other three vertical strips are gray in color and mildew has started to grow on one.
This test fence sample is astonishing when you consider the wood was tilted at a 45 degree angle and faced due south. It was in the middle of a field with no possible shade other than that offered by clouds. This method of testing produces the highest degree of UV punishment .
Perhaps the best part of the story is the water-based epoxy contained in this new product. You do not have to mix anything to activate the epoxy. Simply open the lid and stir the product. Once the epoxy dries in an hour or so, it creates a tenacious bond with the wood fibers of your deck and anything else it touches.
Last year, I tested a pigmented version of this same sealer on my front porch and accidentally got some of the epoxy sealer on the underside of my forearm. Several days later I noticed it while looking in the mirror as I brushed my teeth. Nothing I could do would remove it. It took about three weeks for it to wear off my skin. My front porch today looks exactly as it did a year ago. The color is rich and there is not a hint of gray.
---
The brand new clear sealer is revolutionary. It is truly the first clear deck sealer that works. Holding the test fence sample in your hand makes you an instant believer. The epoxy component in the sealer is also amazing. It adds a luster to the wood that makes your deck look like a piece of fine furniture.
Don't listen to the salesperson who says holding the tip of the pressure washer away from the wood is safe to do. The high pressure stream of water does erode wood. I get e-mail about this every year testifying to this fact. If you feel the need to pressure wash, then wait three days for the wood to dry and sand the deck to repair all of the damage. Do this before you seal the deck.
Message from Tim:
Years ago while researching a column about cleaning decks, I discovered the wonders of Oxygen Bleach. It is perhaps the 'greenest' cleaner I know of as it uses oxygen ions to break apart stains, dirt and odor molecules. There are no harsh chemicals, and it works on just about anything that is water washable.
I decided to create my own special blend using ingredients made in the USA. In fact, the raw materials in the active ingredient are food-grade quality registered with the FDA. I call my product Stain Solver. I urge you to use it to help with cleaning your deck or wood. You will be amazed at the results!