Decking Boards
DEAR TIM: I'm confused about which decking boards to use on my new deck. There are different wood species and types as well as the entire family of composite decking boards. What type have you had experience with and which ones are the best? Is there really a maintenance-free decking board made? What's the safest way to clean a dirty deck? Should I use a pressure washer or elbow grease? Frank W., Bennington, VT
DEAR FRANK: If you want to get confused about deck boards, I suggest you attend one of the huge national shows I routinely attend. In one giant hall, there seems to be every flavor of deck board you could imagine. Each representative tries to cast a spell on you as you listen to their pitch about why their product is better than the rest. I've heard many claims over the years that don't seem to stand the test of time.
Let's talk about the claims I distinctly remember about treated decking from 40 years ago. When the salesman told me about this material, he clearly said maintenance-free. Well, that was wrong. Granted, he may have not been trained properly, but anyone who's ever had a treated-lumber deck knows they require periodic cleaning and sealing.
If you neglect a wood deck, small checking cracks eventually become giant fissures as the wood rips itself apart as it soaks up water and then liberates it when the sun comes out. Add to that the highly destructive effects of ultraviolet light from the sun and you can see why traditional wood is the heartache of many a homeowner. Just about everyone loves the look and feel of real wood deck boards, but I don't know of anyone who looks forward to caring for it.
If you do start to lean towards real wood, pay attention to the different species that may be available near you. Cedar and redwood have natural rot-resistant chemicals in them. Different grades of these species sometimes are often affordable and look great. Clear boards that have no or tiny knots are almost always the most expensive.
Plastic deck boards are commonly called composite decking, so watch for that when you shop. You can get pure plastic or vinyl decking if you like. Be sure to view that on a sunny day at an outdoor exhibit where it's been installed. The first time I saw white plastic decking, I got an intense headache because I didn't have sunglasses with me. The glare was blinding.
Real composite deck boards are typically a mix of wood fibers and some type of plastic resin. Some of the plastic is recycled and some can be virgin resin. There are blends as well.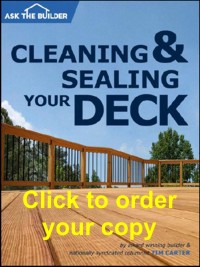 If you do research, you'll quickly discover there have been recalls, failures and rot problems with some of the composite decking. That's not to say it's a total failure. It's an industry that's still finding its way in many respects. The home I just bought has a composite decking that's eight years old, and it has a very splotchy appearance. When you look closely it appears that the blend of wood fibers and plastic is not consistent through the product.
I've installed countless different decking boards and have to say at this point that real wood is still my favorite. Redwood, a species that is grown like corn or wheat, is a drop-dead gorgeous wood decking.
All decks have to be cleaned periodically. Airborne dirt, algae, mold and mildew can collect on these massive horizontal surfaces. I've seen many decks ruined by pressure washers that blasted away much of the lighter-colored spring wood that's found between the darker bands of summer wood grain. You may be able to use one of these powerful machines without damaging the wood, but pay very close attention as you work. Do the same if you hire a professional.
I prefer to use elbow grease and oxygen bleach. Do not use chlorine bleach and water as is recommended by many others. Chlorine is toxic to all vegetation around the deck, it takes the natural color out of the wood, and it can accelerate the corrosion of any nails, screws, and framing connectors used to construct the deck. Oxygen bleach will not cause any of these problems.
Oxygen bleach can be safely used on all decking boards except redwood. In certain instances, it can make redwood darker. All composite decks and vinyl decking can be cleaned safely with any oxygen bleach.
Some homeowners confuse decking defects with deep mold or mildew in their decks. Recently a homeowner sent me photos of his deck that he had just cleaned with oxygen bleach. He felt the product was inferior as the deck was not an even color when dry. The photos clearly showed that the decking suffered from the same defect as mine - there were uneven splotches of dark plastic resin and then areas of wood fibers. I pointed this out and the homeowner said I was the first expert to have noticed this.
Column 826