Elliot Moore Smart House Colony
Elliot Moore Smart House Colony Scam
On September 16, 2023 at 1:18 AM in the morning, I received an email from Elliot Moore.
Elliot claims he is a writer/photographer for a website called SmartHouseColony. He put forth an allegation that I had stolen one of his photographs which you see on this page of my AsktheBuilder website.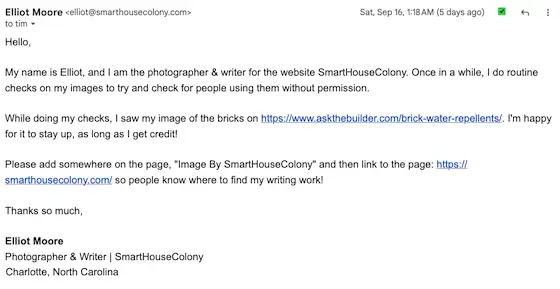 Here's the text of his email if you can't read what you see in the above screenshot:
My name is Elliot, and I am the photographer & writer for the website SmartHouseColony. Once in a while, I do routine checks on my images to try and check for people using them without permission.
While doing my checks, I saw my image of the bricks on https://www.askthebuilder.com/brick-water-repellents/. I'm happy for it to stay up, as long as I get credit!
Please add somewhere on the page, "Image By SmartHouseColony" and then link to the page: https://smarthousecolony.com/ so people know where to find my writing work!
Thanks so much,
Elliot Moore
Photographer & Writer | SmartHouseColony
Charlotte, North Carolina
I immediately responded to Elliot. Here's my reply:
Good Morning, Elliot.
TNX for reaching out. I'm flummoxed. I just went to that page of my website. I shot each of the photos on that page. Can you please give me a screenshot of what photo you think is yours and tell me where it was taken?
Looking forward to your response.
Tim Carter - CEO Ask the Builder
All My Photos
All of the photos on my page are mine. I shot each one. They were taken at the home of one of my newsletter subscribers. I was at the home applying the water repellent to the brick with the help of an employee of the company that made the water repellent.
Did Elliot Respond?
Elliot never responded to my email reply. IN MY OPINION, I believe he's trying to run a clever SCAM with website owners. He's trying to get website owners to LINK to his website. These links would help his website appear higher in Google's organic search rankings.
In my opinion, I feel that Elliot is counting on any number of website owners to not bother checking WHERE they got a certain photo and just insert his requested link. It takes seconds to create the link he asks for.
If my suspicions are true, then Elliot is not only a clever guy, but he's also, IN MY OPINION, a very unethical person. Let me know what you think in the comments below.
If Elliot is as smart as I think he might be, he's probably got a Google Alert set to his name and he'll see this page I created in his honor in less than 48 hours.
Elliot, if you read this, chime in and let all know WHY you never responded to me.