Entry Doors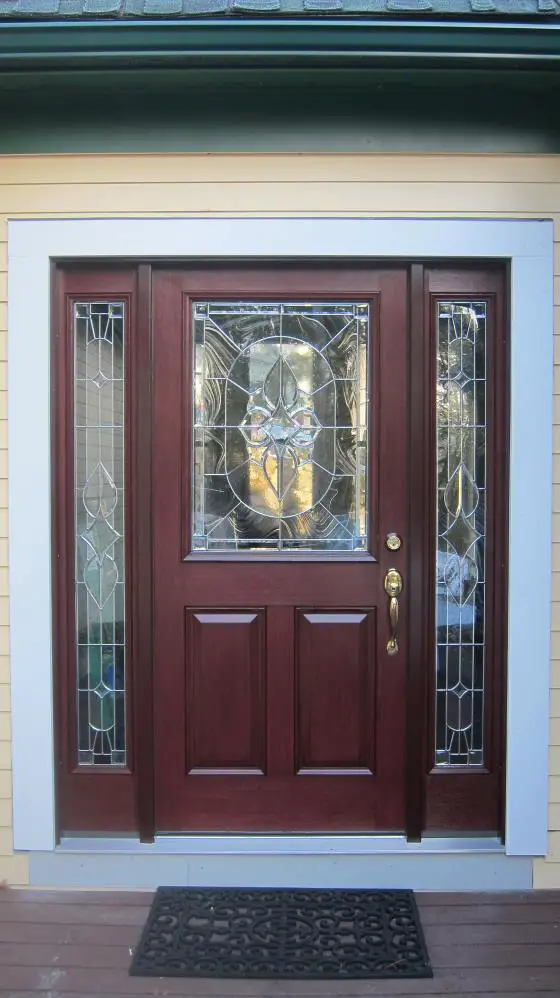 Entry doors often reflect the personality of the people who live in a house. As such, exterior door manufacturers offer countless styles and options in today's residential entry door market.
Not only are different styles available, but different door materials as well. As recently as 30 years ago, wood was your only choice in residential doors. Now, you can choose from steel insulated doors, fiberglass and composite (combination of wood and fiberglass) doors and traditional wood doors.
Technological advancements for entry doors include weather resistant simulated wood finishes, multi-point locking systems, extensive decorative glass options, super insulated cores, superb weather stripping, etc. Who would have thought that exterior doors could have progressed this far in just 30 years!
Traditional Problems
Certain wood doors of the past were good performers. Wood, being a natural insulator, offered both beauty and an acceptable level of performance. However, wood doors when exposed to water and water vapor can become poor performers. Wood, when exposed to moisture, actually begins to move. This movement can cause the wood to twist, warp, expand, etc. These movements can cause a wood door to be too snug or too loose in its frame. These movements can fracture the finishes applied to wood doors.
Alternative Materials
In response to these problems, door manufacturers began to experiment with alternative materials. The first substitute material to be used was steel.
Steel doors appeared on the scene in the 1960's. They offered many benefits. Steel was dimensionally stable. In other words, when exposed to moisture, the steel did not expand, twist or warp. Steel could be embossed. This process allowed steel doors to be stamped so as to simulate the appearance of traditional six panel or cross buck designs often used in solid wood doors.
Steel was also very durable. Although steel could be dented, it sometimes offered a higher degree of security.
The downside of steel, however, was that one lost the look and feel of real wood. Talented painters, when given the opportunity, could grain the doors with blended paints and stains. But, these faux finishes were just that -fake.
Twenty Years Later....
Pressures in the marketplace from consumers lead to dynamic changes in entry doors during the mid-1980's. At that time, steel doors were increasing in popularity, however, people wanted a more realistic looking product.
Fiberglass doors were being developed at this time. Fiberglass offered a compromise to those who wanted the benefits of steel, but yet a wood looking door. Fiberglass was able to be stamped and embossed with an actual wood grain finish. Furthermore, these doors could be stained to look just like real wood. Foam insulation could also be added to make a very energy efficient door.
The Present
Within the past few years, things have changed rapidly in the marketplace. Not only have advancements been made on all existing door products (wood, steel, fiberglass) but alternative composite products have been developed.
For example, one manufacturer, Marvin Windows, developed a wood veneer door that has a fiberglass composite core. This door offers a consumer an actual wood feel and appearance, but none of the problems associated with wood doors of the past. The fiberglass composite is dimensionally stable, like steel and fiberglass.
Another manufacturer, Therma-Tru, is also coming to market with a composite door. This door is supposed to be indistinguishable from a real red oak door.
Steel & Wood Changes
The steel door industry, in just the past few years, has responded to the steel look. Several manufacturers have developed thick (20 mil) vinyl finishes that have wood graining. This vinyl accepts stains available from the manufacturer. The end result is very realistic. Up close, it is hard to tell the difference between the steel door and a real wood door.
Certain steel doors also now feature improved insulation, extra reinforcing (for security) and significantly improved weatherstripping. Adjustable thresholds are available on many models.
Manufacturers of real wood doors have also improved their products. Doors made 100 years ago were often made from old growth timber that was extremely stable. The growth rings were usually very tight . However, these old growth reserves vanished within the past 50 to 75 years. As such, doors made within the past 50 years often had problems with increased swelling and twisting.
In response to this problem, manufacturers of real wood doors are using more stable laminated woodcores. Clear veneers of just about any species of wood are then applied over these laminated solid wood cores.
Some manufacturers go to great extremes to treat the doors with preservatives which inhibit any dimensional changes due to exposure to water or water vapor.
Closure
Never before have you, the consumer, had such a fantastic selection of door products. Just about any direction you head, you should be able to locate a quality product. Better yet, if you choose a non-wood product, there is a good chance that only you and your carpenter will know the truth!
Column B76