Epoxy Deck Stain Video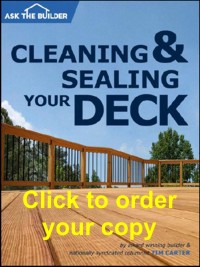 After cleaning your deck or wood porch with oxygen bleach and let it completely dry, it is time to seal the deck. This new synthetic resin epoxy fortified sealer works great. The epoxy is the key to this sealer. A lot of sealers contain natural oils that are food for algae and mildew. That's way your deck turns either black or green. This sealer does not have the natural oils to feed the algae.
The epoxy grabs onto the wood fibers and holds tight allowing it to last a lot longer than normal sealers. In the can, it appears to have a milky chalky appearance, but once dry it is semi-transparent. This gives an almost furniture like appearance to the wood.
For best results, two coats are required about an hour apart. Use a nice wide brush for applying and don't leave any extra sealer. Follow the label instructions and you will have a nice, long-lasting sealed deck.
Message from Tim:
Years ago while researching a column about cleaning decks, I discovered the wonders of Oxygen Bleach. It is perhaps the 'greenest' cleaner I know of as it uses oxygen ions to break apart stains, dirt and odor molecules. There are no harsh chemicals, and it works on just about anything that is water washable.
I decided to create my own special blend using ingredients made in the USA. In fact, the raw materials in the active ingredient are food-grade quality registered with the FDA. I call my product Stain Solver. I urge you to use it to help with cleaning your wood deck. You will be amazed at the results!