February 4, 2014 AsktheBuilder Newsletter & Tips
Things are starting to get a little amped up here at the AsktheBuilder.com World Headquarters. Why?
Two things:
1. The second annual Treasure Hunt is now just TWO WEEKS AWAY! (more on that below)
2. I'm traveling on business next week to the west coast for eight days.
Add those two together and you get the perfect storm for lots to do before I leave.
I'll be attending the BehrPro Paint editors conference in Huntington Beach, CA next Monday-Wednesday. If all goes well, I should come back with all sorts of good news for you about the latest in paints, stains and deck sealers.
I'll remain out on the Left Coast for a few more days doing a little R & R and visiting with good friends.
Do you want to do a LA meet up?
If so, you need to reply to this email and change the subject line to:  LA MEETUP.
If enough respond, then we'll set up a time and place. My guess is it will be Saturday, February 15th in Montrose / La Crescenta.
CLOSEOUT T-SHIRT SALE
I'm doing spring cleaning early.
I'm selling - at Below Cost - the last few AsktheBuilder.com DIY Shed T-shirts.
These are collector's items. They'll NEVER be made again.
I have just 11 Large and 3 Medium t-shirts.
Fourteen people are going to be very lucky.
If you see SOLD OUT at the cart, it mean's you're too late. Sorry.
For just $12 you get:
Super-Soft Colorful T-shirt
FREE SHIPPING  (the price of that just jumped way up)
FREE PRIZES in each box: Think Cracker Jack (clue: blue and gold & flat - not round)
Get yours NOW before they're gone forever and ever.
P.S. Free Prizes in each box are also Collector's Items.
Light Fixture SHOCKS Only When Light is ON
Discover why William gets shocked when his 3-way switches turn on his lights.
Clear a Clogged Bath Sink - Save $100
Is your bathroom sink drain clogging up? A month ago or so, the sink was fine and drained well, right?
But each day it drains slower and slower and slower.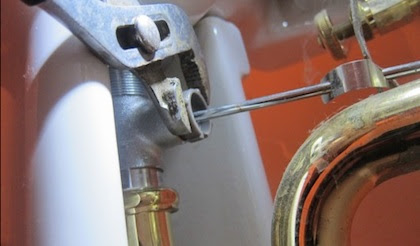 Would you believe me if I said you can fix this problem with one simple tool in less than five minutes saving yourself from calling a plumber?
Yes, you can fix your clogged bathroom sink! CLICK HERE to discover how EASY it is.
Treasure Hunt News
Two weeks from today, you're going sailing hunting for treasure!
The Treasure Hunt is FREE. It's a blend of building a jigsaw puzzle and Where's Waldo.
The Treasure Hunt is FUN! That's a fact - you told me so last year.
Last year, it was a short cruise to just one island. This year, you're going to be sailing over a period of THREE WEEKS to a wide variety of different islands!
Every few days, you'll be receiving new sailing orders telling you where to go. You won't have to hunt every day, although you may be one who wants that challenge.
"Tim, why are we going to so many different islands?" you ask.
Simple.
It got leaked to many different companies what happened last year.
In just five days last year, you and thousands and thousands and thousands of others went to discover some cool stuff about pocket doors.
This time more companies want in on the Treasure Hunt.
The island locations are SECRET for now so people don't try to find the treasure early!
VERY IMPORTANT:
The MORE times you play the Treasure Hunt as it continues, the MORE chances you have at winning prizes.
You should play EVERY DAY you get an announcement from me.
Last year, one person won many tools.
This year, MANY people will win all sorts of prizes including power tools and a wide assortment of products.
The Grand Prize winner will have me at their house for a full day. If you're the winner, I'll advise you on how to fix all the things at your home and MAYBE, just maybe, we might do one or two small projects together while I'm there.
I've got THREE of my FIVE Judges set. The judges are going to pick three finalists for the Grand Prize. Then YOU get to vote for the winner!
More information NEXT WEEK!
Buying the Right House or Building Lot
WARNING: GRAPHIC IMAGES in video below.
I get emails every day from people that made a mistake buying a home or building lot.
They didn't look around at clues that were SCREAMING at them something very bad might happen to them or their house in the future.
For example, the community of Amberley Village, where I used to live in Cincinnati, had any number of streets that looked like a roller coaster track. While driving on a seemingly serene street, you'd go up a hill and then come down the hill to a low spot.
If you stopped your car in the low spot, you'd see a shallow valley on either side of the street that ran perpendicular to the street.
Guess what was in that valley before they built the roads and houses? Yes, a small stream. Where's the stream now? It's in a giant 5-foot-diameter pipe that's now buried in that shallow valley.
What happens when you get the 500-year rain? The pipe can't handle the water and then the valley FILLS with a raging flash flood.
The basements of the houses in these low areas filled with water in about 90 seconds about 20 years ago in a big storm.
Watch this stunning video shot in Italy about two weeks ago.
STOP the video at 1:42 and look CLOSELY in the field.
You see TWO of what and only ONE of what?
That was a clue to the home builder / buyer some very bad jujumagumbo was going to happen in the future.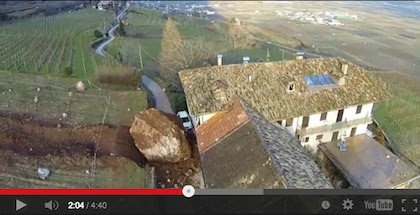 Best Ever Before / After Photos of Stain Solver
Georgia sent me photos this past weekend - and a story - that made my jaw drop.
I've seen HUNDREDS of Before and After photos taken by Stain Solver customers, but never had I seen ones like what you're about to see.
In other words, it's hard to get my jaw to drop. I thought I'd seen everything.
If these photos don't convince you to buy Stain Solver, NOTHING ever will.
Do NOT click the link below if you're a Doubting Thomas - you'll probably think the photos were photoshopped.
Do NOT CLICK THIS LINK if you want to continue to throw things away that CAN BE CLEANED.
If you want to SAVE MONEY and TIME, then CLICK HERE.
! ! STOP NOW BEFORE CLICKING  ! !
Guess what color the hat is BEFORE you click.
Final Treasure Hunt Announcement:
In two weeks, be SURE to start playing the Treasure Hunt. The more times you play and answer the simple questions, the MORE chances you have to win.
More news and tips next week while I'm in LA. Yes, there WILL be a newsletter next week!