First Alert Smoke and Carbon Monoxide Alarm Review
First Alert Smoke and Carbon Monoxide Alarm Review
Smoke detectors have been around for decades now. Carbon monoxide detectors were not too far behind.
First Alert combined the two into one detector and went one step further.
The detector featured in this review, model SC0500, can communicate with other compatible First Alert detectors in your home so if there's a problem in one room ALL of the detectors sound throughout the house.
CLICK or TAP HERE to have this detector delivered to your home in days.
When Should Smoke and Carbon Monoxide Alarms be Replaced?
You should replace carbon monoxide alarms every seven years. Smoke detectors should be replaced every ten years. The sensors within the alarms can lose sensitivity over time.
Is it Hard to Install the Alarm?
It's easy to install the First Alert smoke and carbon monoxide alarm. Two screws and plastic anchors are included
Once you liberate the alarm from the packaging, you hold the mounting base with your left hand and rotate the body of the alarm counterclockwise to uncouple the mounting base from the alarm.
Does the Alarm Come with Batteries?
Yes, First Alert includes two high-quality Duracell AA batteries with each alarm. This allows you to have instant protection the moment you install the alarm.
Are the Instructions Easy to Understand?
No. My biggest complaint with this alarm is centered on the overwhelming and hard-to-read instructions.
You'll need a magnifying glass and the patience of Job to make it through them.
In my opinion, this problem lies at the feet of the First Alert corporate attorneys and our wretched litigious society. Far too many people don't want to take responsibility for their negligence or mistakes and are quick to blame others that have deep pockets. The plethora of TV commercials of personal-injury attorneys doesn't help matters at all. But I digress.
I've worked as an expert witness in construction defect lawsuits for nearly twenty years and have had to sit in meetings with attorneys who rattle on and on and on about protecting their clients. Writing out every possibility of what might go wrong, they often feel, will mitigate large damage awards in a lawsuit.
The four pages of instructions in 8-point type size or less were mind-numbing and nearly impossible to read. I'm willing to bet the average consumer REFUSES to even try to read them giving up. This accomplishes nothing and sets the stage for disaster in case the alarms are installed incorrectly.
I had the good fortune not too long ago to review and install a Ring Floodlight Camera. The installation instructions for the Ring Floodlight Camera were the best I've ever seen in my life. It's also a personal security item and the attorneys for Ring might want to reach out to those at First Alert to show them there might be a better way. Or vice versa, but the egos of many attorneys are quite big and the First Alert legal team might feel they have a better mousetrap.
Before you look at the First Alert instructions, take a look at just one page from the Ring Floodlight Camera instructions. Then you be the judge:
Look at the following four photos of the instructions and pay attention to my business card in two of the photos illustrating how tiny the type is in the instructions. You're looking at 8.5 x 11 sheets of paper here!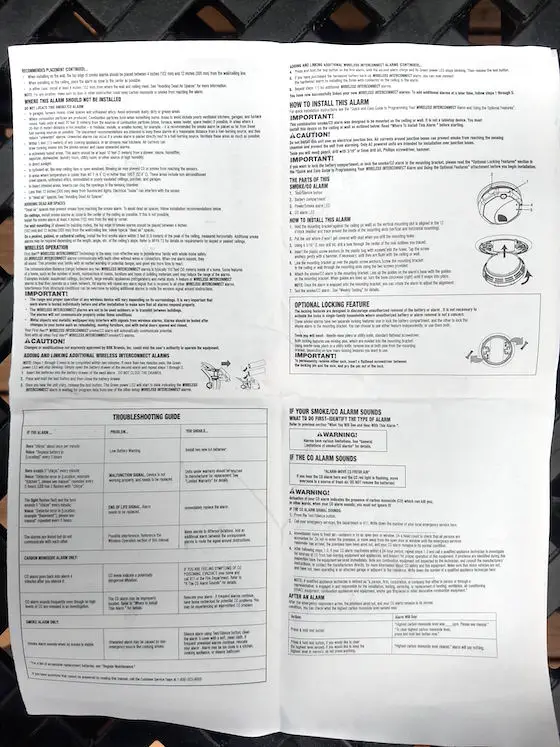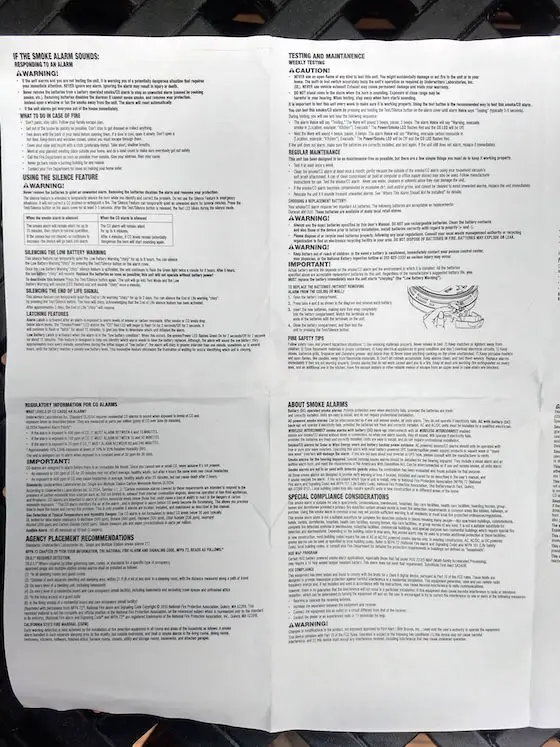 Summary
First Alert hit it out of the ballpark with this combination wireless smoke and carbon monoxide detector. In my opinion, it's a product I'd install in my own home to protect my family.
However, that said, they need tremendous help with their instructions if they want homeowners to have a positive installation experience.
CLICK or TAP HERE to have this wonderful wireless smoke and carbon monoxide detector in your hands in days.
This column was SO GOOD that I shared with the 31,000 subscribers who read my June 16, 2019 AsktheBuilder Newsletter.