Grand Cayman Beach Suites Video Review
Let me share a true story about tolerance, patience, manners and karma. If you're thinking of coming to the Cayman Islands and are considering staying at the Grand Cayman Beach Suites hotel, then this is a must read.
Two days ago, my youngest daughter and I flew here from the Northeast on a dad/daughter vacation. Because of a number of reasons, family vacations simply couldn't happen as my kids were growing up. I wanted to take them to all sorts of nice places, but money, timing and the opportunity just didn't present themselves.
Kelly and I arrived here in the Cayman Islands after flying on two airplanes and getting up at 5 am. We were tired and hungry. Fortunately the cab ride from the airport to the hotel was short. I'm still not used to seeing cars on the wrong side of the road. We were anxious to get to our one-bedroom suite that had a view of the Caribbean Sea.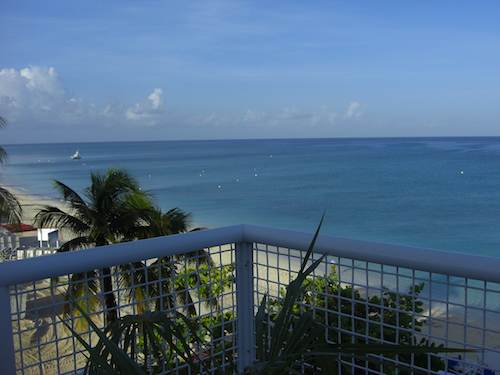 When I got to the front desk to check in, the first person to greet me was Ms. Taneisna Campbell. She was very pleasant and looked up my reservation. The expression on her face changed slightly and she told me I had to speak with Ms. Tricia Miller, the manager, who was on the phone helping someone else.
After just a few minutes, Tricia hung up the phone and greeted me. "Mr. Carter, I'm afraid that I have to put you in a hotel down the street for just tonight. We're overbooked and the fine print on the online site you purchased from says this is a possibility," she explained.
Now stop and think about this for a moment. Overbooked? We are talking about the lowest spot on the graph of the Low Season here in the Cayman Islands. It's like a ghost town here now. Why would this hotel be overbooked? I'll give you a clue - this property used to be a former Hyatt hotel. You'll discover additional reasons as you read on.
Now, back to the lobby where I was just given some bad news. I've been standing back in the check-in line watching when a person in front of me receiving this bad news explodes. You'd think the world ended. The person goes ballistic.
I don't know about you, but I've discovered that screaming, yelling and threats are pretty much not going to get the desired result. Plus, in my case, I was in no mood to argue. I just wanted to get Kelly onto the warm beach sand. Think about it, the patience that hospitality workers must possess is enormous.
It was futile to complain. Tricia was being truthful and just doing her job. Besides, she was kind enough to offer a generous food and beverage allowance free of charge once we came back the next day. Kelly and I left the hotel in their private shuttle, and moments later were in the other hotel. It was a very pleasant property, and we survived.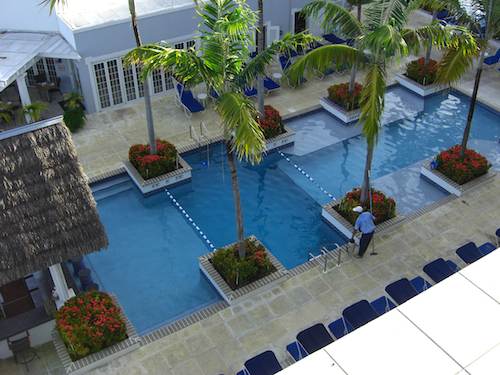 Before leaving the lobby of the Cayman Island Beach Suites, Tricia handed me her business card and said, "Mr. Carter, please call me in the morning and we'll have our shuttle pick you up to bring you back." "Thanks, I'll do that," I said as I walked out the door.
The next morning we called and talked with Tricia. We decided to come back around Noon as there was plenty to do where we were. The crystal-clear sea water was just the same as it would be down the beach at the Grand Cayman Beach Suites. Kelly and I enjoyed an outdoor breakfast next to the beach and then relaxed.
During the phone conversation, Tricia mentioned that she upgraded us to a two-bedroom oceanfront suite for the rest of our stay apologizing for our trouble. I thanked her on the phone not fully realizing what she had done.
When we arrived at the Grand Cayman Beach Suites, checked in and got to our room, I was speechless. Never before in all my life had I stayed in such a nice room. It was magnificent and the view from the lattice-shaded balcony was beyond words. Watch the videos at the end of this article, and you'll see why you'll want to come here.
I can't say enough nice words about Tricia and the rest of the staff at this superb property. I'll never know why we were treated the way we were, but I highly suspect it was the absence of me groaning, moaning and complaining when we discovered that we couldn't stay here the first night.
In a way, I'm really glad we didn't. I thought the room we were in the first night was not bad, but now it doesn't even compare to what we have now.
If you're planning a trip to the Cayman Islands, there is only one place to stay in my opinion - right here at the Grand Cayman Beach Suites. Don't waste your time looking for another place. And if you can afford it, be sure to book room 8415. You'll not believe it when you see it.
UPDATE:
Kelly and I have now been here for three days and I want to share some other great news about this marvelous hotel.
First, they have a delightful tiki bar next to the swimming pool that has seats where you can dangle your feet in the water. Some pools have the seats lower so the top of the seat is in the water, but these are fine.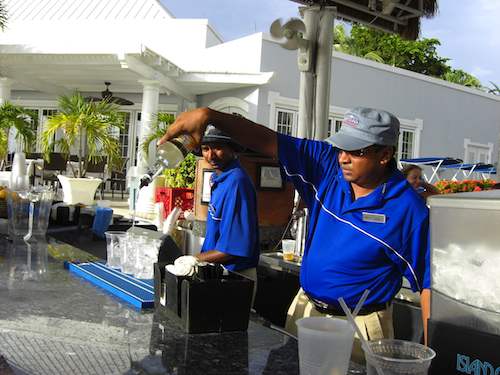 I highly recommend the mango raspberry smoothie. If you can have it made by Dileep, do it. He's an employee that's been here for over a decade. Dileep hails from Sri Lanka and bleeds the Cayman Islands Beach Suites.
In fact, I suspect there's enormous competition each month for the Employee of the Month Award. I'll bet Dileep has a wall full of these plaques at his house. The general manager, Bill Powers, must have a hand-wringing fit each month when he has to pick the winner. Why? Because every team member I've run into here has been friendly, helpful and goes out of their way to assist.
Kelly and I also discovered that part of this property is the magnificent 18-hole golf course Britannia just a few minutes away. We ate lunch there yesterday and Dileep was kind enough to grab a couple of golf carts and drive us around several holes of the course.
We made it to the two signature holes down by the water. Oh my gosh I wish I had time to play a round, but that's not fair to Kelly. I decided I'll just have to come back and play another time. The course topography is so interesting. It's a target-golf course for sure. You'll love the colorful iguanas that make this course their home. They'll not bother you one bit.