Hastings Triplet 10X Review
Hastings Triplet 10X Review - Very Handy Lasts Decades
I've owned my Hastings Triplet 10X magnifier since 1972. I was required to buy one for my Geology 101 lab course.
I use my magnifier for these tasks:
wood splinter removal

check solder connections on circuit boards

inspect expensive jewelry settings BEFORE a failure

close inspection of anything, including Tim's finger! (Check the story out in the January 19, 2020 Newsletter)

Hold the Hastings Triplet to Your Eye
For best performance, you need to hold the magnifier very close to your eye. Believe me, you'll be blown away by what you'll see. Watch the video at the bottom of this page for the proper technique.
The detail on jewelry is astounding. Look at how you can count the teeth in the skull on my mother's College of Pharmacy pin from 1946.
CLICK HERE to order a high-quality Hastings Triplet 10X magnifier.
How to Use a Hastings Triplet 10X Magnifier
Watch this video to see the proper technique to use one of these great tools.
Summary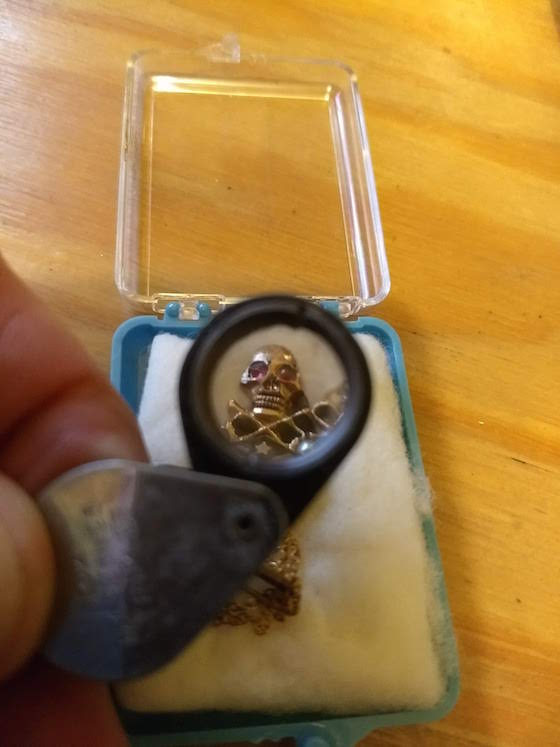 Article Name
Hastings Triplet 10X Review - High Quality Magnifier Lasts for Decades
Description
My Hastings Triplet 10X magnifier is over 45 years old. It's helped me get splinters out of my hand and saved me many times. Great demo photos here.
Author
Publisher Name
Publisher Logo