Heated Driveway Cost
Heated Driveway Cost - Wait For The Surprise!
You may wonder what a heated driveway cost to install. The first thing to remember is it's very expensive.
Not only are the actual systems expensive, but the labor to install them is also very pricey.
The surprise comes after the workers have gone to the next job. Your electric or fuel bill is going to be sky high when you turn on the heated driveway system.
Vast amounts of heat are required to melt snow and ice from hundreds and thousands of square feet of driveway and sidewalk.

Related Links
How Much Does It Cost To Heat Water?
Great Deicing Salts and Sand Alternative - Don't Discount This!
Free & Fast Bids
CLICK HERE to get FREE & FAST BIDS from local companies that install heated driveway systems.
What are the Types of Heated Driveway Systems?
There are several types of heated driveway systems. Heavy-duty electric resistance cables can be installed under asphalt paving, concrete pavers or even poured concrete.
Systems that employ circulating hot liquids are filled with an anti-freeze solution. This liquid is heated by a boiler or giant water heater.
How Do You Install a Heated Driveway?
Watch these videos to get an idea of a few different systems:
What Happens When Cables Or Pipes Break?
Another key point is the potential failure of the system if the electric cables or hot water pipes break or rupture.
It's impossible to repair them. Extra care needs to be taken during the installation of the pavement to ensure the paving process doesn't harm the heating system.
Be sure the contractor is following the installation instructions provided by the heating system manufacturer.
Will Insulation Help Lower Driveway Heating Cost?
Yes, closed-cell foam insulation will help lower the cost of heating the driveway. The insulation stops the heat from penetrating into the soil.
You can install 2 or 4 inches of closed cell foam insulation under the driveway heating systems. Many cold-storage warehouses across the USA have high-efficiency foam insulation under the poured concrete in the warehouses.
Be sure to consult with the heating system manufacturer and get a schematic drawing and written specifications showing the best way to install insulation under the driveway so you don't lose so much heat into the ground.
Is There an Alternative Cost-Saving Choice?
With attention to the installation and operating costs, why not take a few minutes to do the math about alternative methods to remove the ice and snow from your driveway?
You can purchase a high-quality snowblower for well under $1,000 at 2017 prices.
By all means, think about hiring a local landscape company or even a local high school kid who needs spending money. It may only cost you, in 2017 dollars, about $20 to clean your driveway.
When the sun comes out after the storm, the driveway will be dry just like you see in the top photo.
You can save thousands of dollars over the years if you just use a snowblower and pay someone else to get rid of the snow and ice.

CLICK HERE to get FREE & FAST BIDS from local companies that install heated driveway systems.
Summary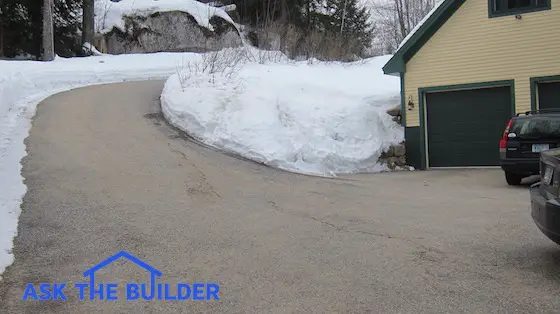 Article Name
Heated Driveway Cost - Buy Lottery Tickets To Pay for Fuel
Description
A heated driveway costs money to install and then to operate to melt the snow. It might be cheaper to get a snowblower.
Author
Publisher Name
Publisher Logo