How to Garage Shelving Ideas
How To Garage Shelving Ideas
Use thin plywood between 2x4s

Electric cable staples are shelf cleats

88 feet of shelving from one 4x8 sheet of plywood

Works on drywalled garages too
DEAR TIM: I need some creative garage shelving ideas. I've got a limited budget, bare stud walls with no insulation and I've accumulated countless small boxes of nails, screws, spray paint cans, boxes of fertilizer, etc.
Please save yourself the trouble telling me about all the fancy cabinets, shelving units, etc. I just don't have the money. All I can afford is $30 at the most. Wave your magic wand so the clutter disappears off my garage floor! Mona G., Lost Creek, KY
DEAR MONA: I've just summoned my fellow New Hampshire wizards and we're about to cast a protective spell on you, your garage clutter and all of your terrestrial allies.
In all seriousness, I've got great news for you. All of the things you need for a simple solution are aligned. This is indeed your lucky day.
CLICK HERE to get FREE & FAST BIDS from local handymen that can build these shelves in one day for you!
California Garage
Allow me to share a story with you. I've got a great friend who lives in southern California. I visit him on a fairly regular basis. He and his wife have a wonderful detached garage that's just like yours. But what I'm about to share would work even if your garage walls were covered with drywall!
My friend's garage has a durable cement stucco outer covering, but the inside is just bare 2x4 walls. He's accumulated all the things you've described and much more over the sixty-plus years he's lived in this home.
Tame The Clutter
Several times he's asked me about ways to try to tame the clutter and I mentioned putting up a shelf that overhung the hoods of the cars. Many garages have a vast amount of wasted space in the air and this shelf was perfect for his larger items.
But he had all sorts of small things covering the floor of the garage making it nearly impossible to find anything. I've have the same problem in my own garage.
Stuff Stud Cavities
Two months ago, I visited him and he took me out to the garage. The floor was clean. I could see concrete everywhere! All of his cans, spray bottles, boxes of plant fertilizer, boxes of nails and screws, bottles of motor oil, paint roller covers, brushes, you-name-it were all organized nicely tucked inside the wall stud spaces!
1/4-Inch Plywood
He and his industrious wife had purchased one sheet of 1/4-inch plywood and had it ripped into 4-inch-wide strips. This yielded, are you sitting down, an astonishing 88 linear feet of shelving!
All he had to do was use a simple hand saw to cut the shelves to the width of the space in between the vertical wall studs. They maximized the storage space by doing their best to organize things that were related to one another and the same height.
Doing this allowed them to put as many shelves as possible in one wall cavity in between two wall studs.
CLICK HERE to get FREE & FAST BIDS from local handymen that can build these shelves in one day for you!
Tiny Shelf Supports
As if that weren't clever enough, he and his wife came up with a simple, yet strong, way to support each shelf. They used electrical cable staples as tiny shelf cleats. It took just four, two to each side, to support each shelf.
For shelves that would support fairly light-weight items, I told him he could have used small 6-penny finish nails. These are very inexpensive.
How To Do Them
You don't have to have a fancy tool to get the shelves level in both directions. A common torpedo level is all you need to get the shelf level side-to-side.
You can use a shelf panel that's got a nice square cut on it to create the level line that becomes your guide for the cable staples or finish nails.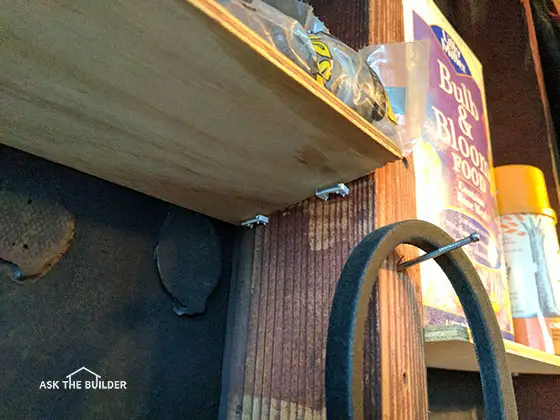 All you do is determine the height you want the shelf, press the shelf flat up against the side of a wall stud and trace a pencil line along the short edge of the shelf. Assuming the walls of the garage are plumb, this will automagically create a 90-degree level shelf.
Tilt a Few
My friend decided some shelves that held liquids shouldn't be level. He wanted a slight backwards tilt so the bottles and cans would lean back towards the wall. This is easy to do by just putting one cable staple above the pencil line and the other one below.
Drywalled Garage? No Problem!
Guess what? Even if you had told me your garage walls were insulated and drywalled you can still do this! You'd have to spend a little more money to buy some 2x4s, but that money might be in your car cup holders or you'll discover it when you burrow down into your couch cushions.
My garage is drywalled and as soon as it warms up I'm going to build a simple wall out of 2x4s. I'll then use a few simple L brackets to secure the bare wall to the studs behind the drywall. Then I just have to do what I described above to organize all my small things.
Many garages have a foundation ledge that stick up above the concrete floor and it's the perfect spot to rest this bare wall. I can't wait to get started here at my own home!
CLICK HERE to get FREE & FAST BIDS from local handymen that can build these shelves in one day for you!
Column 1181