Husqvarna 350BT Backpack Leaf Blower Review
opens in a new window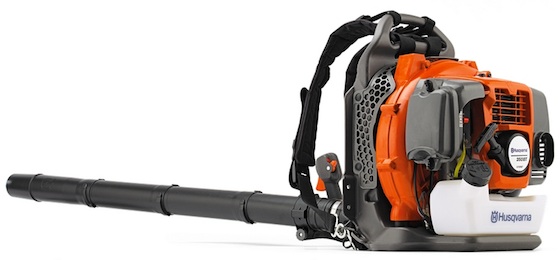 I can't even imagine all the leaves I've blown in my lifetime. The house I lived in before my current one had many huge oak, maple, ginko and beech trees on the property. I've used every known leaf blower known to man, so I believe I'm qualified to give a strong opinion about the performance of leaf blowers.
That said, when I fired up my new opens in a new windowHusqvarna 350BT backpack leaf blower a few weeks back before the first snow hit here in New Hampshire, I knew it was going to be a wonderful experience.
Solid Construction
One of the first things I look at with tools is just how beefy and tough the tool is. You can make a great tool that doesn't weigh a ton and hasn't had corners cut. This leaf blower has quality oozing out of the tool. At 22.5 pounds, it's loaded with great engineering where it counts.
Fit and Feel
I'm particular about backpack blowers. If they don't fit right, they pinch a nerve in my right shoulder and my right arm can go numb. The harness in this blower was well designed and after two hours of use, I never had any discomfort.
The controls are very ergonomic and I loved the cruise control that prevents finger and hand fatigue. I loved how the handle could be adjusted to a position that best fit my hand and wrist.
Assembly
You have to spend a few minutes assembling the tubing onto the machine, but the instructions were clear and it required minimal tools. It was a breeze and I was ready to move lots of leaves in a short amount of time once I cut open the packing tape.
Balance
With the adjustable harness, it's easy to get the backpack blower to fit on your back so you're well balanced. This is really important if you're going to be working for hours on end.
Air Flow
I don't have to tell you that 180 mph wind speed can move leaves. Heck, it can move small rocks! This blower has all the power and air movement you'll ever need. I know it's going to do double duty in the spring when I have to blow all the sand off my driveway that accumulates from snow and ice removal. No doubt the blower is going to work great to blow dust, dirt and sawdust from my shed too!
Overall Impression:
The opens in a new windowHusqvarna 350BT leaf blower is the best backpack blower I've used in my life. It's got plenty of power and it even does a great job with wet packed leaves.
If you want to have the best experience using a tool like this, here's the voice of experience. Keep your lawn mowed nice and short as the leaves start to fall. Long blades of grass trap leaves and make the work much harder than it needs to be. 
Don't try to blow massive piles of leaves. It's a waste of time. You want to create many different piles, and rake the leaves onto a fiberglass tarp. Drag the leaves to where you're going to dispose of them. If you try to blow a massive pile of leaves, you're just blowing some of the same leaves ten or fifteen times. That's not a prudent use of your time or resources!
opens in a new windowClick here to see all the technical specs on the 350BT.