January 21, 2014 AsktheBuilder Newsletter & Tips
I'll be in the Detroit airport waiting for my connecting flight to Las Vegas when this newsletter is sent. I'm on my way to the World of Concrete show courtesy of Bosch Power Tools and Accessories. Thanks Bosch for inviting me to your press event tonight - Tuesday, January 21st.
I'll report back next week with all I discovered at the Bosch booth and other vendors who have concrete and related products for you. I do have a booth appointment at Sakrete on Wednesday morning, so I'm excited about that!
This is a shortened newsletter because of the busy week!
Tip of the Week - Super Ninja Trick to Install Shelves
Let's say you don't know what's behind a wall, but you need to install shelves. You're afraid your fasteners could hit a pipe, wire or ?????.
Rae's issue was a pocket door. Check out the drawing she sent me.
opens in a new window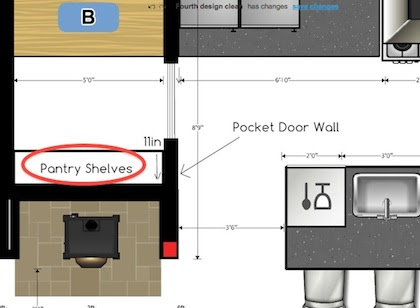 opens in a new windowRead this column and tell me if that's a ninja carpenter trick you didn't know about!
Treasure Hunt Update
I've now got THREE sponsors for the upcoming Treasure Hunt. The hunt begins in four weeks!!!!
Do you want clicks and customers coming to your website? If so, you better get in touch with me NOW.
The hunt is going to last three weeks in all. Yes, I'm sending you to multiple "islands" each week! As the hunt progresses, the clues are going to get harder and harder. For those that want a real challenge, you're going to be very happy.
For those that want easier clues, I'll be providing those for you. I want everyone to have fun!
All of my followers across YouTube, Twitter and Facebook will be invited. You should invite ALL your friends to play too, unless you want to be selfish and try to keep the pool small so you win the Grand Prize!
If you want me to come to your house as the Grand Prize winner, you better start taking great photos of what's wrong. Those who also shoot a SHORT video will also have a better chance of winning.
The PUBLIC is going to pick the Grand Prize winner, not me! How cool is that?
More details next week!  Get your eye patch ready and find your parrot. Start practicing your Pirate talk too!
You're going to have a BLAST!
Many are going to win prizes, not just ONE person like last year.
Installing a Trench Drain
Water running across a driveway or patio can create erosion issues at the edge of the pavement. You can capture that water with a trench drain.
I installed one this past summer and did a big series of videos about it. They're now on YouTube. I URGE you to watch all these videos. The links are just below the photo. opens in a new window
---
---
Cold Weather and Danger
The Midwest and Northeast are in the grips of bitter cold weather again.
If your pipes freeze, don't use a blow dryer or other heat source and fall asleep on the couch.
Thawing out pipes can be very dangerous. Use common sense.
Susan from Nashville, TN wrote me:
"Does it REALLY help your pipes to keep a little Drip-Drip going-?
Thanks, & have great & safe trips!"
The drip drip method does NOT work to keep pipes from freezing all the time in every situation. It's all a function of how cold it is, how much of the pipe is exposed to below 32 F temperatures, how long it's below 32 F, if cold wind is blowing across the pipe sucking heat from it at a rapid rate, the temperature of the water flowing INTO the pipe, etc.
If in doubt, run more water through the pipes than a drip drip drip.
Open the cabinet doors under sinks to try to get heat into the pipes.
Bottom line: Do whatever is necessary to keep the pipes in some sort of chase or environment where the air around the pipes is 33 F or higher.
This is a great topic for next week. I'll address it in the next issue.
Straight Talk Update and Republic Wireless
Fourteen months ago, I switched my cell phone to Straight Talk. You asked for a report.
It's been great. No problems.
Guess what? I'm switching AGAIN! Now I'm going to Republic Wireless.
opens in a new windowhttps://republicwireless.com/plans
Wait until you see their plans!! For me, since I work out of my house and am here 95% of the time, I can have unlimited everything for $10 a month!!!!!
More tips next week!