January 29, 2019 AsktheBuilder Newsletter
Welcome if you're a brand-new subscriber. It's my hope you get lots of tips in upcoming issues.  
Hello again dear friend if you've been here for a week, month or since 1996 when this newsletter started!  
You Reply - I Listen!  

I know this may shock you, but I read every single incoming email you may send to me. As often as possible, I respond back to you.  
I don't know of any other home improvement website owner that does this. Do you?  
Why do I read your messages?  
In almost all cases, your input is fantastic. Take for example a message I received from Bob this past Sunday. I've met Bob before as he invited my son and I up to IL a few years back to watch a WW II reenactment.  
Bob told me he was dealing with some wretched ice dams on his roof because his snow-melting wires malfunctioned.
He wrote, "I think you have explained how ice dams and freezing/melting weather backs water up under the shingles, resulting in water entering inside the exterior house walls, but maybe you should repeat this information as part of your thoughtful winter warnings."
Bob's right. I often fail to provide you with the Easy Button. I fail to give you relevant links to past columns and videos that might help you at a critical time.  
You may live south of the Equator or down below the 30th parallel where it doesn't get too cold at all. Realize I've got plenty of hot-weather columns for you if you need help now. Just use the search engine at my website now to stay cool! Try it!  
If you can't locate what you need, reach out to me.
Cold Weather HELP Columns
Please check out these columns right now if you need help figuring out how to solve a cold-weather problem:
Ice Dams - You Hate Them, Don't You?
WHY Ice Dams Form - Not Always Heat Leaking From Your Attic
Ice Dam VIDEO By Tim Carter - Yes Me!
My House is FREEZING COLD - Why?????
Cold House VIDEO by Tim Carter - Scroll Down To See It
Basement and Crawlspace Flooding
Last week we had 2.5 inches of rain here at my house in New Hampshire. My own garage started to flood because of an ice buildup on my driveway. I caught it in time before any damage happened. I was able to quickly create a channel for the rushing water to get to the lake instead of my tools!  
But what about you? Are you going to have to deal with water in your basement or crawlspace with the Spring rain just around the corner? If you live where the ground is not frozen, NOW IS THE TIME to install one of my linear french drains.  
Did you know I created an informative DVD to show you how to STOP water from entering your basement or crawlspace? Yeah, I know, I do a poor job of promoting my products that will help you.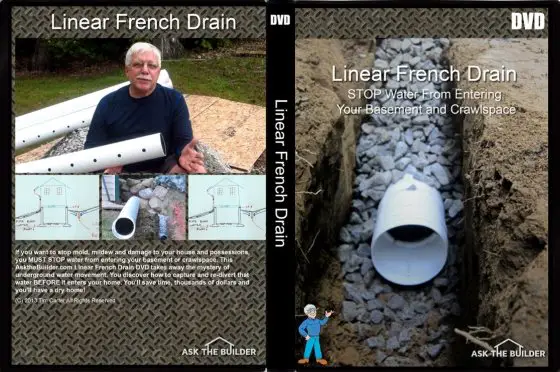 CLICK HERE to discover what's in this cool DVD. It's professionally produced and it's mailed to you usually within 24 hours.  
Here's what my buddy Fred has to say about how well my linear french drains STOP WATER infiltration:
Dear Tim,
I would like to take a moment to thank you for your advice on how to handle the significant water problem I had in the basement of my 1820's house (now serving as a B&B Inn). The chronic water influx that resulted from the new residential construction uphill from my place literally jeopardized both the safety and value of the Inn and its function.
Moisture damage and mold were making it an unhealthy to place to live - not to mention operate as a B&B. Your instructions as to how to install the linear french drain around the periphery, the depth and the appropriate slope requirements turned out to be the "Magic Bullet" which totally solved the problem.
The outflow from that trench drain actually became a small stream through all of the severely wet spring weather we have had this year. Being cautious, I had also installed a sump pump inside as a backup. That pump never even came on!
A really terrific aspect of the trench system is that it operates completely on its own without any energy input. Thanks to gravity and Ask the Builder, I have actually been able to paint the floor and now have additional workspace that was completely uninhabitable before the drain was installed. Your assistance was greatly appreciated.
Best regards,
Fred Hoffmeister
Maria Atwood Inn B&B
Franklin, NH
That's enough for a Tuesday.  
Please read all those columns above if you live where it's cold. You'll discover how to PROTECT your home and how to stay warm.
Tim Carter
Founder - www.AsktheBuilder.com
Certified Organic Clean Man - www.StainSolver.com
Morse Code LIVES! - www.W3ATB.com
Do It Right, Not Over!