January 3, 2012 AsktheBuilder Newsletter And Tips
What's in This Newsletter?
Latest News
Channel Lock Pliers
Subscribe / Like / Follow AsktheBuilder
Floating Shelves
Selling Ads Directly Online
Happy New Year!
I'm pretty excited about all that 2012 has to offer. It's going to be a breakout year if I have anything to say about it.
You're going to see a brand-new radical website design at AsktheBuilder.com in just weeks.
You're going to see many new videos, some of them pay-to-play series where I demonstrate exactly how I tackle a project.
All in all, I feel invigorated by what lies ahead. I'm trying to take AsktheBuilder.com to the next level and would love your help in doing just that.
I'd also LOVE to know what new products you want me to develop. It could be a checklist, or maybe you want a tutorial series, what can I make for you that would help you around your home?
Just reply and change the Subject Line to: Tim, I Want . . .
Channel Lock - Vise-Grip Pliers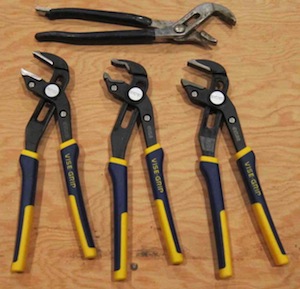 On New Years Eve, my son Tristan helped me tape a new video. It was fun working with him, and we did it on the fly.
What I enjoyed doing was showing my original pair of adjustable channel-lock pliers up against the latest ones on the market.
I believe you'll like this video about channel lock pliers. I know the video could have been better. We didn't do closeups of the tools so you could see certain things. We were in a rush just to get the video up before the end of the year.
If you want me to do MORE hand and power tool videos, please reply to me. Tell me what you want to see and why.
With your input, perhaps I can get the manufacturers of the tools to support the effort.
Subscribe / Like / Follow AsktheBuilder
It all started with my website back in November of 1995. That's when AsktheBuilder.com launched and to the best of my knowledge, I'm the longest-lasting home improvement site online.
But the Web has grown. To grow and flourish in this day and age, one has to have MORE than a website.
Just like large shopping malls in your city and town where a national brand probably has a store, an online business needs a presence at all the big online malls where people congregate.
| | |
| --- | --- |
| | This is why I was one of the first YouTube Partners. Do you have a YouTube account? If so, I'd sure appreciate it if you would Subscribe to my AsktheBuilder Channel. |
| | Are you one of the hundreds of millions who use Facebook? I never cease to be amazed at who's on Facebook. Consider Liking my AsktheBuilder Page. Just yesterday I helped Ruth ensure she got the right underlayment. |
| | How about Twitter? You may love its short and sweet messages. If you need quick bursts of home improvement knowledge, this may be the place for you. Please follow me on Twitter and I'll try to drop sweet tips on you each week! |
Floating Shelves - Making Them Strong
Alonzo Martinez of San Diego, CA emailed me yesterday:
"Tim, do you have tips on reinforcing floating shelves? The bracket that comes with mine don't do a good job once anything is placed on them."
Alonzo, yes, I've seen some very flimsy bracket systems in my time.
The sleek shelves almost always make use of steel rods that are bolted to the sides of the framing lumber in the wall. These require great skill when installing and can't be done after the walls done.
For floating shelves installed after the drywall is up, I always use my French cleat method. It works.
Question: Would you like to see a series of videos done showing how these French cleat floating shelves are made? Please reply and put Floating Shelves in the Subject Line. Thanks!
Selling Ads Directly Online
Do you own a website (more than 250K unique visitors per month) that generates revenue by selling advertising space? Are you a media buyer that purchases offline or online ad space for a client?
If you meet either of these two criteria and want to be considered for an invitation to attend a very private and exclusive one-day meeting near Boston, MA on January 20, 2012 reply to this email.
Using my best Jedi Mastermind Trick voice, "If you work for an ad network, this is not the event you're looking for."
To be considered, reply to me giving me the Executive Summary of who you are, describe exactly what you do and why this private summit might be of interest to you.
Other experienced and successful website owners will be in attendance. There are only 10 spaces left and it's by invitation only. Time is of the essence.