July 25, 2018 AsktheBuilder Newsletter
New subscriber? I'm glad you're here!
Well-read & seasoned subscriber? Interesting issue today!
Week in week out, I do my best to help you save time and money. Every now and then, I need a little help.
Today is one of those times. I'm hoping you'll step up and give an assist. You'll see just below what it's all about as I've got two immediate needs.
I've got some interesting stuff in this issue, so hang in there till the end.
Last Weekend at the Forest Rally
I mentioned that I was going to be in NW Maine late last week up until Sunday morning. I'm now the Chief of Communications for the fabled New England Forest Rally.
We had some excitement on Friday afternoon that made the national news here in the USA. One of the race cars crashed and caught on fire.
The world-class driver, Ken Block, and his co-driver made it out without any injury. They were very lucky as the car caught fire in seconds after the car corkscrewed twice landing shiny side up.
One of my radio operators was less than 100 feet away and able to call in the emergency immediately.
CLICK HERE and scroll down to watch Ken's GoPro video to see what he saw through the windshield during and after the crash. You can't miss the video on the above page - it's a car engulfed in flames. Just scroll down or get to it as you read the article.
Need a Graphic Designer's Help
I want to create a cool patch for my radio operators that donate their time and skills to the rally. But I draw stick people.
I know exactly what I want in a patch and modern computer-controlled embroidery can make it possible. This technology has come a long way and the detail that's achievable is stunning. Look at two patches that I have: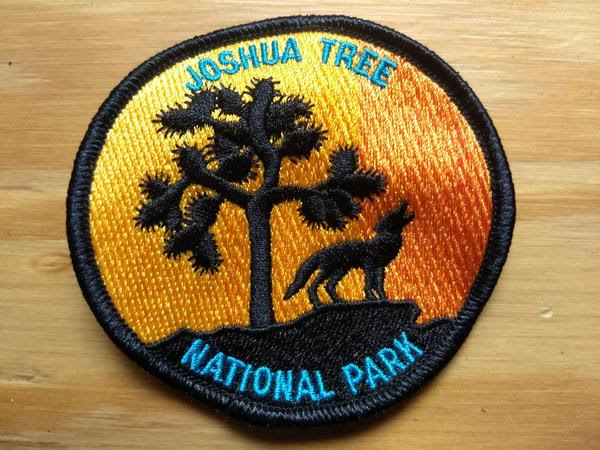 Isn't the color and detail stunning? They can do this same thing on hats, shirts, you name it. The top patch is 3 inches by 3 inches. That's the size I want.
Here's a concept drawing of what I think will work. I'm pretty certain we can get this on a 3 x 3-inch patch based on the one patch you see above.
I want you to imagine the rally car spewing up all sorts of dust. They can do dust in the embroidery! Look at the Joshua Tree patch above and see how the orange and yellow are mixed on the right side.

Please contact me if you're willing to pitch in to create the needed detailed artwork to make the patch look amazing. I'm more than happy to write an article about you in my radio blog and link to your website.
The article will show the above concept drawing, your final artwork that was submitted to the patch people and then a sample of the patch.
If more than one designer steps forward my guess is I'll have to flip a coin or ????? If you've created art for embroidery that's a plus. Be sure to mention that!
Haas Garage Doors
Matt from Haas Garage Doors was here two hours ago. He took measurements for some new doors that are going to transform the look of my home.
Right now I've got BLAH BLAND green doors. You'll see them in a before/during/after video I'm going to shoot about the project.
The new doors will take your breath away when you park in front of them as you arrive at my home. Haas has software that allows you to take a photo of your home and current garage doors. They then overlay on the photo what the new doors will look like.
This is what my new doors will look like on my home:


These are going to be superb insulated steel doors with the stunning emerald decorative glass. You really can't see it in the concept image, but the wood grain on the panels will be bi-directional just like if the door were made with real wood.
CLICK HERE to see how Haas Doors can transform your ho-hum garage doors into ones that your neighbors will covet.
While Matt was here I gave him an idea for Haas. It's a mouse barricade. Determined mice want to get into my garage to stay warm and the little demons wreak mayhem in my garage.
Look at the holes they've chewed in the existing door weatherstripping. Does this happen at your home?
If mice try to chew their way into your garage through the weatherstripping reply to this and tell me the state where you live.
My gut tells me this is just a snow belt issue, but I've been wrong before.

Home Security - My Friend Howard
Have you been thinking about a security system for your home? Or, do you have an outdated system and want the latest technology?
Do you have questions about security you want to ask someone you can TRUST?
As you might suspect, I happen to know trusted experts in just about every field.
Rick Steinau is my go-to expert for pest control. Kathy Ziprik is my public relations expert. Steve Schaefer is my go-to expert for structural engineering. Janet Attard is my small-business expert.
I've got a list a mile long.
Howard Feldman is my go-to expert for home and commercial security. I've known Howard for fifteen years as his wife Barbara was a member of a mastermind group I was in.
Howard is tied in with ADT, the leaders in home security. Howard has been involved with home security for as long, or longer, than I've been building! You know he's an expert!
Please go watch this video of Howard and wait for it at the end is all I can say. Yes, Howard was a little nervous. He's not used to making video, but he sure knows security!!!
CLICK HERE and remember, WAIT FOR IT.
Meghan's Heat Loss Calculation
I need a radiant floor heating expert to step to the plate and help me.
I need a full-blown heat loss calculation for my daughter Meghan's new home.
It needs to be on a room-by-room basis for the purpose of creating the needed heating zones. I also need some design help.
Are you that person? Please reach out ASAP. I'm sure we can work out some way I can promote you and your business!!
That's enough for today.
I hope the rest of your week is remarkable.
Tim Carter
Founder - www.AsktheBuilder.com
Cleaning Man - www.StainSolver.com
Invisible Waves - www.W3ATB.com
​​​​​​​Do It Right, Not Over!