July 25, 2021 AsktheBuilder Newsletter
Well I'll be gosh darned! You're one of my newest subscribers! No wonder you're chatting with Andrea, Brian, Skylar, Freja, George, Steven, Ingeborg, and a boatload of others! I reserve this top paragraph to greet you. Thanks for your trust!
You, though, might have been here for fifteen, or more, years. If so, you remember when I'd share with you once a week a STAIN SOLVER cleaning-success story. That weekly cleaning tip is being re-introduced with this issue!
Yes, Kathy and I own the STAIN SOLVER business. We started it in 1996.
STAIN SOLVER, to the best of my knowledge, is the only certified organic multi-purpose oxygen bleach out there. If you can clean something with water, STAIN SOLVER will almost always make it look like new.
For example, how about cleaning those fireplace glass doors of the wretched soot, creosote, and other wood-burning fire-oil deposits?


CLICK or TAP HERE to see how easy it is to make your glass fireplace doors crystal clear.
Do you have a TOUGH cleaning problem? Do you want me to HELP YOU SOLVE it? Just reply to this newsletter describing what you're trying to clean.
HUGE SALE
We now have all sizes of STAIN SOLVER in stock.
If you want our five-gallon pail - it's the BEST BUY per pound - I BEG YOU TO ORDER NOW.
Why? We only made 279 of them this run. We opened the shopping cart back up on Friday.
Each hour, we were selling TWO of them! If that keeps up, we'll be OUT OF STOCK AGAIN SOON!!!!
Use this promo code for a discount: KT5
The promo code expires in one week. BUY NOW.
CLICK or TAP HERE to place your order.
Building a Room Addition
Check out this photo of the early phase of building a room addition: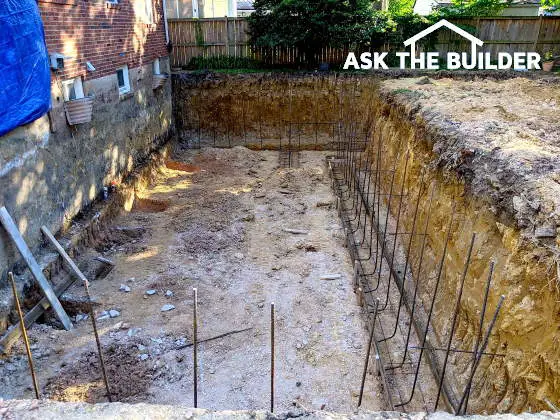 What do you think is the best way to plan a room addition?
How do you know if it's going to be perfect so all your furniture fits and there are no tight spots?
The above two-story room addition was bid at $450,000. Yeeowza!
You surely don't want to make a mistake when investing that kind of money, right?
CLICK or TAP HERE to see what my advice to you would be if I were your builder. Trust me, if I'm on your team your house or room addition is going to be the right size!
Have Tim Will Travel
Two days ago, I was hired by a condominium association to do an on-site inspection. It's not too far away. I'll be scooting to Portsmouth, NH in a couple of weeks. No doubt I'll go to the beach for a few minutes to do outdoor radio too.
The condo owners have a problem with fiber-cement siding deterioration. I'm also going to walk around the entire condo building common areas and make other recommendations about any maintenance issues. This allows them to get a handle on what needs to be done now and what can be put off until later.
I'm sharing this to let you know that I do on-site consults and can even travel to distant parts of the USA if you need an expert like me to look at things.
Just file that away in your tiny gray cells.
Building on Solid Granite
Look at this insane photo: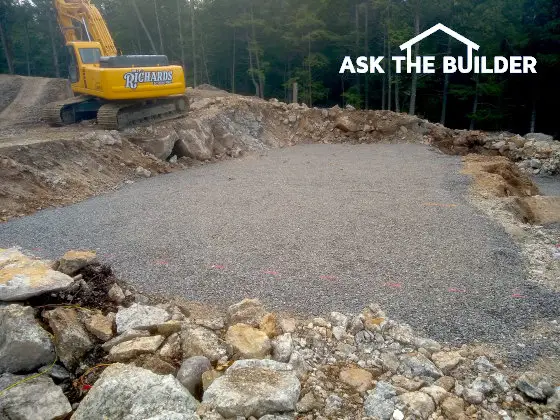 Next year, I'll have some new neighbors. They own land above and to the west of me. Their land adjoins my property.
Weeks ago, I heard BOOM several times a week as the blaster was breaking up MILLIONS of pounds of the stunning Meredith Porphyritic Granite bedrock.
CLICK or TAP HERE to understand what's involved when you decide to buy a lot that has THIN soil cover. You'll also SEE a photo of this stunning granite. Many geologists feel it's the most beautiful bedrock in all of New England.
If you want to buy a piece of the Meredith Porphyritic Granite reach out to me. I may be able to get you some with dramatic pieces of mica in it.
It's not going to be cheap, but I can get it for you if you're a rock hound.
That's enough for a Sunday!
Remember, place your order for STAIN SOLVER now. I'm serious, especially if you want a five-gallon pail. CLICK or TAP HERE to place your order.
Tim Carter
Founder - www.AsktheBuilder.com
SALE - SALE! - www.StainSolver.com
NEFR Rally in Days: www.W3ATB.com
Do It Right, Not Over!
P.S. How do you get rid of cat urine odors or clean up pet accidents? CLICK or TAP HERE to discover how I do it.