July 30, 2014 AsktheBuilder Newsletter & Tips
Last week I did something new. It's good to do new things. I taught myself how to tie a bow tie. It's really pretty simple. Here's a photo of one I tied last Friday just before I started to board passengers onto the scenic train I work on here in New Hampshire.
opens in a new window

I watched a couple of videos at YouTube to discover the simple secrets. My kids bought me about five very snazzy real bow ties for Fathers Day.
Who knows, I might qualify for the best-dressed train conductor in New Hampshire, especially if I can score a very stylish embroidered vest to wear when the temperatures start to cool down.
Last week, I asked permission to bring a piece of granite on board to show passengers. It was a nice piece of Meredith Porphyritic Granite - the prominent bedrock at my own home and in the area where the train operates. The passengers loved it so much they went back into the station when the ride was finished and told the station manager.
So on Saturday, I went to the lot above my house where fresh bedrock was recently exposed. I found even better samples, including large chunks of pure quartz and a piece of the granite with a gorgeous mica cluster in it. I'll show those to passengers this week.
Tip of the Week - Portable Electric Generators
Several days ago, it was very stormy here in New Hampshire. We never lost power, but there's always the chance.
Have you seen the small portable electric generators? If you're an RV'r, then I know you have. These small machines are very popular among the RV crowd. They're quiet, they weigh about as much as a full five-gallon pail of drywall joint compound, and they can put out up to 2000 watts. Some portable models crank out even more power.
opens in a new window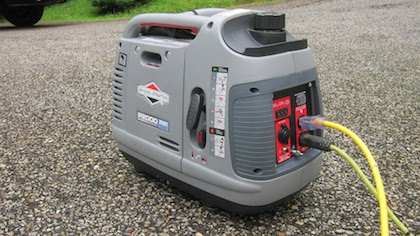 I'm opens in a new windowtaping a video of two that I reviewed over the past two weeks, but for now opens in a new windowyou can read a new column about portable electric generators that are budget-friendly and may help you over a hump if you do have a power outage at your home.
If you want to skip the reading and just proceed to purchase one of the two I tested, here are two links for you:
opens in a new windowBriggs and Stratton P2000
opens in a new windowGenerac ix2000
Get-Prepared and Pick-Up-the-Pieces Webinars
Several weeks ago, I wrote a column about handy tools to have in case of a disaster. I didn't think much of it at the time. The inspiration for it came from a dinner conversation at my home.
opens in a new windowhttps://www.askthebuilder.com/emergency-building-tools-and-supplies/
Much to my surprise, I've received email from MANY people all over the nation from the 60+ newspapers that still run my weekly syndicated column. They loved the column and wanted MORE tips.
Just under two years ago, opens in a new windowHurricane Sandy struck the East Coast and I warned you a few days ahead of time about what was going to happen right after the storm. I was right. It was bedlam and tens of thousands of people got little or no immediate help from government agencies.
I begged you to get ready to take care of yourself. Many ignored my advice. They felt a call to 911 would solve their problems.
My question to you is:
Would you like me to produce a series of one-hour webinars where you can listen in on all sorts of tips?
A webinar is a discussion that happens on your computer.
Think of being in a classroom but you have all the comforts of being at home.
During the webinar I'd be able to show you photos and even short videos to explain points I'm making. You'd see all this happen on your computer screen.
If the answer is "Tim, YES please do these!" then reply to this email.
Here are possible topics:
Preparing Before the Fire, Hurricane, Tornado or Flood or Blizzard

Basic Building Skills to Protect and Secure Your Home Before / After the Disaster

Extended List of Survival Tools and Materials

Round Table Teleseminar - You Ask Questions BEFORE the Teleseminar and I Answer Them During it
While a webinar is in progress, you'd have the chance to ask questions and I'll answer as many as possible.
There would be a limited number of seats and a small fee to attend. Each webinar would be taped. You could pay to attend and just watch the webinar later at your convenience.
What do you think? Do you want me to do this?
Do you want me to do webinars about other home improvement topics? Tell me which ones.
Shed Plans Sale - 60% off
You know you've wanted to build that dream shed. How about using opens in a new windowfantastic field-tested plans and build the shed I built?
You can modify the plans to fit your needs. The plans have all the necessary elevations and sections so you understand how each piece of lumber is installed.
opens in a new window
The plans are normally $19.95.
You can get them now for just $7.95.
opens in a new windowCLICK HERE to get the SPECIAL SALE PRICE!
You download a simple PDF file and the plans print out on your printer on 8.5 x 11 paper.
It's CAVE MAN simple to download them and print them off.
The sale lasts until Sunday, August 3, 2014 at midnight ET.
FitBit Review
My birthday was two days ago. I didn't ask for anything other than a flat rear bike rack and a Fitbit. I wanted the Fitbit to tell me how much I walk each day on the train. Believe me, walking back and forth up and down the entire length of the train can add up!
I didn't get the bike rack as Kathy thought it would be better if I just went to the local bike shop and got the exact one I want.
But I did get a opens in a new windowFitbit - the Zip model. It's the least expensive and does pretty much all I need. There are three other models, and as you might expect, the more you pay the more each model does for you.
The Fitbit is a fancy small pedometer. It syncs with your computer and you can input food you've eaten at your free account at FitBit.com.
They come in all sorts of different colors for men and women.
If you walk or run and want to know how far you've gone and calories burned, it tells you.
For example, my youngest daughter and I just got back from our 3.2-mile walk this morning. Fitbit told me I burned just under 1,000 calories during the walk.
It shows more calories burned than that in the photo above, but that's registering what happened while I slept, before we walked at 6:30 a.m. and after I got home.
The Fitbit automatically resets itself at midnight giving you new numbers each day for what you do.
Hmmmmmm ... maybe I can have a piece of leftover cake for breakfast! 😉
Flooded Drywall - How Much to Cut Away?
Lisa's office got flooded. She works for the Federal government. She came to me for help. opens in a new windowHow much drywall would you cut away if the flood water was 2 inches deep?
Hanging a Porch Swing Without Through Bolts
Sean Kelliher has to hang a porch swing but can't do it the way I suggest it should be done. I gave him an alternative method. opens in a new windowWhat thickness do you think I told him to make the steel plates?
Stamped Concrete Overlay Thickness and Secret Ingredient
Bruce, who is from the land of Skyline Chili and Aglamesis Ice Cream, is doing a stamped concrete overlay on his patios. He's got two different bids. opens in a new windowWhat's the secret ingredient each contractor MUST use?
What the Heck is the Smokey Stuff on my Car Windows?
Vicki, who is NOT a smoker and don't go there, had a smokey film on her car windshield and the rest of the glass. opens in a new windowShe was STUNNED to discover what it was. I also told her how easy it is to clean off and to avoid growing a tail or fins from her body.
Remember, Weekend Warrior Tips on Fridays at AsktheBuilder.com!