June 13, 2021 AsktheBuilder Newsletter
Did you just subscribe to this newsletter in the last few days? Welcome aboard! This top paragraph is where I extend my gratitude for your trust. Trust is an interesting concept. I recently saw a TV commercial that got me thinking about how important it is. But more on that later in the newsletter.
You, though, might have been part of my crew for so many years you might recall when my Roofing Ripoff book debuted. It reads like a murder mystery that you can get through in less than one hour.
CLICK HERE to read the first three chapters for FREE!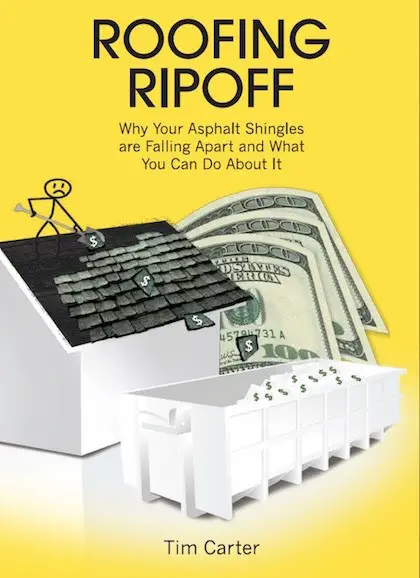 Remember when I was hot and bothered about my 30-year asphalt shingles that were beginning to fall apart in just nine years? Well, the cosmic tumblers aligned perfectly enabling me to interview a top official in the asphalt shingle industry.
I had to promise his identity would never be revealed. For this guarantee, he spilled the beans about why my, and your, shingles were falling apart.
But that's not the best part. As you help me get to the bottom of the debacle, you'll discover I was the first person in the world to discover that a wide copper strip on the top of your roof will dramatically extend the life of your shingles, assuming they're new or in great shape.
Look at the photo below to see proof. Look really closely and tell me if you can figure out the prevailing weather direction.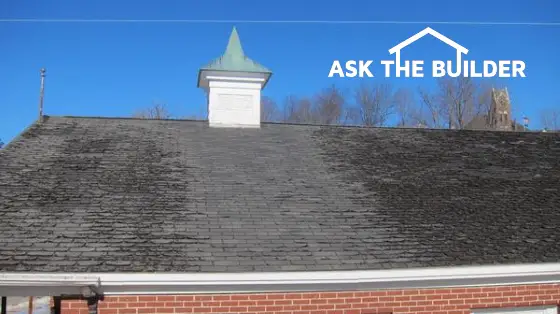 Imagine having your new asphalt shingle roof last for 40, 50 or more years. HOLY COW!
It's all in my Roofing Ripoff book. If you're going to be putting a new roof on soon, you really need to peruse it. Trust me, I guarantee you'll be aghast at how you and millions of others were played.
But what do I know? I ate lunch sitting on overturned empty drywall mud buckets for 21+ years…
White Residue on Wood
Have you seen this residue on outdoor wood you've just cleaned?

Do you know what it is, what causes it to appear, and how to get rid of it?
But most importantly, do you know how to make sure it NEVER COMES BACK AGAIN?
I know the answers to all those questions and more. Days ago, I decided to create a wonderful 2-page PDF file that will allow you to save all sorts of time and headaches in the future.
CLICK or TAP HERE to gain access to it.
FREE BIDS - Local Contractors


CLICK or TAP HERE to get FREE BIDS for any job inside or outside your home. You'll get calls within an hour.
Easy Wood Fascia
Wall-mount doors are gaining in popularity. But some don't want their home to look like a barn. Now realize, I'm not saying barns are bad!
What if you could find magic simple easy-to-install hardware like this to solve the conundrum? Look: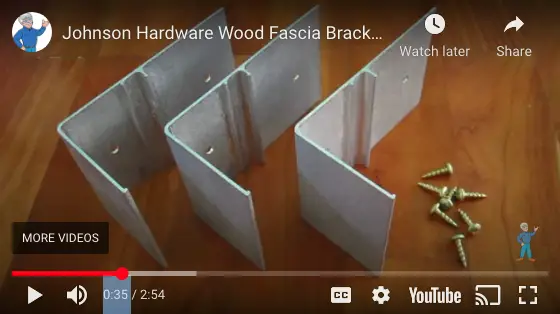 CLICK or TAP HERE and then tell me what you think of this absolutely amazing invention.
While watching my latest video, you may note there appears to be a defect in the lens. For some reason, it's not registering hair pixels on top of my head and in one scene it created some strange distortion of my upper torso. I've since sent the camera in for testing.
Common Sense Might Be Uncommon
About a week ago, I was watching TV and started to howl with laughter. It was a hokey huckster commercial selling this miracle product you can spray on the outside of your home to make algae and mildew disappear. I felt like I had stepped into a time machine and was standing next to a traveling snake-oil salesman's wagon in a tiny dusty out-West town 150 years ago.
The name of the product is not important as you'll immediately identify this commercial. If your vision is poor, you may not be able to discern that much of what you saw in the commercial was CGI - computer generated imagery. That's what you see in many of the big-screen action movies.
In other words, what you're seeing is FAKE. There's lots of fake stuff out there inundating you and me each day. It's your job to separate the wheat from the chaff. But I can help.
While trying to control my laughter, I was immediately reminded of a product that's quite similar and has been on the market for years - Wet & Forget. Several months ago, I got an email from another home improvement website pounding their chest about how good the product is. I saved it for this newsletter.
This past week, I decided to dedicate my syndicated newspaper column, yes, it still runs in over 60+ papers in the USA, to the topic of how to best clean algae off siding.
I BEG YOU TO READ the column to understand why these miracle easy-to-use products don't live up to their expectations. Peer at the product labels and my guess is you'll discover both of these products probably contain a VERY TOXIC chemical you'd never ever ever want to spray on the outside of your home. I talk about this chemical in my latest column. CLICK or TAP HERE to read it.
I'll leave you with this. When you see a website say that something is the BEST and then you discover it's not, does that shake you to your core? It should. I recall the one script line in the first Spiderman movie:
With great power comes great responsibility.
Stop being played.
Stop consuming fake commercials, fake reviews, fake anything. Instead, start using your tiny gray cells and put all you are seeing and hearing to the smell test.
Who You Gonna Call?

Bob Abel lives in hot and humid Florida. He reached out to me a few days ago with a question I get all the time. He was asking about a tankless water heater, but it could have been any product. You'll immediately see how you could ask this question about hundreds of things:
"My wife and I will be building a home in Port St Lucie, FL. We are looking at installing a tankless water heater. The builder only installs these units on the outside of the home. I've heard that this might not be a good option because there is a history of these units "frying" in a hot-weather climate. Your thoughts?"
How might you answer this question?
Imagine you're on a huge TV game show and you're on stage in the game where you might win $1,000,000 if you can answer the following question:
Who do you think has the most authoritative answer to Bob's question?
Tick tick tick tick tick - you only have 15 seconds to answer. Who is it?
Well, we know you're not going to reach out to Bill Murray or Dan Aykroyd, right?
CLUE: Think product warranty!
The correct answer is the product manufacturer. You read the written installation instructions for each product you're going to use to ensure it's being installed correctly so as to not void the warranty.
There's another nugget of information in Bob's question. Did you pick up on it?
He said, "I've heard that…."
Heard it from whom? Are they an expert? Was it on some forum where clueless people babble on or speculate? Was it from some young contractor with a whopping six months total lifetime experience working with tankless water heaters?
Bottom Line: STOP being so trusting.
STOP TRUSTING everything you hear or see. Question everything for goodness sake.
Each week, I do countless autopsies on horrible homeowner problems where the ROOT CAUSE of the problem is the homeowner TRUSTED the contractor or the person wearing an apron at a big box store.
Please, STOP DOING THIS.
Use your tiny gray cells and shift them into critical-thinking gear.
Invest the time and read the written instructions from the manufacturer. If they're not clear, then I can help you for goodness sake. I'm happy to call you on the phone.
That's quite enough for a HOT Sunday in June.
Tim Carter
Founder - www.AsktheBuilder.com
Certified Organic Cleaner - www.StainSolver.com
DX Fun - www.W3ATB.com
Do It Right, Not Over!
P.S. What's the best exterior house paint? What's the resin or GLUE component of the paint that's the best? Do you know? Should you know? CLICK or TAP HERE to discover if you were right.