June 19, 2022 AsktheBuilder Newsletter
Issue 1187
Did you just subscribe in the past week? If so, many thanks. This issue is somewhat unusual. Also, in the summer, I take my foot off the content throttle as I spend lots of time outdoors here in central New Hampshire.
But you, did you subscribe back about twenty years ago? What would you say if a video you watched back then is still the #1 video on YouTube about the topic?
Go here and forget about having to call an EXPENSIVE electrician.
I Can Save You
Thousands of Dollars
Are you terrified of the raging inflation I've been talking about the past two weeks? Sadly, it's going to get worse.
The wheels are going to fall off everything just before Christmas. The amount of financial pain many will feel is going to be beyond belief. I can say this with authority because I've had enough trips around the sun and I've BEEN HERE BEFORE.
Here's a quote from a news story written by Peter Reagan I read just yesterday:
"Due to these price increases, 61% of Americans say they're worried about their financial situations… Many Americans now expect they'll have to spend more on a range of purchases, from personal care and home improvements to experiences such as vacations."
Are you faced with doing projects around your home and you're getting sky-high quotes from contractors?
Are you wanting to SAVE MONEY in these very turbulent financial times?
I CAN and WANT to HELP YOU.
Please read the following. I believe it will inspire you. Investing just ten minutes, or less, continuing to read this newsletter could be a life-changing experience for you.
Angel in New York
Do you remember me talking to you about Angel? She's a young mom that lives in upstate New York. Angel has completed, I think, three phone coaching calls with me over the past seven months.
She's going to do another one next week.
Look at a screenshot from my phone from just three days ago.
I used a magenta highlighter to block out Angel's phone number. You also should focus on the text inside the magenta oval at the end of the screenshot.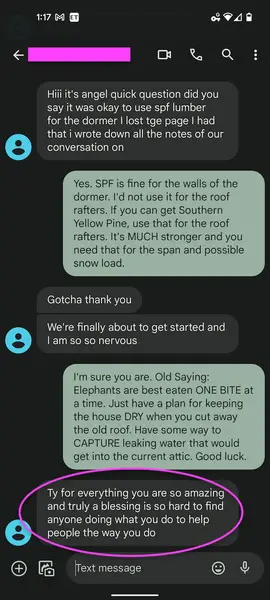 If you don't remember Angel, she reached out to me last fall. She was trying to get bids from local contractors so they could build a large dormer on her home. The plan was to transform part of an unused attic space into a magic playroom for her kids.
She couldn't get anyone to bid on it! This is where the story gets good.
Angel, bless her heart, decided she was going to do it herself. She started to do research and discovered me.
On our first call, I vetted her to see if I thought she could do the job - both mentally and physically.
She passed the test.
I then said, "Angel, I want you to write down ALL of the questions you have about the project. Email them to me, I'll sort through them, put them in order, and then we'll do another call and I'll start answering them."
I think there should be a new saying, "Never underestimate a determined mom that wants to enlarge her nest for her kids."
Angel did exactly what I asked, I did my part, and proceeded to transform her into a journeyman carpenter over the phone.
I also pointed her to some great books with amazing illustrations that would help her visualize what she needed to do.
Did you see what she texted me above? Angel's about to get started and she's nervous. I tried to frame the moment and put everything into perspective.
You, too, can eat the elephant at your home.
The good news is with my continued help, she's going to build the dormer.
She's going to save about $35,000 using my phone coaching calls.

Jean in Spokane
Hours after texting with Angel, I spoke with Jean in Spokane, WA. She set up a phone coaching call too.
Here's what she emailed me the day before:
"I have a number of questions. The first are all in our bathroom: I will send photos, but I wanted to see if we could schedule maybe a series of two to four 15-minute calls to address these issues. We want to pick one or two projects to fund this year, but we want to know which ones we need to prioritize. Thank you."
Jean sent the photos. I always ask for photos because they show me so much. I see important things in photos that may mean nothing to you.
I was able to answer ALL of Jean's questions in just 27 minutes.
There's no doubt I saved her thousands of dollars. My suggestion about putting off the new driveway alone saved her $10,000.00.
After the call Jean sent this to me:
"All I can say is WOW. To have you share your expert knowledge in such an approachable way was fantastic. My one call with you covered a multitude of projects. We have only owned our home for a little over a year and we needed to prioritize what projects to tackle first.

You helped me organize and prioritize each repair. You talked me through what easy fixes my husband and I could tackle ourselves and which ones we would need an expert's help. You also offered to talk us through learning to tackle some of the repairs ourselves.

You suggested brands and shopping sources for some of the items that we might need. You also suggested video and articles on your website that could assist us.

This one video call and VIP call saved us countless hours and thousands of dollars. In today's expensive world, your advice is simply priceless. We will keep you in our contact list forever. We are grateful that you exist and that you so graciously share your gift."
(BLUSH!)
Zoe in NM
A year ago, I did three consult calls with Zoe. I got a feeling talking to her she was about 29 years old.
She was building her own home in rural New Mexico and couldn't get plumbers to bid her job.
I've been a master plumber since 1981 and with my phone coaching she installed ALL the plumbing in this new home, including the tough stuff under the slab!
The plumbing inspector said it was the BEST work he had ever seen a DIYr do in his 30 years.
Be like Zoe. Start by THINKING you can do it. Most of the time it's just a mental block and you're nervous like Angel is. Or, you just overthink the job and convince yourself that it's not possible.
What would you say if I told you that I know a 63-year-old man that completely ripped off the shingles on his house and then put a new roof on by himself?
Sure, it took him MONTHS to do the job piece by piece, but he SAVED himself $30,000.00. And he did the job SAFELY with no water getting in the home over the summer.
If you and I get on a phone call and I think you can't do something, for the love of God I'll tell you!
But if you CAN DO IT, you might save TENS of THOUSANDS of DOLLARS.
Why not jump on a call and allow me to see what your skill and comfort level is?
The big problem is you may be cocky and think you know all there is to know about something.
You may say, "Screw Tim. I don't need to invest any money with that old goat. I can just watch videos on YouTube and get 'er done."
What happens if you watch videos that show you the WRONG way to do the job?
Do you have any idea of the number of videos I've seen on YouTube that show the WRONG WAY TO DO SOMETHING?
What will it cost to RE-DO the work?
Do you realize I offer a phone call service where I RECORD the call then give you a WRITTEN transcription of the entire call?
You don't have to take notes!!!! You just listen and read over the transcription countless times until you feel confident.
I don't have a dog in the fight.
That's quite enough for a Sunday in June.
Go out and enjoy the WX as we call it in Morse.
Tim Carter
Founder - www.AsktheBuilder.com
Hilton Hotels Use - www.StainSolver.com
Field Day 3 Weeks - www.W3ATB.com I'll be 1B
Do It Right, Not Over!
P.S. Jean asked me about bidets, specifically the ones that replace a toilet seat.
Do you have one? Do you LOVE it?
Do you HATE it or wish it could do something else?

Please SHARE with me everything about your retrofit bidet so I can share it with Jean and all others.
Thanks in advance.