Klein TI 250 Thermal Imager Review
Klein TI 250 Thermal Imager Review - Small, Powerful & Handy
I had the opportunity to test the Klein TI 250 Thermal Imager over the past few weeks.
I love this dandy little thermal imager because:
it's small - just 3 x 3 x 1 inch!

it's easy to use

it takes photos

it's adjustable
This was not my first rodeo testing a thermal imaging camera. You might want to read my FLIR IR camera review too.
CLICK or TAP HERE to see the current low price for the Klein TI 250 thermal imager.
Why Did You Like It?
This Klein IT 250 reminds me of the old Instamatic cameras. You just take it out, turn it on, and BOOM you have a reading. Some other IR cameras require you to download an app and then you plug in the camera to your smartphone.
This IT 250 just works on its own. It's simple and elegant.
Do You Need to Buy a Micro-SD Card?
Yes, you have to buy a separate micro-SD card. I was really disappointed by this because small low-capacity micro-SD cards can be bought in volume for pennies. CLICK or TAP HERE to verify this - these are 2020 RETAIL prices! It's so frustrating to offer a feature on a product, but then say, "Sorry, you need to buy something else to make that feature work."
I asked Klein about this and they said the contractors they beta-tested the IT 250 with didn't think they'd use the take-a-photo feature of the thermal imager? So what? If you can put in a 25-cent card in the box, why not do it?
What are the TI 250 Specifications?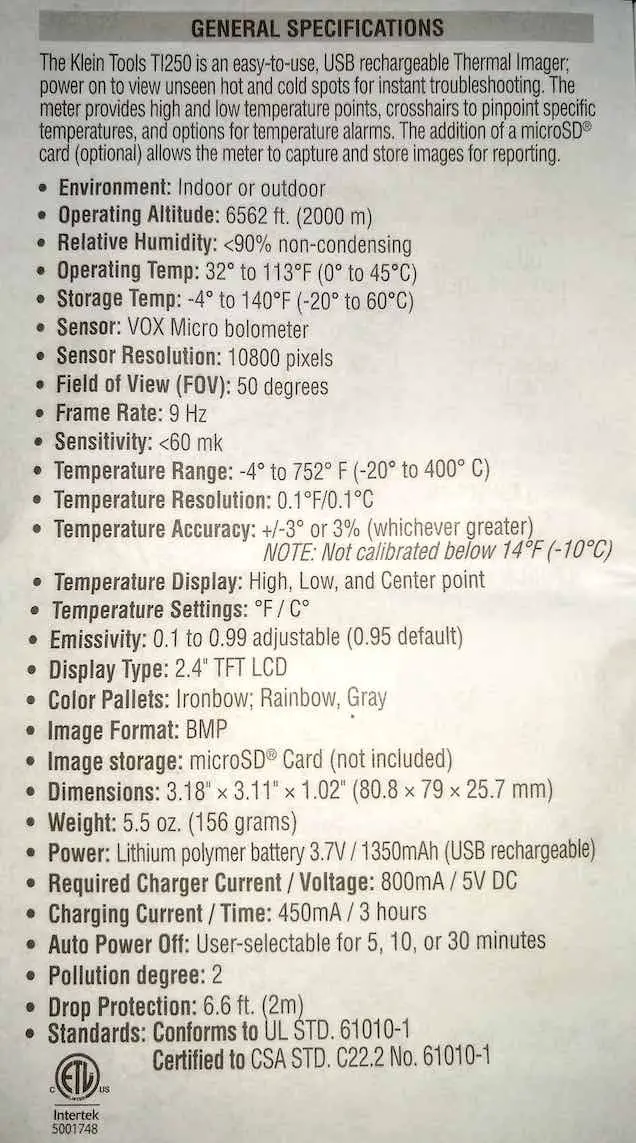 What Do the Thermal Images Look Like?
Check out these photos: