Log Splitters Quick Start Guide
DEGREE OF DIFFICULTY:
Some topics really get a rise out of people. Splitting wood is one. Certain people have a very strong opinion of what's best. It has to be all the testosterone that's surging through their veins as they smash the splitting maul down into a log!
I've split wood using every imaginable tool, including sledge hammers and wedges. Now that's NUTS doing it that way, but it works.
The good news is there's a log splitting tool for everyone - you can find the tool you need to give you all the satisfaction and split wood you could ever desire.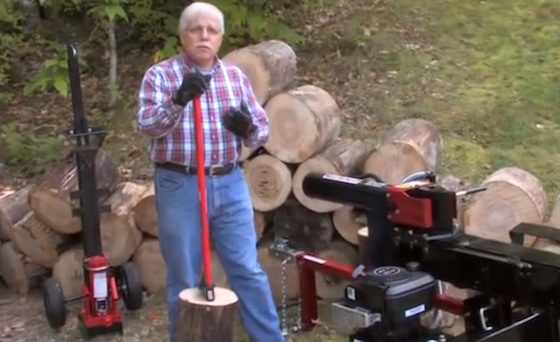 I've rated this guide three hammers out of five because if you decide to split wood by hand, you'll be one tired pup. It's hard work, albeit rewarding.
If you use an electric or gas-powered splitter - or even one that connects to a farm tractor's hydraulic pump - this might be a one-hammer project as the hydraulic ram does 98% of the work. You just need to roll log sections into position and stack the split wood.
As with any tools, realize splitting wood can be dangerous. You've got heavy logs, blunt instruments of destruction and bad things can happen if you get fatigued or distracted.
Watch the video below unless you've come here from YouTube having already watched it.
Be sure to look at the RELATED CONTENT links at the bottom of this page. Lots of goodies there for you.
REQUIRED TOOLS & MATERIALS:
TIPS
Read any instructions that come with a powered splitter. Give them lots of respect, even though they don't move fast.
Some wood species split easier just after the tree is cut. Other wood splits better when it's dry. Research this to keep your work to a minimum! Let Mother Nature help you!
If using a splitting maul, rumor has it you get best results if the maul contacts the top of the log when the maul handle is parallel with the ground. This means you'll have to put most log links up on another larger one to make this happen.
If using steel wedges and a sledge hammer, heavy work gloves and safety glasses are a MUST. Small pieces of metal can shatter off the wedges and strike you in the eye.
You'll need multiple wedges to crack large log links. It's possible to bury one wedge and then what will you do if you don't have others around to finish splitting the log link? Much younger voice of experience talking!
Hand-powered hydraulic splitters work well, but they're very slow.
Gasoline powered splitters are the way to go if you have lots of wood to split. The machines never tire if you feed their appetite for gasoline, oil and occasional hydraulic fluid. I have one and it's a dream to operate.
Some gas and electric-powered splitter ram assemblies rotate so the log can stay on the ground. This really saves your back.
Be sure to keep mechanical splitters oiled and check fluids routinely as you work. Replace the hydraulic fluid filter every season.
Read my Lawn Mower Quick Start Guide to discover how to get your gas-powered log splitter to start on the first or second pull EVERY TIME.
Celebrate your Victory!
Please subscribe to my Newsletter and get insider information on the latest home-improvement tips, and products. I guarantee you that my newsletter WILL save you time and money. Frequently, I include your questions with my answers and proposed solutions. Perhaps the best part of the newsletters are my reviews of new products based on my own testing. Click here to read my past newsletters.
It is FREE & EASY.
RELATED HELPFUL CONTENT:
Column QSG018