March 15, 2015 AsktheBuilder Weekend Newsletter
It's the Ides of March! Woo Hoo! That means Spring is just around the corner. There's still snow here in NH, but it's melting fast as the sun climbs higher each day in the sky.
Thanks so much for taking the time to fill out the simple Spring Project Survey.
What? You didn't do it? opens in a new windowCLICK HERE to vote for your To-Do projects.
Stain Solver SALE Ends in HOURS!
Yes, the sale is about to end. It ends in LESS than 24 hours! opens in a new windowORDER NOW.
Moments before I wrote this, Patricia wanted to know if Stain Solver would clean a huge peanut oil stain from carpet and an old white wine stain from the same carpet.
YES and YES! Stain Solver will clean just about ANYTHING that's water washable.
Robin used Stain Solver to clean her kitchen exhaust fan grates. Here's the BEFORE photo:
opens in a new windowCLICK HERE or the image above to see the AFTER photo and to read Robin's interesting story.
Try to guess how long she let them soak and whether or not she had to do anything else to get them to look BRAND NEW.
There are HUNDREDS of things around your home to clean with Stain Solver! Decks - both wood and composite, patios, steps, clothes, carpet, siding, roofs, tile grout, etc. The list is ENDLESS......
Use promo code:
Spring2015
to get 10% off and FREE SHIPPING.
The sale ends at MIDNIGHT tonight (Sunday, March 15, 2015)!!!!!
opens in a new windowCLICK HERE TO ORDER.
Grace Ice & Water Shield® Game
Do you live where these things happen:
Hurricanes

Ice Dams

Tornados

SEVERE Thunderstorms

Wind-Driven Rain
If so, you MUST play this game and pay CLOSE ATTENTION to what I say on the three pages I send you to.
It could make the difference when shingles are RIPPED from your roof in a horrible storm or when your neighbors - it happened to my next door neighbor's house a month ago - have water POURING into their homes from ice dams.
Based on what my neighbor told me happened inside their home, I'd estimate it's going to cost about $50,000 or more to repair all the damage.
Sadly it could have all been prevented if the roofer they used three years ago would have put on the RIGHT product under their shingles. He didn't.
All my neighbors had to do was ask me what to use. They know who I am. What a darn shame.
opens in a new windowPLAY the GAME to see what I'm going to be doing in about 6 weeks. You'll discover what you should use to prevent all types of leaks at your home.
Yes, there's a product you can put on your home that will prevent leaks if shingles are torn away!
opens in a new windowCLICK HERE to discover new information and to see wacky wacky answers. Kathy thinks I should be committed.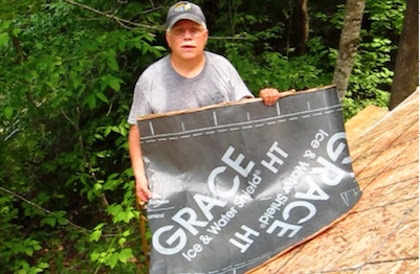 New Questions and Answers for You!
Do you like all these questions and answers I share each issue?
Let me know. I'm interested if you want to see more or less.
opens in a new windowCan You Dissolve PVC Glue?
opens in a new windowHow to Fix a Sagging Roof
opens in a new windowWill Wall Studs Break From HEAVY Shelves?
opens in a new windowFlaking Basement Walls - How to Stop and Repair
That's enough for a Sunday.
Remember, PLAY the Grace game up above!!!!
Tim Carter
Founder - www.AsktheBuilder.com
Do It Right, Not Over!