March 24, 2019 AsktheBuilder Newsletter
Are you a newbie in the past week? Welcome aboard! If you're a subscriber of record in good standing, then you know I love and appreciate you too!
The Week of hePEX
This past week I started the installation of the special Uponor hePEX radiant heating tubing in my daughter and son-in-law's house up in Bar Harbor, Maine. I was pretty happy about it.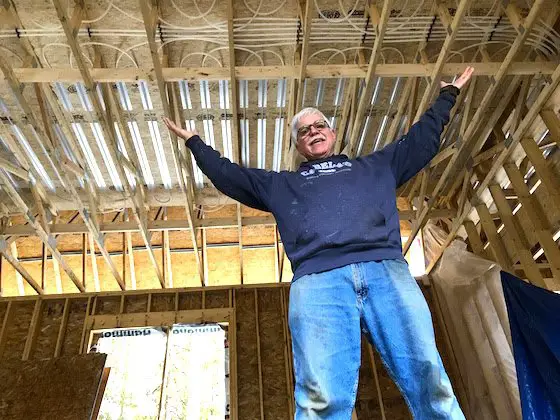 You're looking at the ceiling of the garage. The shiny strips are Uponor solid aluminum heat transfer plates. The tubing is 1/2-inch Uponor hePEX tubing that's looped through the plates in a very special pattern.
The hePEX is different from PEX tubing that you might used for potable hot and cold water in your home. The hePEX has a special barrier that prevents or minimizes oxygen from entering the tubing. This oxygen can cause rust in radiant heating system components.
I'm waiting on the builder to finish a punch list of interior carpentry items so we can move into the house to complete the PEX installation.
CLICK or TAP HERE to discover some other very important tips you should know about with respect to radiant floor heating.
The BrightOwl LED Battery Backup Night Light
Would you like an LED night light that:
sips power - 1.5 watts
STAYS ON if you have a power outage - up to 90 minutes
provides DOWN LIGHTING to floors
contains a switch to just work as an emergency light only
and more!
CLICK or TAP HERE to discover lots more about this amazing night light that I've had great success testing the past two weeks.
This night light takes the place of your regular outlet cover plate! It comes either standard configuration or the sleek Decora style.

You can also CLICK or TAP HERE to watch a video I created about the BrightOwl Night Light.
Best Tape Measure EVER!
I get to review tools all the time. Every now and then one really astounds me.
Would you think it possible to RADICALLY improve the stogy retractable tape measure? I've seen manufacturers make all sorts of different designs and claims and been under impressed.
Not this time.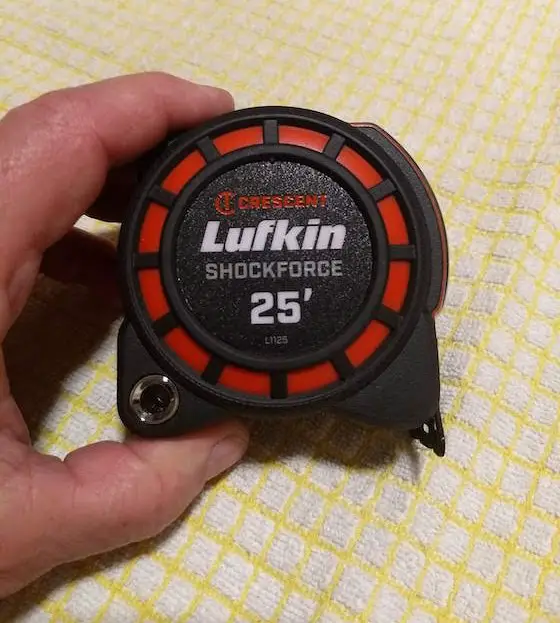 I'm here to tell you after using countless tape measures for over 40 years this is the BEST ONE I've ever used.
Wait until you have one in your hands. CLICK or TAP HERE to discover WHY I fell in love with this tape.
This and That
This is a new feature in the newsletter.
Each week I answer lots of questions from homeowners like you. I'm going to condense them to tiny bite-size hoping you discover something new.
I also created a new product in the past few weeks and I'm getting lots of orders for it. This is where these homeowner questions are originating.
The new product is the VIP Fast Answer. Normally it can take me 10 days or more to work through the backlog of email I receive.
If you need an answer within hours or a day at most, I can do it for a small fee. CLICK or TAP HERE to see what is involved.
Chris's Plumber's Mistake
Chris needed a Fast Answer yesterday. He sent me this photo: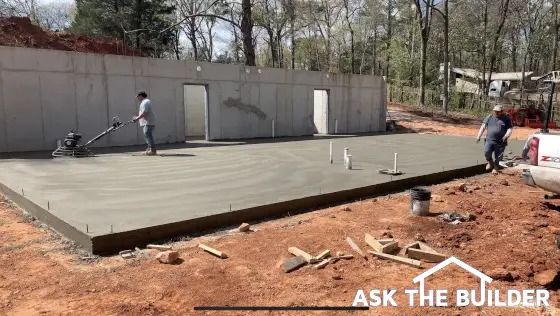 See the white PVC pipes coming up through the slab? They're in the wrong place. Chris is the owner/builder of this house.
Chris wanted the plumber to completely remove the slab, put the pipes in the right place and then REPOUR the entire new slab.
I said that was unreasonable. The concrete can be cut with a giant wet diamond saw and you just remove what's needed to make the repair. You pin the new concrete to the existing concrete and all will be fine.
I also pointed out to Chris that he was 50% responsible for the error. Since he's the BUILDER, he was supposed to inspect the plumbing rough-in location BEFORE the concrete was poured. You don't HOPE things are right.
Rob's Rotting OSB Wall
Rob lives in Canada. His house has brick veneer outside. He noticed mold on an exterior wall. After removing the drywall and insulation he discovered the OSB sheathing is rotting.
He wanted to know what happened and how to ensure it NEVER happens again.
I answered Rob saying, "Rob, you need to read ALL OF MY Brick Veneer Leak columns."
Do you have a brick veneer home? Then you need to read them too.
CLICK or TAP HERE and you should see all of them in the search results page under the ads.
Non-Working or BROKEN Links
Each week you may be one that replies to me after I send this newsletter.
"Tim, the links in your newsletter are BROKEN. They don't work for me."
Here's what you need to know. The issue is 99.9999999999999999 percent of the time at your end or is an issue between you and my server.
The software I used to create this newsletter VALIDATES all the links I create. In other words, as I create the newsletter it TESTS the links to ensure I did it right.
There is the possibility that so many are hitting my server it's overworked. It's also possible my server has crashed. But both are a very tiny percentage.
If the links in this newsletter don't work for you try the following:
power down your device, let it rest for a minute, and power back on
try a different browser
try a different device
forward the newsletter to a friend and ask her/him to test the links
lead a more pure and simple life 🙂
That's enough for a Sunday. I think I'm going out to do outdoor ham radio after church today. It's going to be SUNNY and above 50 F here in central NH.
Tim Carter
Founder - www.AsktheBuilder.com
Certified Organic CLEAN MAN - www.StainSolver.com
Invisible Smiles - www.W3ATB.com
Do It Right, Not Over!