May 17, 2015 AsktheBuilder Antigua Edition
This is going to be very short.
If you do nothing else, be sure you READ the post below about the new Lead Paint Legislation.
I'm writing this sitting on a screened porch about 30 feet from Hodges Bay here in Antigua. It's a glorious Sunday morning with a gentle sea breeze drifting through the weathered screening. You can see photos of this porch in a page below.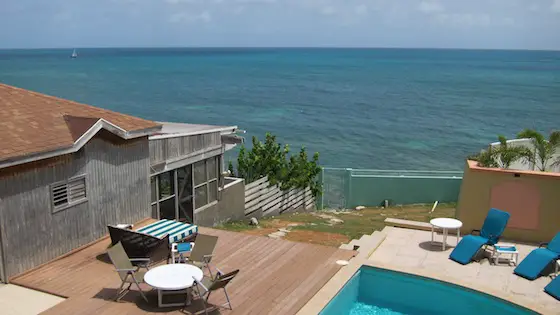 I arrived here late morning on Thursday. I'm here primarily on business as an expert witness in a large construction defect case involving the building housing the Brazilian Embassy.
That's all I can say about that as the trial begins on Tuesday.
If you've never been to the Caribbean, it's absolutely magical. You see the turquoise water and the sandy beaches, but what you often don't see are the photos of how MOST people live on the islands.
Most people on these islands don't live in nice homes. Don't let all those glamorous TV shows fool you.
I'm going to try to take some photos of average homes here for you over the next few days so you can see what I mean.
Where I Am
I'm staying at the northern end of the island at Hodges Bay.
opens in a new windowCLICK HERE to see photos of what I see each time I look up from the laptop.
SERIOUS Construction Defects
opens in a new windowCLICK HERE to see some serious construction defects that I see down here. Be sure to read the captions!!!
New Q & A's for You
opens in a new windowJudi's Flooding Downspout Issue
opens in a new windowValerie's Crack in Her New Basement Slab
opens in a new windowTommy and His 2x6 Header Question
opens in a new windowNEW LEAD PAINT LAW - READ THIS!!!!!
That's all for today.
I need to go do some homework that the attorney gave me.
I'll TRY to get an issue out on Tuesday, but it may not happen. You may not hear from me for a week.
Tim Carter
Founder - www.AsktheBuilder.com
Go to the Caribbean Once, Maybe Over and Over!